Digital Transformation Roadmap: 10 Steps To a Successful Digital Transformation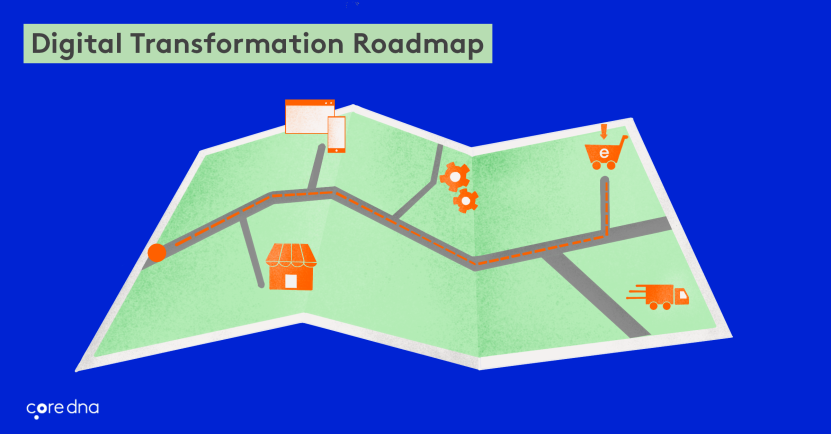 Digital transformation is the process of improving business operations, customer experiences, and employee experiences through the adoption of technology—and the benefits are well documented.
According to PTC, 40% of executives reported an improvement in operational efficiency, and 35% reported an increase in their ability to meet customer expectations after undergoing a digital transformation.
Knowing that digital transformation is vital for the future of your business is a good starting point. Here are ten steps to ensure your digital transformation is a success.
TL;DR: Here's a 10-step process to build a digital transformation roadmap:
How to build a digital transformation roadmap
It's not enough to simply buy or subscribe to popular applications in the hope that your company will somehow evolve. To truly understand what your company, employees, and customers need and want in the age of IoT, same-day delivery, and omnichannel experiences, you'll need a documented digital transformation roadmap.
Here's how to build yours.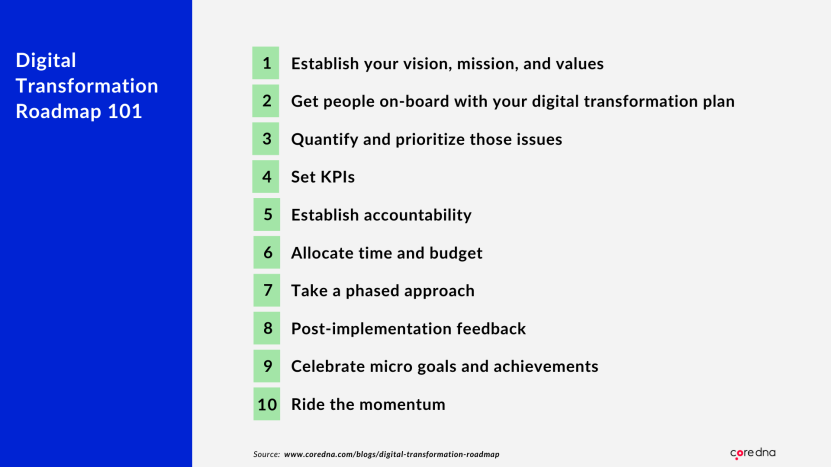 1. Establish your vision, mission, and values
The starting point for your digital transformation should focus on the existing vision for the company, your overall mission and the values you wish to emulate. Digital transformation requires your organization to change the way things were done previously to better align with new technologies and customer requirements.
Rather than viewing digital transformation as a flash in the pan that causes disruption, communicate that change is good and position it as how you're always looking for ways to improve.
As the champion of digital transformation in your company, you need to avoid being authoritarian. Instead, try to get people to buy-in to your vision by being inclusive and humble. Understand that this is a process, you'll make mistakes, and that's ok.
Make sure that the people within your organization understand the core purpose of this digital transformation and have clarity about what it entails. There is no point in establishing a vision that doesn't align with your organization's overall goals. This means you need to take extra care that this transformation takes you where you want to go, and it isn't something you're doing for the sake of it.
2. Get people on-board with your digital transformation plan
You need people to support you if your digital transformation is going to be a success. The first step is to get executive sponsorship for your efforts. Having executive buy-in makes it easier as you begin your digital transformation process. Having your C-suite on board can make a massive difference in the speed of your transformation as well.
Listen to the concerns and issues that the people in your company are facing. If you can help them solve their problems with digital transformation, then they will buy into your vision for the organization much faster. Let people know what the plans for your digital transformation are up-front to avoid raising red flags that slow progress down the road.
Organize a meeting to discuss the digital transformation process with your key stakeholders and use the session to identify key issues before you begin. Make sure people in your organization understand what digital transformation is and what it means for your brand.
3. Quantify and prioritize those issues
In your initial meetings about digital transformation, issues are going to come up. Find these issues and any interconnected opportunities. Classify these issues and chart impact vs effort for the opportunities that are connected to them.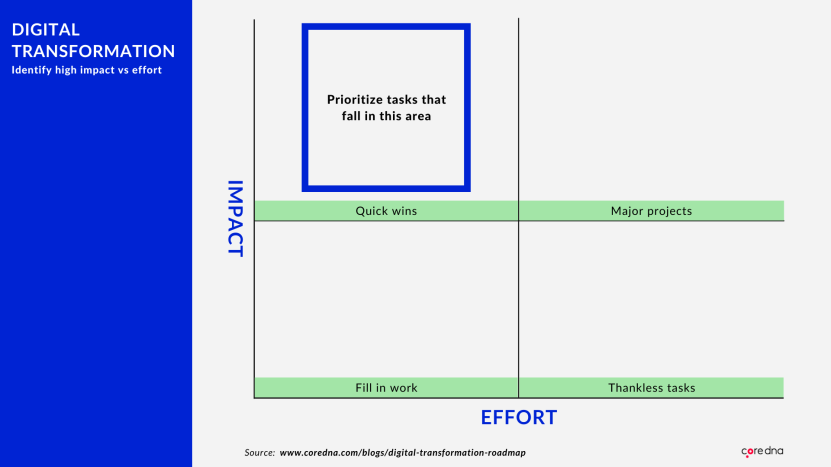 If your high impact opportunities have problems associated with them, then you need to come up with a plan for solving them. Also, determine if any issues have dependencies that can potentially derail the process further down the road.
4. Set KPIs
KPIs help you to determine how well your efforts are doing and give you a goal to work towards. Make sure that your KPIs are based on the S.M.A.R.T (Specific, Measurable, Achievable, Realistic, and Time-based) criteria.
Your KPIs should center around specific outcomes. Don't simply state that you want to improve operational efficiency. Instead, your KPI could be to improve operational efficiency by 20% within the next quarter.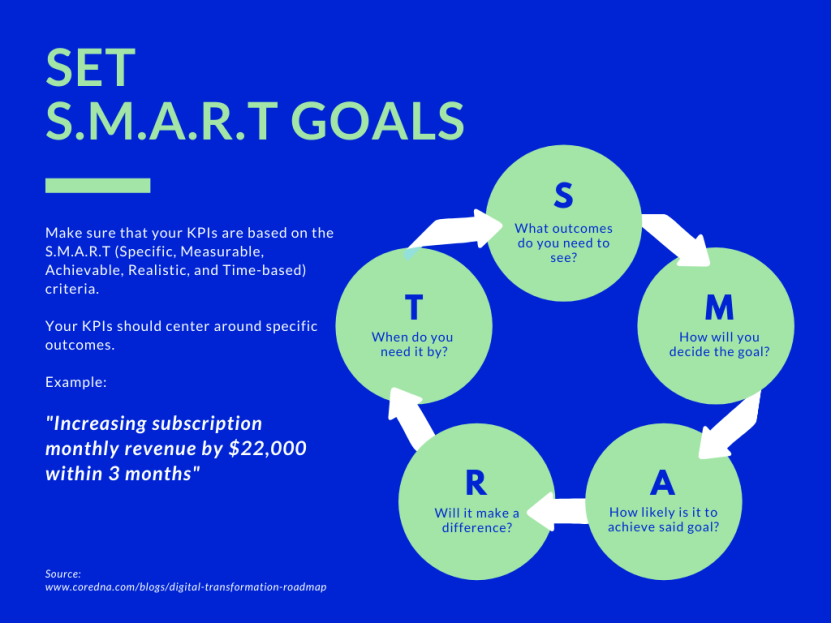 No matter what KPIs you choose, you need a way to determine how success will be measured. Also, identify the best-case scenario, the worst-case scenario, and your expected outcome to help you assess the success of your KPIs.
5. Establish accountability
The key stakeholders in your digital transformation need to be given responsibility before they can completely buy-in to the project. As you identify the mini-projects that need to be done as part of your digital transformation, set owners for each of them to encourage accountability.
Don't just set them as the owners of the project and leave them hanging. Make sure they get what they need to execute successfully and delegate authority to specific areas wherever possible. This can provide you with more bandwidth to handle other, more pressing issues that arise.
6. Allocate time and budget
Your digital transformation needs to be treated like a series of projects the company plans on undertaking. This means both time and money need to be dedicated to its success. Establish regular meetings to go through each of the issues that arise and to communicate progress.
Allocate a budget for each owner and discuss the impact on business resources to keep everyone in check. Also, define a process for communicating changes in allocated budgets and time resources to your team and external personnel who might be impacted by the project.
7. Take a phased approach
A digital transformation will consist of a series of tasks or mini-projects, and each of these projects will have its own timeline and sub-tasks.
Execute, review and do a "retrospective" for each task rather than try to implement everything at once. This way you can look back to see your progress up to that point and figure out ways to do future tasks better or faster.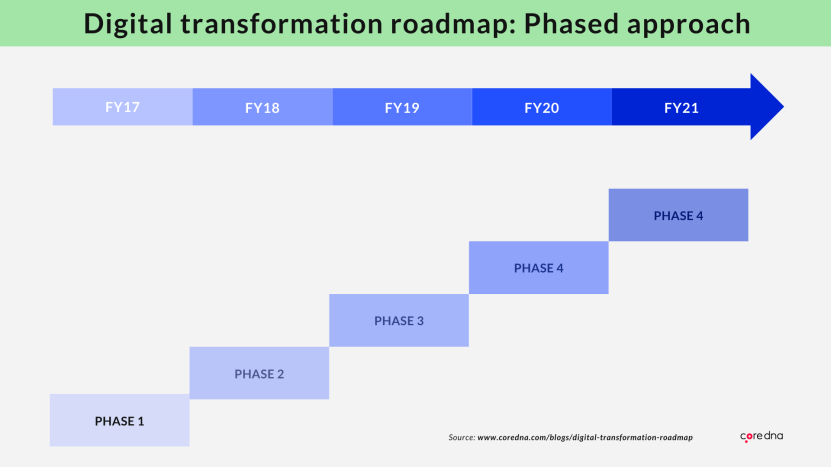 By undertaking the digital transformation process in phases, you can understand what you did well and didn't do well, gather feedback and make adjustments as necessary.
Testing incrementally but planning globally makes it possible to see significant benefits from completing small tasks, while ensuring that you don't face major disruption by failing to complete others.
8. Post-implementation feedback
After you've implemented tasks and completed major parts of the transformation, it's necessary to gather feedback and measure how successful you have been. Survey the people and partners impacted and assess the external responses to the changes.
Determine whether people outside of the core transformation stakeholders were able to buy-in to the project, what they would have done differently, and then refine the process to correct for any shortcomings.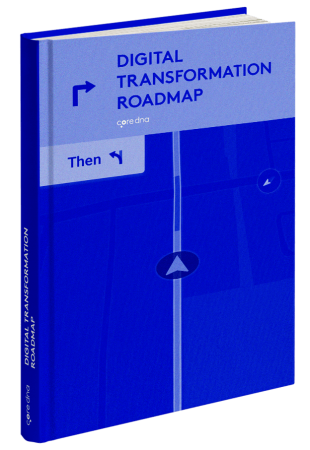 Digital transformation roadmap: The definitive guide
A fool-proof 10-step plan to a successful digital transformation, PLUS a bonus digital transformation sheet that we use internally to track impact vs effort tasks.
9. Celebrate micro goals and achievements
Don't forget to celebrate the small wins. Digital transformation can be a long process that takes months or years. However, that doesn't mean you should wait until then to begin celebrating and lower the overall morale.
After completing some of the most important goals and milestones, it offers you a chance to celebrate how far you've come and look ahead to what you're still building with excitement.
10. Ride the momentum
Digital transformation doesn't need to be a one and down process. Instead, continue to ride the momentum of any success you've achieved so far and make it an ongoing process.
There will always be new technologies and customer requirements that need to be accounted for. Take the momentum built up from your achievements and tackle the next item on the list as you strive to make your company as competitive as possible.
Change is a never-ending process, so that means you shouldn't sit back and wait around for your competition to surpass you. Instead, look for ways you can continue to improve and grow.
Have you already established your digital transformation plan? The next step is to choose the right piece of technology to help you in your journey. Learn more about 'Why Core dna' is the solution you need.
Watch video demo