3 Simple Ways To Validate Your Content Ideas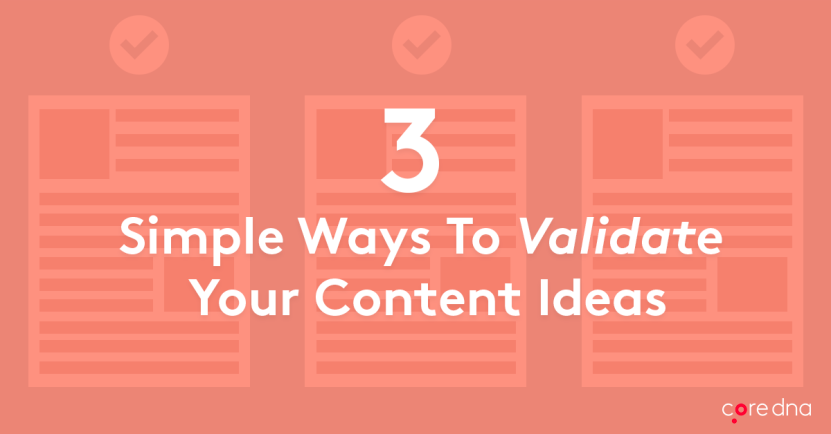 Over the last year, the message of bigger and better content has really taken off.
It's traveled around via a variety of monikers, such as Brian Dean's "skyscraper content" or Rand Fishkin's "10x content", but at the end of the day, the message is the same: if you want to command attention, your content needs to be significantly better than what everyone else is doing.
As a result, many businesses are beginning to invest in creating colossal pieces of content. And while this is great, it does bring up a new potential pitfall.
What if you invest a bunch of time and money into creating an epic piece of content your audience doesn't actually care about?
The concept of validating content before investing in it came up in the comment section of a recent Moz post.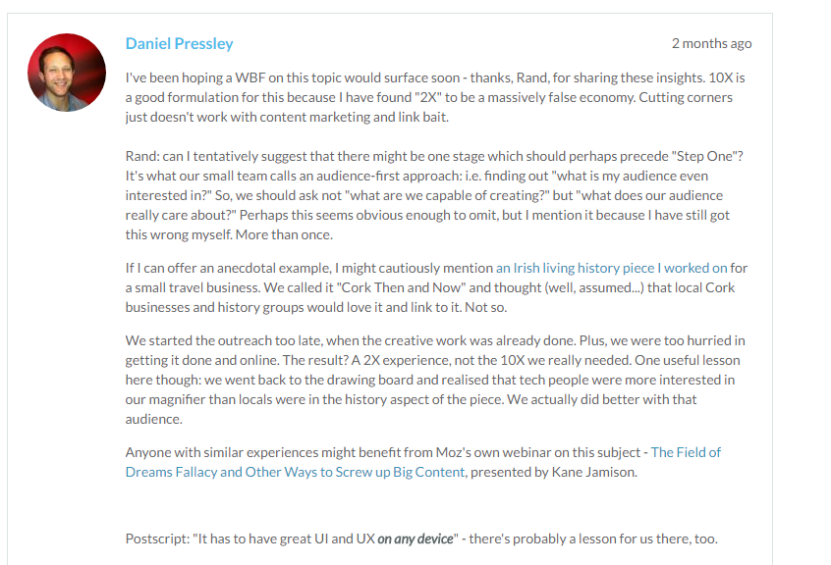 As Daniel describes, his team had an idea they thought was golden, but when the rubber actually hit the road, the target audience simply didn't care. They needed to validate first - a step that is often overlooked in the content creation process - as Moz guru Rand Fishkin mentions in his reply:

While creating content isn't the same level of investment as building a product, it doesn't make sense to simply fire from the hip when there a number of simple, straightforward ways to validate your content idea before investing your time and money into its creation.
In a hurry? Here are 3 ways to validate your content ideas: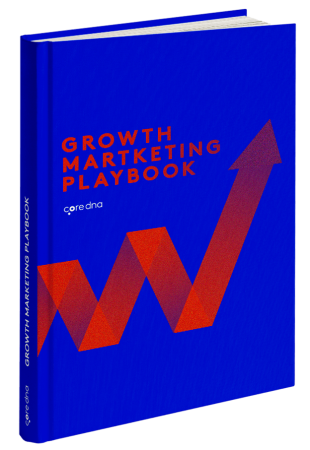 The ultimate growth marketing playbook
The exact 41 strategies we used to grow from 4-figure to 6-figure traffic in one year.
Validate content idea tip #1: Focus on what's already popular
If you have been running content marketing for a period of time already, validation should be a relatively easy task. Simply look through your existing posts and identify what is already proving popular with your audience.
Hop into Google Analytics and look at which blog posts have received the most views and the longest time on page: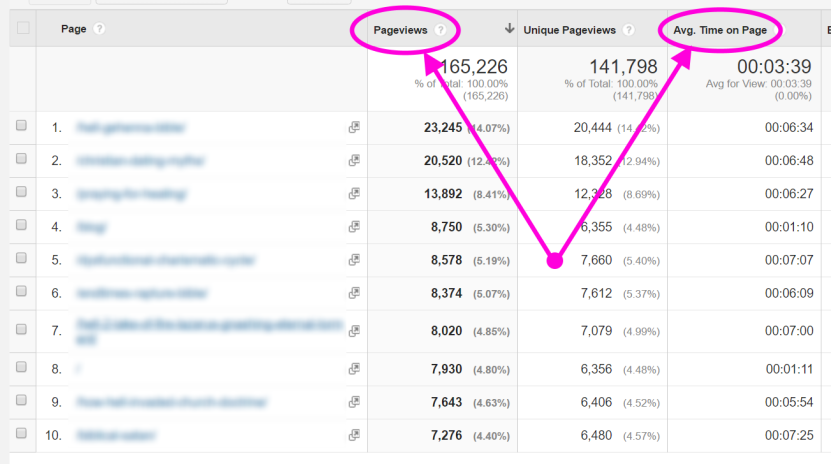 If you are just getting started or haven't really been taking your content marketing seriously until now, then you can use a tool like Ahrefs Content Explorer or Buzzsumo to find popular articles in your niche.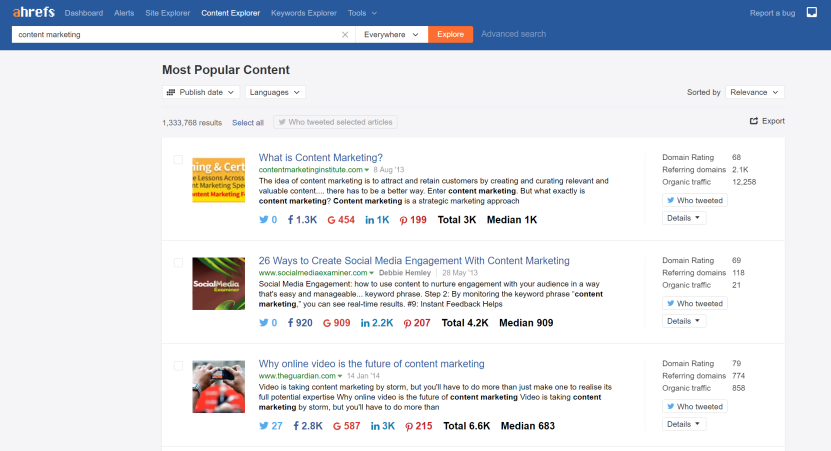 Once you've found something that is popular, either come up with a similar concept and improve on it or scour the feedback and find some key questions that get asked a lot and weren't answered in the popular content.
And speaking of questions...
Validate content idea tip #2: Ask, ask, ask and research what's already been asked
The ideal way to test whether someone wants something is to ask them.
"Do you want this?"
It's hopelessly simple and yet so often, businesses that could easily acquire a ton of feedback by reaching out to their audience with a quick question never bother to ask.
If you have an email list, send out an email with a survey or a "Reply" request. You could even send out something saying, "We are planning to create _____. If you want to get access to this for free, click this link and we'll send you access when it's live."
If a bunch of people click, you know there is interest. If you get just a handful of clicks, perhaps it's time to head back to the drawing board.
Of course, while this is easy if you already have a sizable audience, what if you don't?
This is where you can utilize something like Facebook ads. While the context is slightly different, Benji Hyam talks about this concept in Core dna's free ebook on lead generation (which you can download at the end of the post):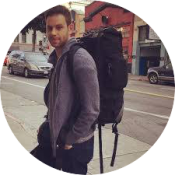 Benji Hyam:

"I'd use the $250 in Facebook advertising to test messaging assumptions and to test out the target audience. I'd try to acquire as many users as possible with the goal of getting product feedback so that I could use it to create compelling messaging and hone in the audience that I'm going after. With all of these findings, I'd have a pretty good idea of where to focus to scale the business."
One easy way to do this via Facebook or Twitter would be to create a few short intriguing message or questions on the different content ideas you're considering and then see what gets the most engagement. If you have no social followings, use a few dollars in paid advertising to get the message seen by a few hundred people.
Alternatively, you can hit up question sites like Quora or popular blogs in your niche such as GetResponse for email marketing or Moz for SEO and see which questions arise most. The key here is finding what is actually being asked - what people actually care about - for your target audience, rather than leveraging your best guesswork.
Validate content idea tip #3: Match your content to your distribution
There's a crucial piece of the content marketing process that far too many marketers forget when planning out their content.
Distribution.
As a content creator, I've been guilty of this many times. I tend to think that the value of my content is based solely on the content itself.
Once your internet-shattering piece of compelling links is finally live, literally nothing will happen unless you get a carload of eyeballs and send them over to the page. This is the distribution part of the content puzzle, and it should have a HUGE impact on the type of content you create.
I'll explain this concept with an example.
Let's say you are targeting small business owners in the pet space. You know that these owners are most easily accessed through LinkedIn and that they are passionate about pets and pet care.
Accordingly, you do everything mentioned earlier in this article. You ask your small list what they care about. You research communities in the pet space. You look up trending pet content on Ahrefs Content Explorer. You even research the most popular pet questions on Quora.
You think you've found the puuuurfect fit (sorry…), so you create an epic guide to furniture setup for pet lovers. And just as you expected, it blows up!

Amazing!
15,000 Facebook shares!
Nearly 3,000 Pinterest shares!
And on LinkedIn, where your target audience is.... 1 share?
There's a ton of pet lovers out there, but how disappointing would it be to get nearly 20,000 total shares and barely connect with the audience you were actually targeting. It's completely possible to go viral with the wrong audience and get virtually zero business benefit from your content.
When planning out your content, think about where you will be promoting it and the type of content that this platform's audience responds to best. This will give you a much better chance of connecting and resonating with that audience via that medium.

Speaking of distribution aka content promotion, here's what KlientBoost's founder, Johnathan Dane had to say: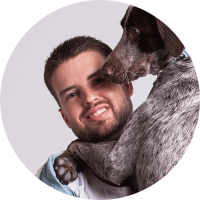 Johnathan Dane:

"One thing I've learned in our short year of business is that your content promotion is literally 80% of the content game. And it's what we've done to hit a momentum that keeps on growing.

1. I would literally find the content marketers/editors of the five up and coming marketing blogs that are making a splash on GrowthHackers and Inbound (can't be HubSpot, Moz, or other well-known ones that already have established audiences) that are doing a great job with social shares and blog comments.

2. Research what those content marketers/editors secretly love (like being a sucker for shopping on Etsy or loving to eat at Ruth's Chris).

3. Buy five unique gift cards from Etsy, Ruth's Chris, etc for each of the content marketers/editors.

4. Physically mail it to them (I know, already went over the $250 limit), with a card saying: "Not to creep, but I hugely admire what you're doing with X's blog. Do you mind if I ask you a quick question? My email is xoxo@klientboost.com. P.S. I noticed you love Ruth's Chris, so I got you a little gift :)"

5. Once they reciprocate, get the list of content promotion tactics they use to grow their blog. And use that to your own advantage to build trust, scale your content, and grow your business."
Parting thoughts….
At the end of the day, content is content. It's easy to get something out there, test the market and you clearly don't require the same level of meticulous caution before launch as a product launch.
At the same time, if you're going to invest time and resources into a major piece of content, you may as well spend some care up front to do some validation and ensure that your target audience is actually interested in what you're planning.
Look at your analytics, ask your existing audience and think about channel distribution to give yourself the best possible chance of content success.
FREE eBook: 14 leading CEOs and marketers such as Massimo Chieruzzi (AdEspresso), Sujan Patel (ContentMarketer.io), Stuart McKeown (Gleam), and many others share their strategies on how to get leads on a budget.
Special thanks to those who contributed to this article:
Johnathan Dane of KlientBoost
Benji Hyam of Grow & Convert
inline form