WordPress & eCommerce: Is Enterprise eCommerce a Step Too Far?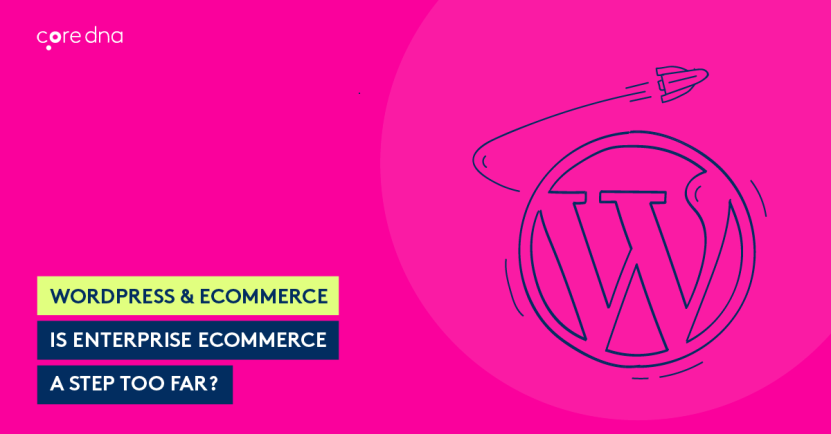 Good old WordPress.
It's perhaps the best, and certainly the most popular blogging platform on the market. Data shows that the free and open source platform powers approximately 33 percent of the known internet.
And thanks to its large user base, along with the introduction of eCommerce plugins like the WooCommerce plugin, many brands are turning to WordPress to utilize it as an eCommerce platform.
But when it comes to large companies and enterprise-grade organizations, can WordPress' eCommerce functionality handle the heat?
Can WordPress be used as an eCommerce platform? Here's what you need to know: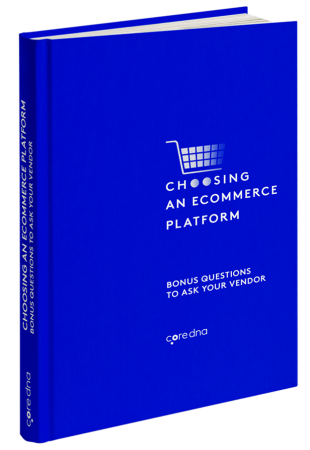 Download this guide: How to choose an eCommerce platform
The definitive guide to choosing the right eCommerce platform for your business.
WordPress & eCommerce: The story behind it (How content and commerce got together)
With dedicated eCommerce platforms like Magento and Shopify that are available, why are brands turning to WordPress? Isn't it just a content management system (CMS)?
Well, in today's digital age where 82 percent of smartphone users conduct some form of research on their mobile devices before they make an online purchase, according to The ROBO Economy report, it just goes to show how fundamentally important content is to brands.
And since a CMS can allow mid-market and enterprise eCommerce brands to deliver content, WordPress became the obvious choice, since it is widely used, and trusted by millions, as you can see from the graphic below.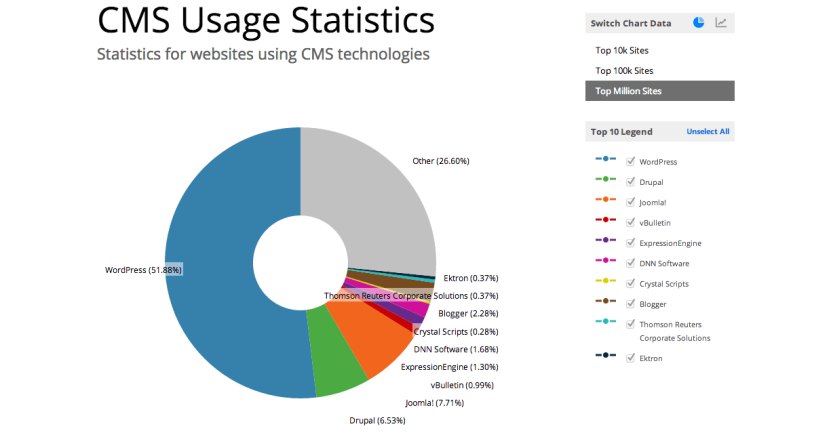 (Source)
And with the availability of WooCommerce, WordPress's highly rated eCommerce plugin that is supported by hundreds of themes, WordPress became a platform that could provide both content and commerce to their consumers via a single platform.
Brands could now combine their blog with their eCommerce store, and they could use their blog to link back to their product pages and provide high-quality content that can engage with their customers.
Is WordPress a viable option as an enterprise eCommerce solution?
Given that we are in the IoT-era, consumers are now more connected than ever before. And with that, consumer behavior has changed drastically. The IoT-era has enabled people to shop via a multitude of devices like Amazon Echo, Samsung smart refrigerators, and Amazon Dash.
For enterprises, and for any sized organization, it's no longer only about delivering an elegant-looking eCommerce site. To go the extra mile, your business needs to be available on the devices that we have mentioned in order to expand its reach and engage with its consumers on a more personal level.
To see if WordPress is a good option for eCommerce, let's review the pros and cons.
The pros of using WordPress for eCommerce
Below are notable advantages of using WordPress to serve your eCommerce brand.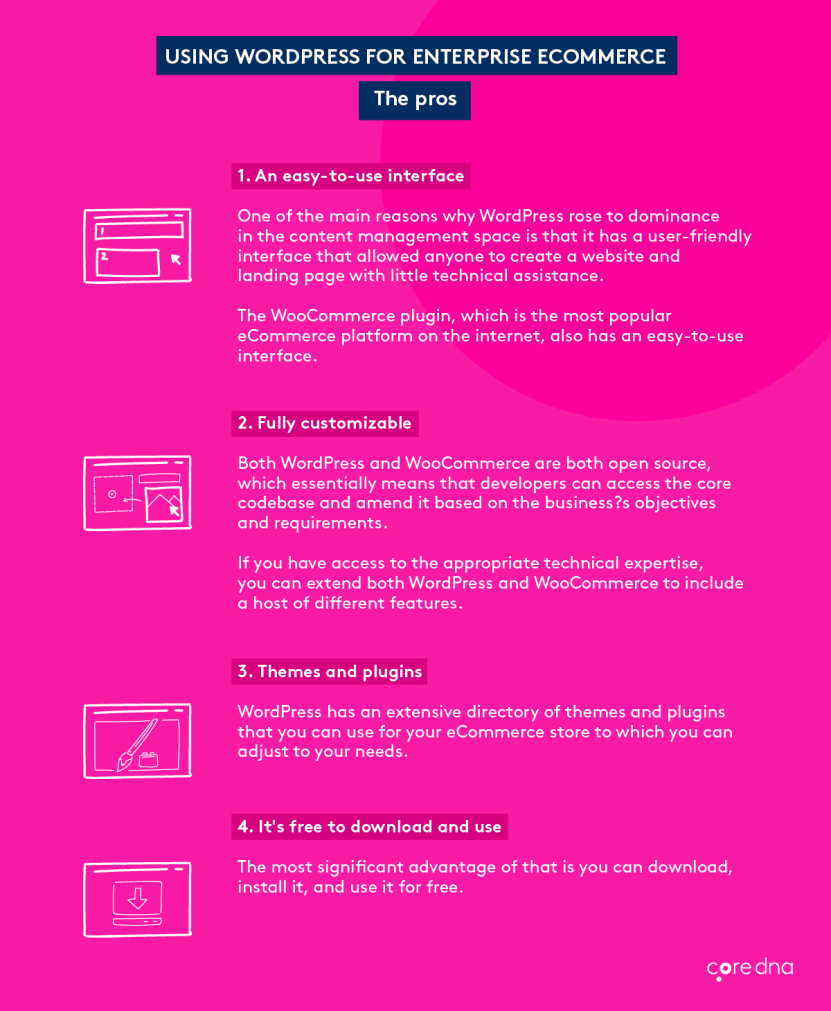 1. An easy-to-use interface
One of the main reasons why WordPress rose to dominance in the content management space is that it has a user-friendly interface that allowed anyone to create a website and landing page with little technical assistance.
The WooCommerce plugin (WooCommerce was acquired by WordPress in 2015), which is the most popular eCommerce platform on the internet, with over 60 million downloads, as according to BuiltWith, also has an easy-to-use interface. Users can easily set up product pages and manage their inventory. And you can also set up currency, shipping, tax, and payment gateways.
2. Fully customizable
Both WordPress and WooCommerce are both open source, which essentially means that developers can access the core codebase and amend it based on the business's objectives and requirements.
If you have access to the appropriate technical expertise, you can extend both WordPress and WooCommerce to include a host of different features. WooCommerce has hundreds of extensions available on their official marketplace, including PayPal, Sage Pay, Royal Mail, and ShipStation.
3. Themes and plugins
Besides being fully customizable, WordPress has an extensive directory of themes and plugins that you can use for your eCommerce store to which you can adjust to your needs. Plus, as mentioned, there are several themes that are compatible with WooCommerce
4. It's free to download and use
Did I mention that both WordPress and WooCommerce are open source? The most significant advantage of that is you can download, install it, and use it for free.
The cons of using WordPress for eCommerce
While the above benefits might sound awesome, the limitations of utilizing WordPress as your eCommerce platform are quite concerning, to say the least.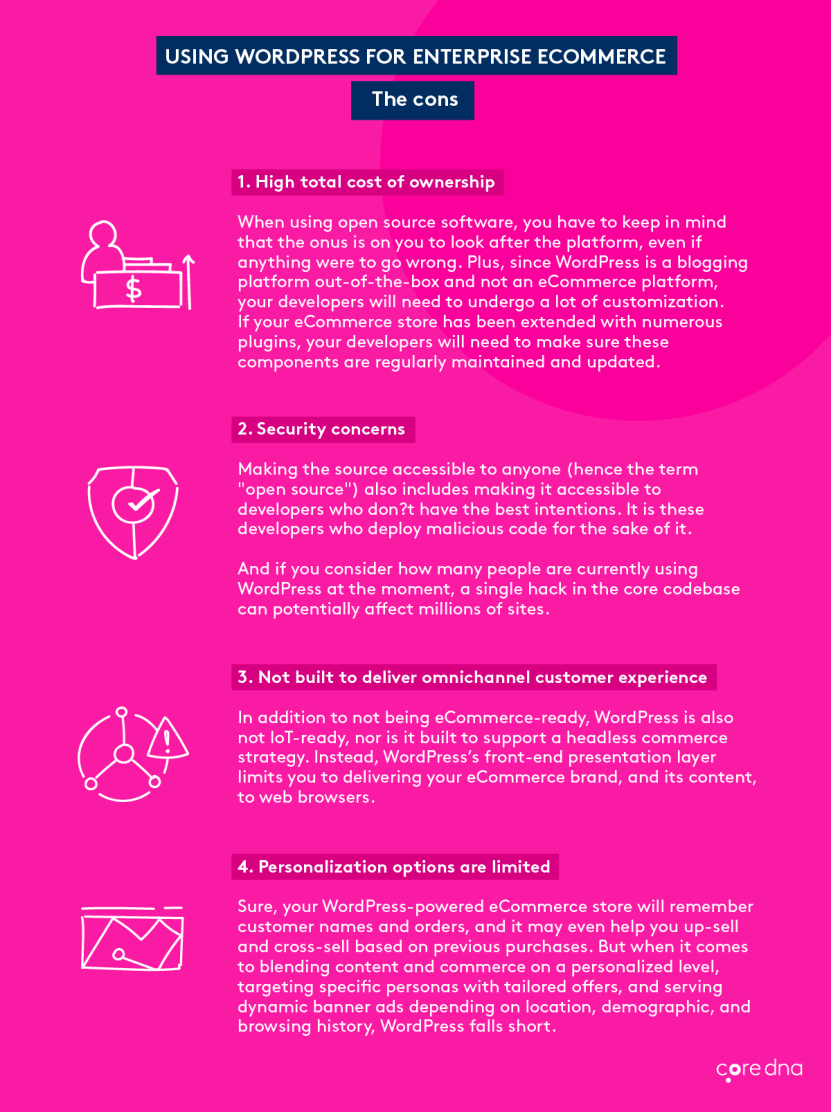 1. High total cost of ownership
When using open source software, you have to keep in mind that the onus is on you to look after the platform, even if anything were to go wrong. That means your IT team and developers will need to allocate a chunk of their time and resources to ensure the system is running smoothly. This includes running maintenance and installing any updates, security patches, and upgrades.
Plus, since WordPress is a blogging platform out-of-the-box and not an eCommerce platform, your developers will need to undergo a lot of customization. This will involve custom coding and customizing themes and plugins, all of which take a considerable amount of time.
To add to that, if your eCommerce store has been extended with numerous plugins, your developers will need to make sure these components are regularly maintained and updated. Failure to do so could leave you with an eCommerce store that performs sluggishly and is vulnerable to cyber attacks - which leads us onto our next point.
2. Security concerns
The drawback with every open source platform, including WordPress and WooCommerce, is that while making the source code open for anyone to modify can be beneficial from a customization point-of-view, it certainly isn't beneficial from a security perspective.
Making the source accessible to anyone also includes making it accessible to developers who don't have the best intentions. It is these developers who deploy malicious code for the sake of it.
And if you consider how many people are currently using WordPress at the moment, a single hack in the core codebase can potentially affect millions of sites.
3. Not built to deliver omnichannel customer experiences
In addition to not being eCommerce-ready, WordPress is also not IoT-ready, nor is it built to support a headless commerce strategy. Instead, WordPress's front-end presentation layer limits you to delivering your eCommerce brand, and its content, to web browsers.
While WordPress can be decoupled, allowing you to deliver content to a multitude of devices through API calls, it won't give you the best performance, as one developer had noted, especially when you're using a host of different plugins to help plug the gap — a problem that WordPress faces as a CMS, not just as an eCommerce solution.
4. Personalization options are limited
As with headless content management, WordPress simply wasn't built to handle enterprise-grade eCommerce personalization.
Sure, your WordPress-powered eCommerce store will remember customer names and orders, and it may even help you up-sell and cross-sell based on previous purchases. But when it comes to blending content and commerce on a personalized level, targeting specific personas with tailored offers, and serving dynamic banner ads depending on location, demographic, and browsing history, WordPress falls short.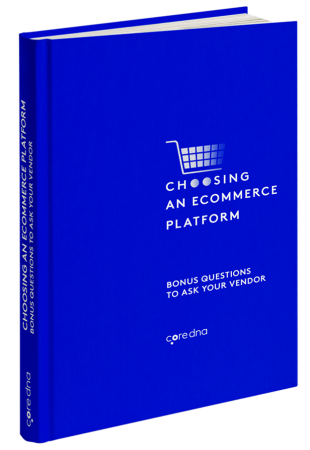 Download this guide: How to choose an eCommerce platform
The definitive guide to choosing the right eCommerce platform for your business.
Is WordPress safe?
This depends on how you look at it.
If you have a team of developers who have been assigned to look after the system 24/7 and ensures all the relevant updates and security patches are installed in a timely manner, then you might be okay.
But the setback here is that a considerable amount of your resources will be allocated to this team. And depending on how much resources you have, your IT team could be left with little time to innovate and develop new and exciting applications that could potentially differentiate your brand from the competition. Would you rather not have the ability to innovate?
And no matter how careful you are, you will still be vulnerable to attacks. As new security patches are released, rogue developers will continue to find ways to infiltrate the source code and plugins.
You only have to look as far back as January 2019 when a popular WordPress plugin, WPML (WP MultiLingual), was hacked by a former employee as an act of revenge for being sacked.
It is for this reason why we advocate closed source solutions, also known as proprietary software. With these solutions, the source code is not available to the general public, and only authorized users can access the code to perform maintenance and install upgrades, updates, and security patches, making them more secure.
So, does WordPress meet the needs of enterprise eCommerce?
For enterprise firms that are serious about eCommerce and want to deliver both their content and their store via experiences that are fit for the IoT-era, then WordPress is not the right solution.
Enterprises need to become more agile so that they can adapt to consumer behavior which is constantly changing at an unprecedented rate. And to do that, they need to have an eCommerce platform that features inventory tracking, visitor tracking to deliver a personalized experience, and the ability to deliver both content and commerce to a multitude of devices.
Additionally, your eCommerce platform should also enable you to integrate with your CRM, shipping, SEO tools, analytics, accounting software, POS, and your content. In other words, your eCommerce platform needs to be a digital experience platform (DXP).
Headless commerce: The future of eCommerce
Considering the fact that voice commerce sales are expecting to reach $40 billion in the US alone by 2022, to access this revenue channel as seamlessly as possible, enterprises must invest in a headless commerce platform.
A headless commerce solution combines an eCommerce solution with a headless content management system out-of-the-box. What this means is that a CMS is able to store, manage, and deliver content and commerce without a front-end presentation layer.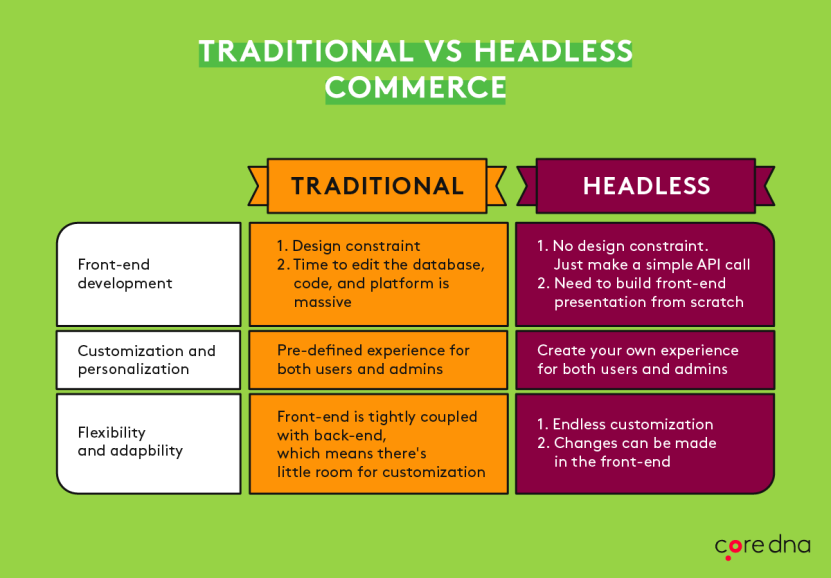 (Traditional eCommerce platform vs Headless eCommerce platform)
A majority of headless solutions are available as a cloud-based service (Software as a Service or SaaS), but just remember, if you see a cloud-based eCommerce solution, that doesn't necessarily mean it is headless.
To deliver experiences on a headless commerce platform, developers can utilize APIs to deliver blog posts, reviews, product pages, and catalogs to both display and non-display devices. The platform is practically built for the IoT-era. And since headless commerce is API-driven, it can readily integrate with your favorite tools including CRM, marketing automation, ERP, and POS.
While headless commerce does not come with a front-end presentation layer like WordPress, developers are free to create their own front-end presentation layer. This does leave marketers in the dark in the first instance since they can't create a website or online store from the get-go.
The alternative is to invest in a decoupled commerce solution (also referred to as a hybrid CMS), which is essentially a headless commerce solution that comes with a set of front-end tools and templates that allow marketers to create a store with little or no technical assistance.
The only problem with decoupled commerce SaaS solutions is that the features will vary from solution to solution. So to save you the hassle, we have one solution that you should definitely partner up with.
Watch video demo
WordPress will help you launch fast, but it will stifle your growth faster
WordPress is known for being user-friendly, cost-effective, and community-driven. All excellent reasons to choose WordPress for a small-scale eCommerce brand.
But when it comes to enterprise-grade eCommerce experiences—or even SMB eCommerce experieces—which consumers expect to be omnichannel, personalized, lightning fast, and feature-rich, WordPress simply doesn't cut the digital mustard.
Thankfully, the alternative doesn't have to be daunting.
As a user-friendly headless CMS with a host of eCommerce features out-of-the-box, Core dna is trusted by brands such as SEEK, Stanley PMI, and Tivoli Audio to handle eCommerce operations.
Plus, it's a proprietary platform, which helps you avoid the security vulnerabilities associated with WordPress and other open source software.