6 Marketing Tips for a Successful Holiday Season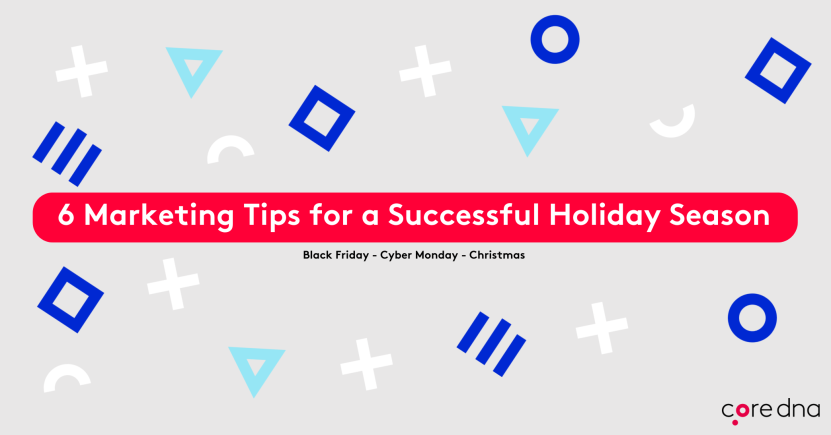 Many companies rely on Black Friday, Cyber Monday, and Christmas for most of their annual sales. Just last year, holiday online sales brought nearly $219 billion of revenue, while in-store sales soared to a record $667.8 billion.
With Deloitte forecasting holiday retail sales to increase between 4% and 6% in 2022, it is an excellent opportunity to break through the competition and capture new customers. In this article, we'll discuss six elements of your marketing plan you need to prioritize and offer advice for making this your best holiday season yet.
Key Takeaways
The 2022 holiday season shopping will be omnichannel and marketers will need strategy to match.
Abandoned carts can still lead to a sale
SMS/ Text marketing can be your secret weapon
Leverage supply chain issues by playing the scarcity marketing card
Don't overlook SEO in eCommerce: optimize your meta titles and descriptions
On this page:
1. Have a tight content calendar
Strategic 2022 holiday marketing relies on an organized content calendar that details how you will reach customers on every channel. Your calendar should include social media and blog posts, emails, texts, and the launch of holiday landing pages on your website. (Free content calendar template)
Social media is a particularly effective way to reach customers both new and old. Get creative as you prepare your content and be ready to differentiate your messaging and posts while making sure your content considers diversity, equity, inclusion, and belonging.
Finally, if you are not already embracing the LIVE shopping trend, we suggest you take a look. What is described by Forbes as the future of eCommerce, is expected to hit $20 billion in revenue in 2022, so it might just become your company's cash cow.
Your content marketing platform can be your best or worst friend when it comes to managing your website. An API-first cms such as Core dna allows you manage your content, catalogs, shipping, inventory, discounts, intranet, micro-sites, and more in one seamless dashboard. It's easy to use and lets you publish holiday content simultaneously to websites, mobile, IoT, AR, and VR.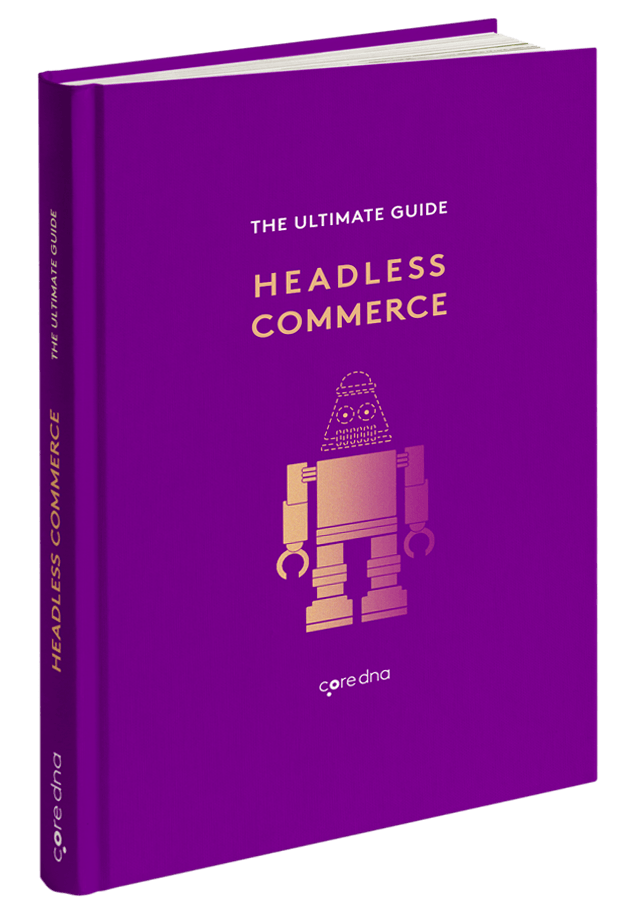 Download this headless commerce guide (plus bonus questions to ask your eCommerce vendor)
Literally everything you need to know about headless commerce.
2. Increase your email campaigns open rate
Don't overlook the impact email can have on your holiday marketing efforts. Compelling and personalized emails are essential for connecting with your audience and boosting conversion rates. Differentiate your brand by sending holiday cards to your loyal customers, showing them you appreciate their business and keep your company top of mind when they shop.
Here are 5 tips that work to increase your open rate:
Put a customer's name in the subject line
Give your current customers early access to your offers with a VIP email campaign
Give your referral program a boost with a holiday special for old and new customers
Save your customers a headache by offering curated holiday gifts ideas
Segment your email list to send emails that resonate and increase your conversion
3. Abandoned carts and follow up
With more customers doing their holiday shopping online, setting up automated workflows specifically for abandoned carts is a must for the holiday season. As they give brands the most incredible insight: exactly what your customer wants.
Start by letting buyers save their cart for later, this has been proven to reduce cart abandonment and help with the customer experience. Then, take advantage of eCommerce automation and have all abandoned carts trigger automated emails and/or text messages with special deals on the products they saved.
Emphasize urgency, whether by highlighting product scarcity, a time-sensitive discount or shipping date guarantee as a way to secureway sales during the holidays.
Below 3 examples of brands that do it right!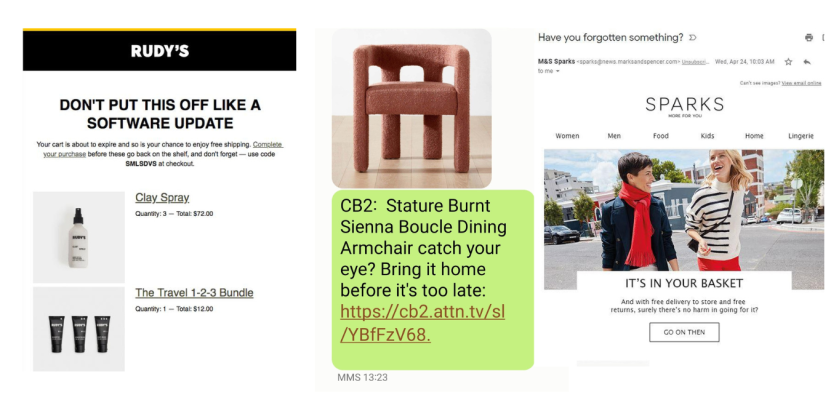 4. Optimize your SMS marketing
You're missing out on an ample opportunity if you're not using SMS marketing to reach your audience. Click-through links and Apple and Google Pay have made buying via mobile devices a breeze. The average open rate for a text message campaign is as high as 98% while email rings in at just 20%. Even in the store, many shoppers use their phones to navigate stores, research products and complete their purchases.
Triggered SMS messaging is your best friend during the holidays. You can automatically send a text to subscribers when they complete an action, such as abandoning their online shopping cart. Here are a few examples to get you inspired: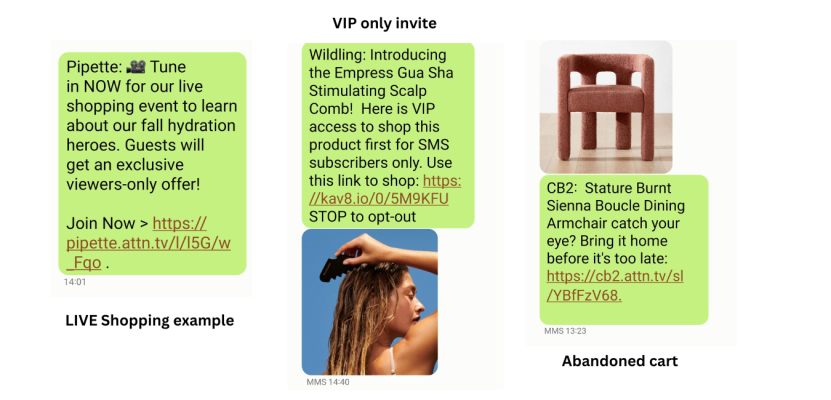 5. Leverage supply chain and inventory issues
Scarcity marketing is the new Guerilla marketing. In the wake of a 2022 holiday season defined by inventory and supply chain issues, clever marketers are weaving them into this year's messaging. Creating a sense of urgency by limiting the supply of a product usually makes the customer want that product more. This is basic human psychology: most people want what they don't have and show off when they have something others don't.
A retailer brand that is mastering scarcity marketing is Aimé Leon Dore. A prominent NY based clothing designer who only sells a limited number of sneakers via a draw. Result: Email registration goes through the roof generating even more people for the next draw and making it the new hot stuff on the block.
How can you brand leverage the trend of scarcity marketing? Take a look at these emails for inspiration.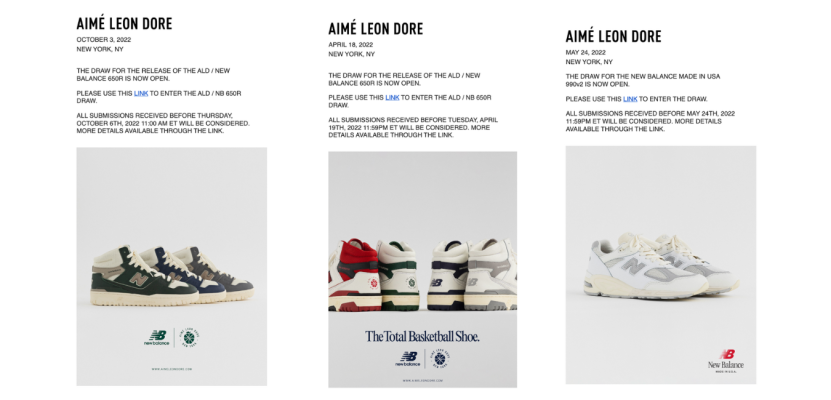 Also, customers don't want to worry about driving from store to store attempting to find a potential gift in stock. Nor do they want to worry about gifts they bought online arriving in time for the holidays. If you can time it right, you can make these concerns work for your business.
Show your audience you can make the holidays stress-free by enticing them with special time-sensitive offers and timely free shipping on orders placed before a specific date.
6. Review your product descriptions and optimize for SEO
Optimizing product descriptions is critical Black Friday and Cyber Monday 2022 marketing efforts. As part of your holiday ramp-up, prioritize making search engine optimization (SEO) related improvements and strategic changes. Here are three things we recommend doing to improve your rankings on Google:
Update gift pages: Search engines need at least 30 days to follow your links and find your specific holiday season landing pages. Therefore publishing new or updating existing holiday pages should be one of the first things you do when kicking off your holiday marketing strategy. Update the page title and meta description for existing pages to ensure the content is related to the proper holiday (Black Friday '22, Cyber Monday '22, Christmas '22, etc.)
Cross-platform functionality and speed: Check and optimize your website for speed for desktop, tablet, and mobile devices. More consumers are expected to shop online this year. You want them to have the best shopping experience possible or risk them abandoning their carts.
Repurpose old content and links: Update the year and details for popular brands and products. If the slug of your URL is /black-friday-2021/, change that to /black friday-2022/. You can redirect the old URL to the new one instead of creating an entirely new page. Better yet, don't include the year at all so you can continue recycling the inbound link every year.

The ultimate guide to growing & scaling an eCommerce business

Everything we've learned throughout our 18+ years journey in a 30,000-word PDF guide.

7. Shoutout to awesome holiday marketing campaigns

Most brands lean into seasonal cheer to drum up good feelings, foster customer connections and convert goodwill into sales. One of the best ways to learn how to execute an excellent holiday marketing strategy is to see examples of successful tactics first-hand.

REI's #OptOutside: It was a bold move at the time but aligned well with their corporate values. For the past few years, the sports retailer, REI, has closed its stores on Black Friday. They gave employees the day off and encouraged customers to get outside and share their experiences on social media. While many thought it was risky, it went viral and demonstrated REI's values to customers.
Macy "Believe campaign: This campaign by the retail giant taps into the charitable spirit of the Christmas season. Macy's created a website where users can write Santa letters with their Christmas wishes. For every letter posted, Macy's donates $1 to the Make-a-Wish foundation. It also includes a product-centric element to the site by featuring a holiday gift guide on the campaign's homepage. The campaign aligns with the giving season, engages customers directly, and promotes products simultaneously.
Hinge's "What We're Thankful For" email: Dating app Hinge captured the holiday spirit when they emailed members asking them what they're grateful for. It was an effective way to tout the platform's growth while encouraging members to spend the holidays with "someone special."
We hope this article will help you engage your audience effectively and close out 2022 on a high note.