5 Steps to Get Your Website Ready for Holiday Traffic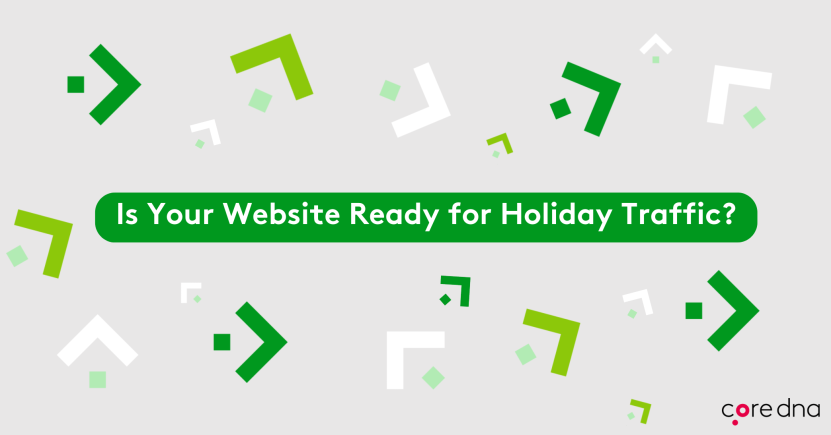 The 2022 Black Friday - Cyber Monday sales are in full swing and marketing efforts are in full bloom; yet most forget to set up a success plan for technical teams. Traffic to the top 100 shopping sites can increase by 137% on Black Friday and 112% on Cyber Monday. Without a solid strategy to manage that holiday website traffic, you risk your holiday efforts being on shaky ground.
Key Takeaways
You can't afford to skip on performance and load testing.
Mobile commerce t

rend,

also referred to as m-Commerce, is here to stay and brands should adapt.
Make sure your website and payment gateways are secure.
Prepare a contingency plan.
Make your digital customer experience simple and seamless
Unwrap this guide for some tips to prepare your technical team for a successful 2022 marketing holiday season.
1. Conduct Regular Load Testing On Your Website
Even the longest-running and most-visited websites have had long periods of downtime due to a massive number of site visitors. Keeping with the theme of the holidays, here's just one example; Macy's website and mobile app crashed due to overwhelming traffic on Black Friday in 2016. Customers were dissatisfied, and there was a significant social media reaction because of the lack of supply. Of course, this downtime also impacted their online holiday sales.
Don't make the same mistake as Macy's and numerous other companies who lost profits due to website downtime during one of the busiest times of the year. Instead, test your web performance in advance and evaluate the site's scalability in the face of predicted user volumes, especially around the holiday season.
Here are a few recommended tools for load testing:
If you need help in getting your website prepared for high volumes of traffic, Core DNA offers a partner ecosystem program to ensure the scalability of partner websites.
2. Make Sure Your Website Is Responsive
Make sure your website is mobile responsive so users can easily shop from their mobile phones or tablets during busy shopping days like Black Friday and Cyber Monday. A growing number of consumers expect a smooth mobile purchasing experience, and if your website isn't mobile-friendly, you might be missing out on a significant chunk of traffic.
Over time, Google has been boosting the search engine ranks of mobile-friendly websites. If your website isn't mobile or responsive, it could cost you a lot of money during this busy season. By 2025, retail mobile commerce sales should more than double to reach $728.28 billion and account for 44.2% of retail eCommerce sales in the US.
If you aren't sure if your website is ready for mobile users for the holiday season, you can use Google's mobile-friendly test to see whether the site properly works on mobile devices.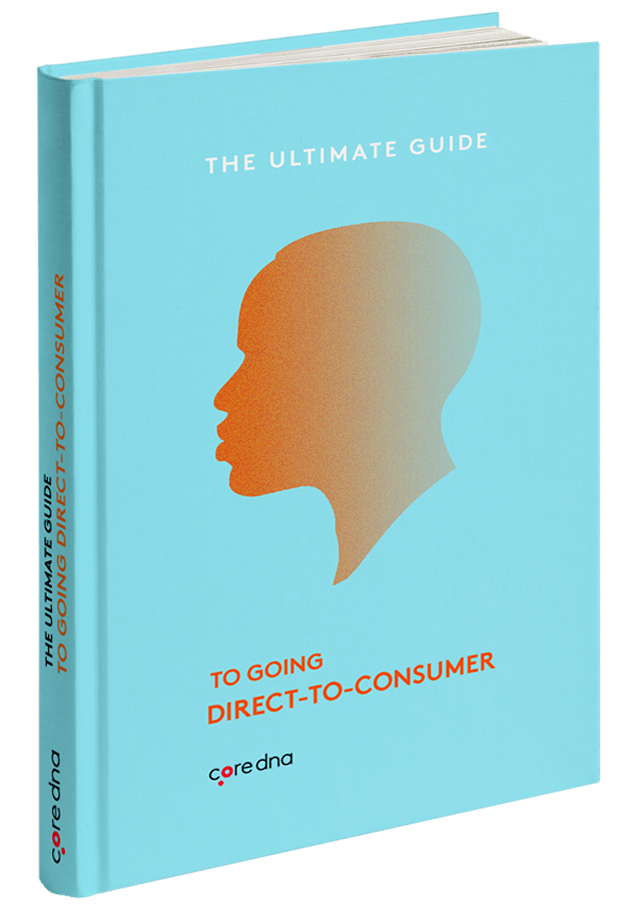 How to take your business direct to consumer in 2022: The ultimate guide
Strategies, insights, and tips on how to start and scale a direct-to-consumer business.
3. Ensure Your Website and Payment Methods are Secure (and Show It!)
Cybercriminals may enjoy the holidays as much as you do, if not more. The IC3 has received 2,084 ransomware complaints with over $16.8M in losses, a 62% increase in reporting and 20% increase in reported losses compared to the same time frame in 2020. And it's easy to see why. Due to increased visits over the holiday season, website security flaws may be more easily discovered and exploited. Customers who want to purchase online will prefer a secure website that will keep their information private.
The first step is to make your website and payment methods secure. Encrypting your website is the best approach to safeguard sensitive client data. Secure Sockets Layer (SSL) is a protocol used to verify a sender's identity and encrypt data in transit across the Internet. SSL protocols, a feature offered by the Core DNA platform, encrypt data in transit to guarantee that the intended receiver can only decrypt it.
Also, because Google strives to be the most trustworthy search engine, it has been utilizing its "not secure" warning and content-blocking capabilities to compel websites to acquire SSL certificates.
Customers need to trust your site before providing sensitive information like bank account numbers. Not having visible security policies or trust marks prevents 84% of customers from making purchases on a website. A website with an SSL certificate inspires trust and confidence in its users. You should show the certificate or other security credentials on your site or throughout the checkout process to convince customers that their information is secure with you.
4. Prepare for the Unexpected With a Contingency Plan
Hiccups in operations are inevitable and unpredictable. Don't wait for the worst-case scenario to unfold. Instead, devise a contingency plan, especially for the busy holiday season when stakes are high.
Here's how to develop a contingency plan:
First, identify the major business-halting risks. It's hard to foresee every possible disaster, but you probably can think of at least one that would disrupt operations. For example, what would you do if your website crashed? Your backup plan will be based on the most likely outcomes of these risks.

Second, determine the most probable course of action in your hypothetical scenarios. Write it down, but ask whether it's the best move. Involve your team in this process. Planning beforehand lets you brainstorm answers. Ask whether the interruption has occurred previously and what staff did to fix it. Once you all agree on what to do in these scenarios, document them
Once you have a strategy, the third step is to identify and notify the stakeholders. Figure out who should be informed of any sudden changes and who is in charge of getting plan B rolling. Ensure everyone who has to approve expenditures, provide access to resources, or otherwise back the strategy is aware of it.
Finally, try out your backup plan for real if you can. Although the "disaster" can need somewhat different preparations, going through the outline is always a good idea. In a trial run, you may notice a skipped step or something you didn't think about before.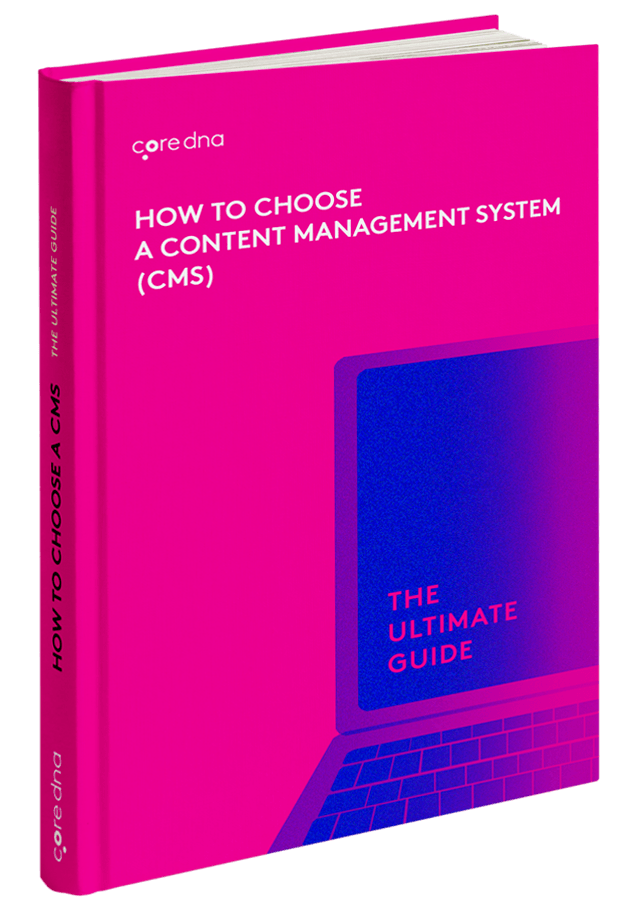 How to Choose a CMS: The Ultimate Guide (With Bonus Checklist To Ask Your Vendor)
The definitive guide to choosing the right CMS for your business plus bonus questions and checklist to ask your CMS vendor.
5. Keep it Simple with Easy Navigation and a Seamless Digital Experience Platform (DXP)
It is not only about the look of your site but also about how it functions and what features it has. An effective digital experience must satisfy all users' usability, accessibility, and performance needs. Make it easy for your audience to locate what they're searching for by providing experiences that are intuitive, interesting, and tailored to their needs.
According to Qualtrics, 65% of people have switched brands because the customer experience didn't match the brand promise.
Digital experiences are the present and future of marketing, and the ramifications of this fact for a company are quite evident. This is why many businesses are adopting a DXP platform such as that offered by Core dna to provide consistent content-driven user experiences across all channels.
Our advice is based on what we learned over the holidays, but it is applicable year-round. You can never be over-prepared for next season! Don't stress too much if you haven't made any holiday preparations for your technical crew this year; there's still time, and these tips are a great starting point.