A Guide to B2B eCommerce ROI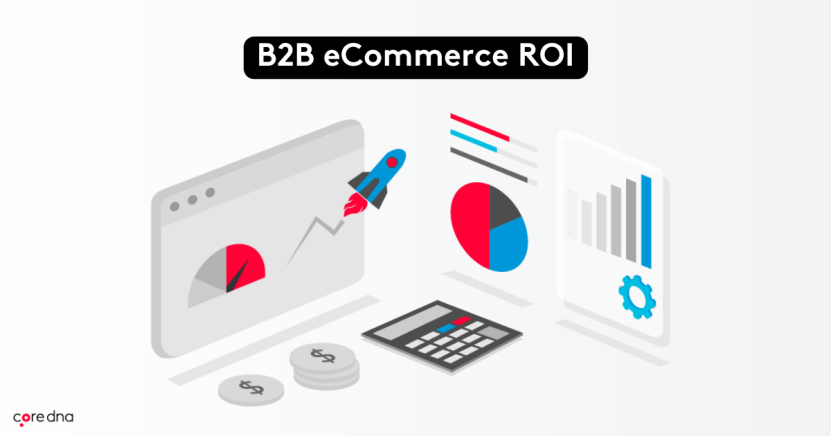 Many B2B sellers are still trying to figure out the return on investment (ROI) of their eCommerce programs. The truth is, when it comes to measuring B2B eCommerce ROI, it's not as straightforward as with a direct-to-consumer eCommerce business. However, that doesn't mean it isn't valuable.
''A B2B website won't have the straightforward ROI measurement of a consumer products seller, but it's still an important online presence. Potential clients will search for your business, and a good site will benefit both your sales and your client's needs. ''- DBS
In this article, we will walk you through the essentials of B2B eCommerce and how it's beneficial for your ROI, as well as go over how to calculate it in terms of business-to-business eCommerce:
ROI Formula Calculation
Let's start with defining ROI and how to calculate it for your business. Return on investment (ROI) is a comparison of the financial advantages of an investment to the amount of money that was invested. A return on investment calculator determines whether or not an investment generates earnings that are greater than the cost of making the investment. To put it another way, it establishes whether or not the initiative was profitable.
Here is the formula for the calculation:
ROI = Investment Gain/Investment base aka Net Income on the Investment/Cost of Investment


How You Can Leverage B2B eCommerce
Clear Marketing and Sales Strategy at a B2B Standard
Investing in business-to-business eCommerce technology will provide you with a solid marketing and sales strategy. When evaluating the performance of a company and searching for areas to improve, data is of the utmost importance. Digital business-to-business platforms allow companies to quickly acquire and evaluate data that influences business decisions such as campaign success, sales effectiveness, website traffic, buying trends, marketing metrics, and inventory. These insights can help you better understand your clients, improve your products and services, and identify profit-generating initiatives.
Furthermore, these systems make life easier for both suppliers and customers, which can improve your relationship with them. Companies can incorporate user-friendly features such as contract-based, volume-discounted pricing, multiple payment options, balance inquiry, and more. Also, updates to services and products are easy to implement, so your customers will always have the most up-to-date knowledge about your product or services.
This type of software employs AI and machine learning to automate processes. For example, you can automate many regular jobs by using chatbots and advanced software, such as customer support and inventory management. Finally, regarding marketing strategy, digital business-to-business platforms will provide you with better branding opportunities, which though undervalued, is crucial to the success of a business-to-business company.
"Branding as a discipline has been undervalued in the B2B world'' - Sköna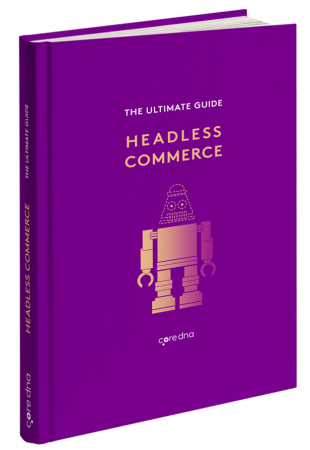 Download this headless commerce guide (plus bonus questions to ask your eCommerce vendor)
Literally everything you need to know about headless commerce.


Cost Savings
One of the most obvious ways to leverage business-to-business eCommerce is to examine how it affects your revenue. This type of software offers various methods of cost savings. Better lead times, reduced cost of maintaining and upgrading legacy systems, easy-to-manage product catalogs, and seamless data entry are just a few examples.
Going digital will reduce your tangible costs. However, it's important to note that product-based B2B eCommerce businesses have errors and return costs.
Increased Sales
Increased sales are one of the most obvious advantages of an online storefront. According to Forrester, 60% of B2B companies have seen an increase in sales from customers who prefer to make purchases online.
The funnel of B2B sales takes longer than B2C and takes a bit of understanding to make the most of it. In a traditional sales funnel, the last step is the final purchase. However, the business-to-business sales process is not complete when the money and the product have changed hands. Building a B2B sales pipeline relies heavily on continued customer engagement after a purchase has been made. For this reason, an online platform is an excellent tool for targeted sales, engaging customers that have already purchased from you.
Also, mobile sales become a larger possibility when you provide an omnichannel experience (more on that later). Faster product shipping is also made possible since a platform can help streamline the process, increasing future reorders and returning customers.
More Productive People
Businesses can gain a significant competitive advantage in customer retention and revenue generation by providing self-service options to their business-to-business clientele. However, the underlying factor is that staff can be overall more productive when a digital platform is implemented. Regarding people already working for the company, you can move salespeople from the role of order-takers and have them participate in new business developments.
With online solutions that use data analysis, you can better understand the costs involved with servicing customers; you can segment lower value activities to self-help or low-cost call centers and segment client success to deliver higher value help. There is a significant importance to increasing the productivity of your staff, as it can have an impact on client satisfaction.
Efficient Product Development
When it comes to product development and improvement, there are benefits to digital eCommerce platforms. For instance, you can easily seek partner input for the development of new and updated products or services. In addition, these online solutions also make it easy to conduct beta tests of products and gain feedback from the targeted community.
In the early stages, after product development is complete, you can take advantage of pre-selling products to help understand demand and lock in sales, helping you increase overall efficiency.
Higher Customer Satisfaction
Businesses can also use B2B digital platforms to improve customer satisfaction by providing a better shopping experience. Of course, an omnichannel presence is the most significant player in increased customer satisfaction. However, the modern business-to-business buyer wants you to take things a step further by integrating channels, weaving the customer experience through each in a seamless manner. More specifically, 90% of consumers want cross-channel consistency, which is made possible by a digital platform.
Utilizing a number of channels increases efficiency and broadens your company's potential customer base. Your return-on-investment could improve as a result.
"Hubspot reported each additional social channel you add to your social media marketing plan can increase ROI and effectiveness by 35%.'' - KO Marketing
Online business-to-business platforms also reduce many customer pain points thanks to their online buying DXP. In addition, there are more customization options for customers as well. For example, site visitors' company size and industry information can be utilized to tailor their experience.
Finally, online ordering systems provided by these online solutions assist companies in streamlining the customer's ordering procedure, improving customer happiness, and ensuring they remain customers for years to come.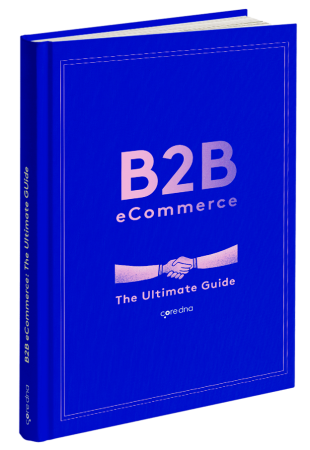 Download this B2B eCommerce guide
What is B2B eCommerce, common mistakes you're probably making, some myths you probably believe in, best practices you can steal, and more.


ROI Benefits of B2B eCommerce
After examining how you can leverage B2B eCommerce to expand your business, it's easy to understand the several benefits regarding ROI. First of all, time is money, and digital business-to-business platforms are a lot faster to use and handle many customers on, saving you a significant amount of money and time.
There are fewer tangible assets to pay, and you can spend your own time and your team's time better on other facets of the business. A digital B2B platform frees up sales team time to focus on other business activities. For example, they may focus on maintaining wholesale clients or launching promotional programs to increase sales.
An online business-to-business platform can offer high productivity and better global recognition. A strong online presence will provide more impact in marketing. Finally, it's a better measure of your profits, and B2B eCommerce platforms provide amazing comparative analysis.


ROI Disadvantages of B2B eCommerce
With all the advantages of B2B eCommerce, we also need to consider the disadvantages. The disadvantages mostly come down to the fact that it is easier to get too swept up in short-term results and profits with ROI; long-term profitability is less considered due to the shorter assessed performance in ROI.
You have to consider the costs of implementing an online platform, its maintenance, and the dry seasons, all of which can add up costs. Also, the holding period of an investment is not taken into account with ROI. As a result, ROI may sway higher-ups to focus too much on high-rate investments of return, leaving other reducing-ROI investments abandoned.
Conclusion
Maintaining competitiveness requires financial investment in a trusted eCommerce platform. In addition, effortless communication and shopping can boost your business, as today's consumers are willing to pay a premium for the ease of using modern technologies.
Think of the money your company may save by making the switch to digital. Saving time and money from unnecessary hassle is a win for any team. Although investing in B2B online solutions will not be cheap, it will significantly impact your ROI and produce many long-term benefits for your business.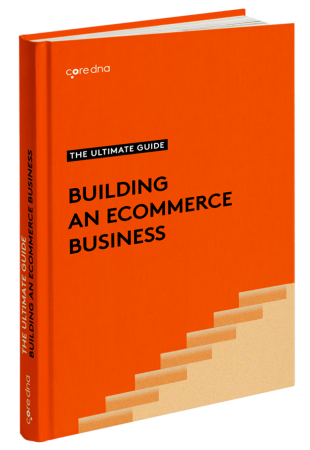 The ultimate guide to growing & scaling an eCommerce business
Everything we've learned throughout our 18+ years journey in a 30,000-word PDF guide.