The B2B eCommerce Catalog: What You Need to Know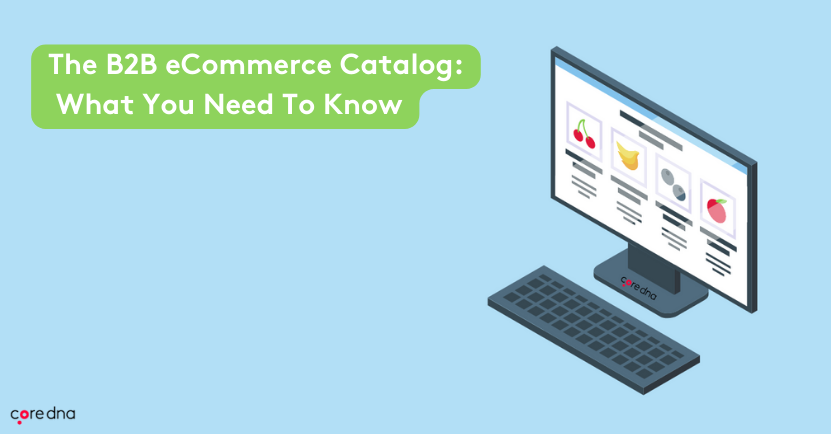 B2B catalogs have grown and evolved from the earliest days of business when companies often exchanged catalogs by mail. In the past, catalogs were usually paper-based, so it was necessary to use primitive ordering methods such as email, phone, or fax. Also, they were hardly ever updated and costly to distribute.
Over time, the use of catalogs has changed in many ways: From how they're distributed to what they contain to catalog management. However, one factor has remained the same throughout the history of B2B eCommerce catalogs: They are a necessary tool for businesses to connect with their customers and stay ahead of the competition. If you want to know about eCommerce catalogs, read on.
In this blog, we will answer:
1. What value does a B2B eCommerce catalog add to your customers?
When it comes to eCommerce catalogs, one of the biggest questions business owners have is what value they really add to their customers. Is it just another way to show all your products in one place? Or are they more than that?
A good catalog will add value in several ways. First, it will showcase your products and provide a useful tool for customers by giving them the ability to see all of your products and services with up-to-date inventory and location information. In addition, unlike print catalogs, which are often out of date, catalog management is easier with eCommerce catalogs.
eCommerce catalogs can also provide much more detailed information than what can be put into books. An eCommerce catalog allows you to use multi-media such as videos, how-to guides, and manuals in your product listings. Also, it gives you the ability to feature products that aren't yet available. Customers can have a more personalized experience with online catalogs, from personalized pricing to a personalized catalog displaying only the products they want to purchase.
Abilities to filter and search allow customers to look through your catalog in a way that makes sense. RANDYS Worldwide uses filtering options to enable customers to quickly search through their over 12,000 products for specific attributes to narrow down their search. To make the search experience even better, eCommerce catalogs provide the ability to self-select complex products and related parts and allow you to connect your listings to related products.
Overall, B2C commerce catalogs need to make doing business with your company as simple as possible. When looking to implement a catalog, carefully consider the relationship between your products and how your visitor is most likely to use your catalog.
2. How does a B2B eCommerce catalog differ from B2C?
To put it simply, With B2C, users are usually new and browse the catalog to learn about new goods or study things to buy.
Conversely, B2B catalog viewers are usually repeat buyers and far more experienced with your products and services. Often, consumers only utilize a B2B catalog after negotiating and signing a contract. So it's needless to say that there are many differences between B2B and B2C eCommerce catalogs.
Let's dive into a few:
Business Model: The most significant difference between the catalogs is the business model they are serving. B2C catalogs are used to sell directly to customers, while B2B catalogs are used to sell to other businesses. Because of this, there are options to buy products at higher volumes and with different price points. Also, different product attributes are used to categorize and group products. The B2B buyer will have far higher expectations of the catalog and what they want to be able to achieve. As an example, the buyer may not want to navigate or browse products but instead build a cart from just entering product codes. The catalog will need to support the buying experience.
Product Information: B2B catalogs have far more comprehensive product descriptions. They also use media and other tools to help inform the customer about the product and how to use it. In some cases, product information can contain sales-based information that can be used in the selling of the product, or it may have maintenance information for the maintenance of the product. B2C catalogs don't necessarily require this information.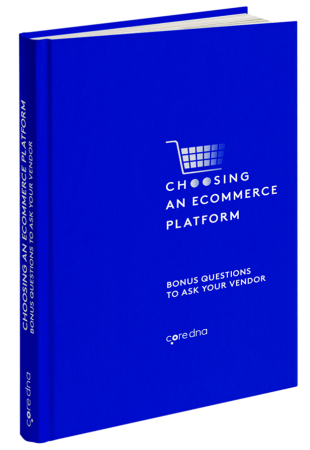 Download this guide: How to choose an eCommerce platform
The definitive guide to choosing the right eCommerce platform for your business.
Customer Portal: eCommerce catalogs enable business buyers to bypass traditional catalog purchasing and order by SKU. The customer portal saves orders, allows easy re-ordering, exports and imports of orders, sets orders and credit limits, creates quotes, and allows customers to interact with a personalized sales representative or account manager. The customer portal can also create a personalized catalog with only the products users want to purchase, saving them from viewing vast amounts of products that are irrelevant to them. Again, the objective of the catalog is to make it easy and convenient to purchase from you and to receive customer support.
Integrations: B2B catalogs connect to customer records within the centralized ERP. They provide the ability to transfer individual orders, pricing, credits, and discounts. Also, it enables you to centrally connect to warehouses and third-party logistics.
Order processing: B2B customers using an eCommerce catalog can be given options to pay with various offline methods such as ACH, check payment, or monthly account payments. Additionally, there are options to set credit limits for clients and handle a variety of shipping systems and methods.
3. What are the requirements of a B2B catalog?
An eCommerce catalog is a powerful tool for your customers. It provides them with an interactive and comprehensive overview of your company's product offerings and industry expertise. This allows your customers to find the right product for their individual needs, but it's essential to ensure your catalog has a few important requirements:
Connection to your central ERP system
Connecting your online catalog to your ERP system ensures that you can track and manage your data from one central place, along with all other workflows. You must determine the master for information and ensure that what is updated from other systems is appropriate. You should also be able to receive notifications for changes that occur in a synchronized manner.
Connection to your centralized warehouse and management system
Connecting to your centralized warehouse and management system makes the process of inventory tracking and control more efficient, makes it easier to keep your catalog up to date, and allows your supply chain fulfillment to operate with ease.
Flexible categories
Buyers, specialists, and seasonal consumers are all groups you will want to appeal to with flexible categories. You should use categories to segment information and provide personalized content and experiences.
Interrelationship between categories and products
Allowing the editor to build meaningful relationships between categories, products, and search tools lets you offer related products and make recommendations. As an example, if we consider a complex product that may be made up of a series of sub-products, having a catalog that understands this relationship makes it easy for the buyer to select the appropriate collection of products without making any mistakes.
Product tagging
Tagging and collecting products into arbitrary groups can assist with organizing and tracking products throughout a warehouse and within your inventory, as well as catalog management.
Powerful search options
Faceted search allows facets for filtering, is quick to return results and can be optimized based on rules and rankings of results. In addition, predictive search and fuzzy logic enable consumer mistakes and errors in searches to be recognized and fixed.
Structured content management
Having structured content management allows for flexibility in the Content Management pages, and best promotes products based on their categories and visitor requirements.
Data exchange
Having the ability to exchange data is vital for sharing your catalog and customer information with external systems and analytics tools.
Responsive design
The ability for your site or catalog to be viewed on any device and channel is a necessity for a better user experience.


4. B2B eCommerce catalog examples
RANDYS Worldwide is a vehicle parts provider. They provide differential gears, axles, installation kits, small parts, tools, and more. RANDYS is known for having a large inventory and a vast selection of parts. They offer products to both B2C and B2B customers and therefore have differing catalogs.
This eCommerce catalog uses Diff Wizard to identify the exact part by year, make, and model. Users can make complicated queries involving several facets and get specific search results back with a faceted search engine. The online catalog has up-to-date information about stock and inventory by tracking inventory records for each warehouse.
When it comes to the visitor experience, the RANDYS website categorizes users as DIY or experienced. The site provides extensive browsing facilities for the DIY visitor, such as this wizard, to ensure that the correct vehicle and differential are identified prior to any purchase. The catalog can change depending on the visitor, providing additional flexibility for the experienced visitor by removing product checks and balances.
Northeast Nursery has served landscapers and homes with bulk items, plants, and gardening supplies for several years. This company sells premium supplies for landscaping, whether a homeowner or a landscaping contractor. Therefore, there are two catalog options: A B2B catalog and a B2C catalog.
B2C customers can sign up for a personalized catalog and pricing. A faceted search engine with filtering options is also available in the catalog, allowing users to get specific product results. The catalog is further subdivided into seasonal categories, which bring together a variety of products from across the site that are typically purchased together. The seasonal variation can also be used on content pages to improve SEO and provide all of the information to the visitor in one place.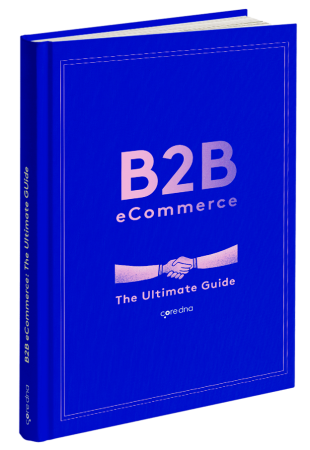 Download this B2B eCommerce guide
What is B2B eCommerce, common mistakes you're probably making, some myths you probably believe in, best practices you can steal, and more.