Digital Transformation: A Buzzword or a Necessary Evil?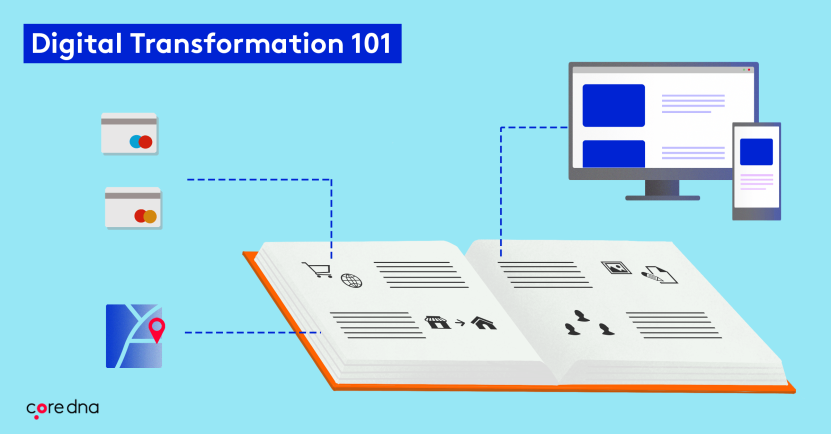 If you're ready to embark on your digital transformation journey, but wondering what digital transformation means for you, then look no further.
In this article, we'll explain what digital transformation is and why your brand should have a definition of its own.
Want to learn about digital transformation? Here's what you'll find in this article:


What is digital transformation?
Digital transformation is the use of technology to change how a business operates and delivers experiences to its customers.
That's a broad definition—and there's a reason for that broadness.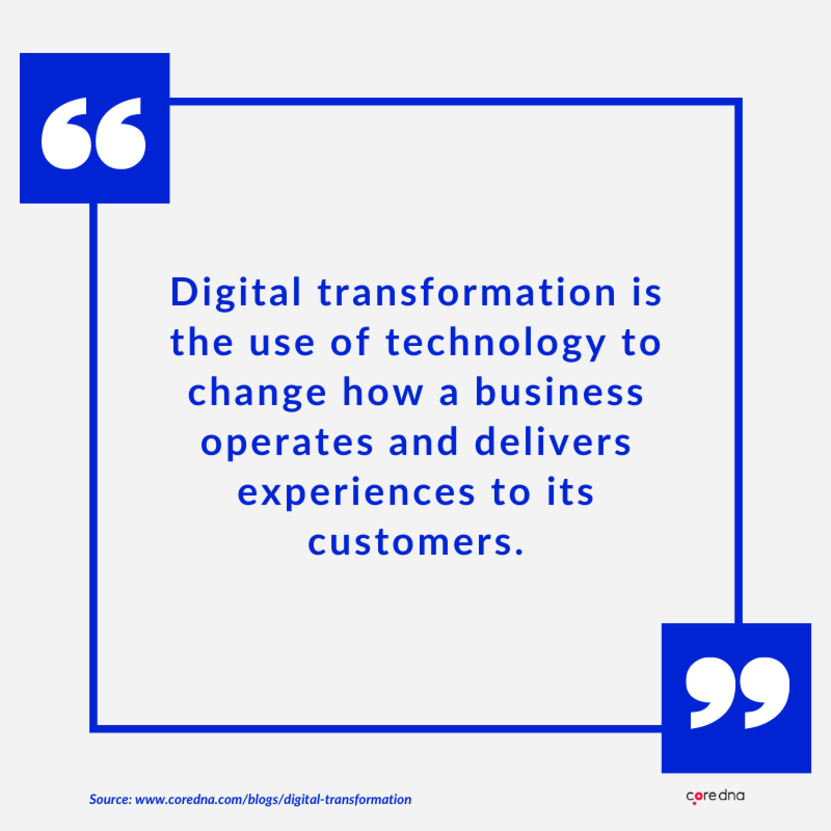 Gartner embraces the varying nuances of a digital transformation with its definition:
"Anything from IT modernization, such as cloud computing or AI, to digital optimization, or the invention of new digital business models."
Whichever definition you take, digital transformation has the same overarching goal:
Improving business processes and using digital technology to help. Yet, digital transformation isn't a one-size-fits-all concept.
There is a myriad of technologies on offer today, which can lead to organizations embarking on a digital transformation from several different starting points - and this isn't necessarily a bad thing.
For each company, their digital transformation strategy should be different to reflect their level of investment, their customer's pain points and expectations, and the products or services they offer. For example, a nationwide bakery and a national telecommunications provider will have two very different definitions of digital transformation for themselves.
Knowing how your company defines digital transformation will move you one step further in beginning the process.
Common digital transformation mistakes
When it comes to how they need to view a digital transformation, companies tend to make one or more of the following mistakes that prevent them from having a successful digital transformation.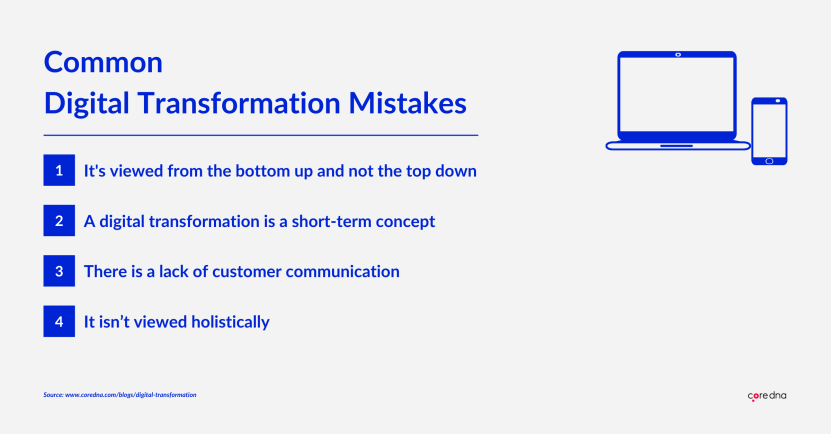 1. It is viewed from the bottom up and not the top down
Companies often get confused with the term digital transformation - it doesn't only mean digital. When organizations launch new websites, tools or processes, they may consider that as their digital transformation, but then it doesn't work out as they envisioned.
Digital transformation begins with the people. If new tech is implemented without considering the people, the organization as a whole and its internal processes, then the transformation will be a failure.
When viewing digital transformation from the C-Suite, it's important to note that every business is unique, and there is no one size fits all solution.
Also, companies need to do away with old school thinking that the digital business model has different rules compared to any other business model. Online and in-store pricing may vary, yet both will still require investment for finding the right product mix, after-sales processes and customer support.
2. A digital transformation is a short-term concept
Many assume that a transformation happens once and then you're done. Digital transformation is an ongoing process. Companies need to adapt to new technologies, changes in consumer behavior and more continuously.
Another problem with viewing digital transformation as a one and done thing is that some companies believe it would be too big of a project to undertake and end up costing lots of time and money.
In fact, if you plan well and understand your business constraints and reimagine them into different scenarios, then each problem can be tackled one by one. This makes it easier to view a digital transformation continually and as a benefit to the business rather than one big bang effort that customers end up ignoring.
3. There is a lack of customer communication
Digital transformation does not mean 'build it and they will come'. Just because you add new technology doesn't mean that your customers will immediately start using it. You need to communicate with both customers and employees and make sure that they are happy with the changes you are implementing.
Proper communication also helps to avoid friction between customers and the company and makes sure your digital transformation is tackling the right problems.
4. It isn't viewed holistically
When organizations don't view digital transformation as part of one bigger movement, then they may believe that it won't work for them.
In reality, every company has at least one area that could improve with digital transformation. With proper cost-benefit analysis, companies will be able to determine where digital transformation will work best for their business and won't just do it because it seems to be the latest trend.
Digital transformation doesn't only impact customers but also employees and the overall company culture. Understanding this concept will help internal staff understand the benefits and lead to greater adoption across the business.
Also, real digital transformation needs to be embraced and executed by everyone and not just the tech team. Any technology that gets introduced as part of a digital transformation needs to be user friendly or it won't be effective.
How to get people on board with digital transformation
Any process that changes the status quo will cause disruption. Consequently, there's no such thing as "minimizing disruption" during the digital transformation process.
But people are the cornerstone of digital transformation so getting them on-board is fundamental to success. Here are some steps you can take: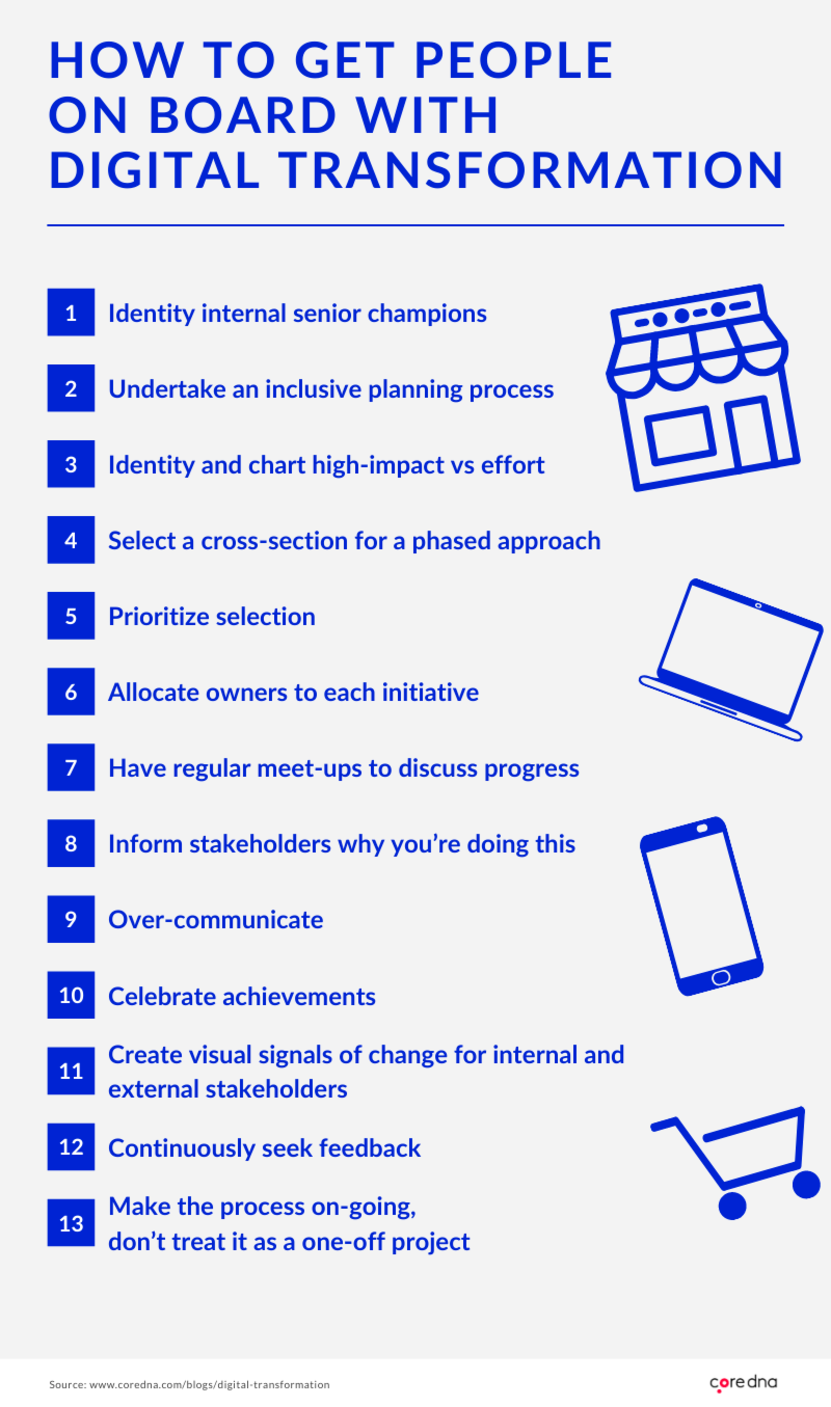 1. Identity internal senior champions
Establish a committee of people across every aspect of the business. Digital transformation affects everyone so having key stakeholders throughout the organization is critical to its success.
Starting with some of the major departments that digital transformation will affect, determine who you can count on to help champion the digital transformation recommendations and make sure everyone remains focused on the ultimate objective.
2. Undertake an inclusive planning process
Once you have your senior champions in place, gather all of them to begin the planning process. Capture ALL the ideas as a group and rate impact vs effort. Take the average of these ratings since they will be important when it comes time to create your priority list.
Including everyone in the planning process and hearing ideas from multiple places can provide a different perspective and lead to a better outcome.
The initial plans you had for a digital transformation could turn out to be more beneficial to some departments than for others. Hearing everyone's views will help you to plan accordingly.
3. Identity and chart high-impact vs effort
Categorize your ideas based on how much work they will require and the overall positive impact on the organization. High impact ideas that need the least amount of effort are always a good starting point since they qualify as quick-wins.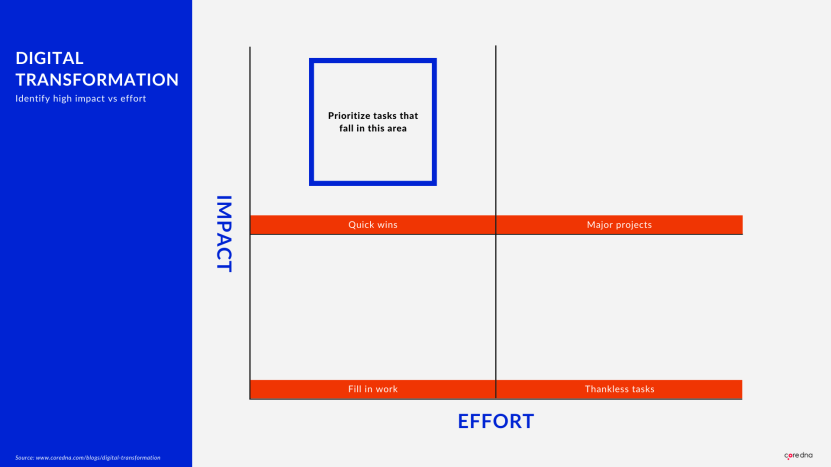 High impact ideas that require a lot of effort would be classified as significant projects. However, you can't forget about the thankless tasks that require high effort with little reward. Sooner or later, you will be happy that those tasks, such as digitizing client documentation, got done.
Any low impact and low effort work can always be filled in along the way where space allows.
4. Select a cross-section for a phased approach
Make your digital transformation process an agile one and don't try to implement everything at once. Take it step by step, gradually introducing changes and seeing how your customers and employees react to changes before adding more.
A phased approach allows the flexibility to make adjustments along the way without derailing the entire process.
5. Prioritize selection
Once you have selected which cross-section of the chart you're going to begin working on, then you can start to prioritize the tasks within that section. Identify any defining factors and weighted criteria you will use to help determine which job to tackle first.
Some of the factors to consider may include benefits, cost of implementation, and the overall strategic value of the initiative.
6. Allocate owners to each initiative
Ownership allows stakeholders to feel like their contribution matters. Each initiative you have should be treated as an individual project, and one of your stakeholders should be designated as the project owner.
As the project owner, it is that person's responsibility to see the project to completion. Owners will likely come from the departments where the project is primarily located.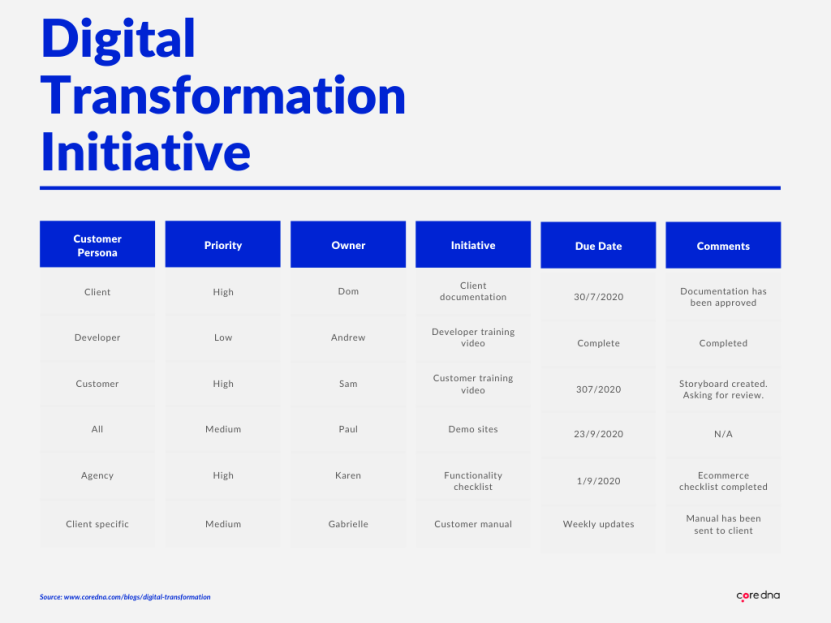 7. Have regular meet-ups to discuss progress
Digital transformation, like any important venture, isn't a short term project. Having regular meetings with stakeholders is essential to make sure that everything is on track.
When you meet, discuss any issues being faced, potential bottlenecks that are hindering progress and how far along you are on the project roadmap.
8. Inform stakeholders why you're doing this (and the benefits)
When working with stakeholders and anyone within the organization who will be involved in the digital transformation process, it is essential to explain why you are undertaking the project in the first place.
One good way of doing this is to identify how they will benefit as individuals or as a department as a result of the digital transformation.
9. Over-communicate
Communicating the value of the digital transformation and with each other throughout the process is a recipe for success. Some of the ways you can do this are by giving the transformation process a name.
Find ways to capture people's imagination and align them with your vision for the organization. Make it easy to be found so that everyone can have clarity on what they're working towards and make any content related to the digital transformation efforts easily consumable. This may include visuals, pics, video, gifs, etc. to boost interest and understanding.
Encourage discussion, not just among stakeholders but with others in the organization as well and avoid sending updates or resources related to the process that can be easily lost or ignored.
10. Celebrate achievements
During any process, it's important to celebrate achievements along the way. This reminds you and your team about how far you've come, even if you still have a ways to go to complete your objectives.
11. Create visual signals of change for internal and external stakeholders
Visual signals can create checkpoints internally among your employees and externally among your customers. Signals can help you determine how effective your transformation has been thus far and ensure that everyone has the digital transformation on their minds.
12. Continuously seek feedback
Don't simply wait on your stakeholders to get back to you and tell you how you're doing. Instead, go to them directly and seek out feedback about your progress thus far.
Feedback is invaluable as it can determine if you're on the right track or if you need to make sweeping changes to your approach.
13. Make the process on-going, don't treat it as a one-off project
Digital transformation is a continuous process that needs updating as customer requirements change and new technologies emerge. For that reason, you shouldn't treat it as a one-off project that is finished once you check the last task off of the to-do list.
Your digital transformation is, in some ways, never-ending. Don't let this deter you as it merely means that organizational goals and requirements will continue to change along the way, and you should always be ready to change with them if necessary.
Technology's role in digital transformation
Since digital transformation begins with the people involved in the organization and the business processes, many begin to wonder what role technology plays in transformation. Here are some of the things that technology does:
It removes friction during the transformation process.
It makes it easier to store content and refine processes.
It can help drive engagement with stakeholders.
It can create transparency.
It can drive customer awareness.
It can create tighter relationships with customers and staff.
It can help find insights in your data.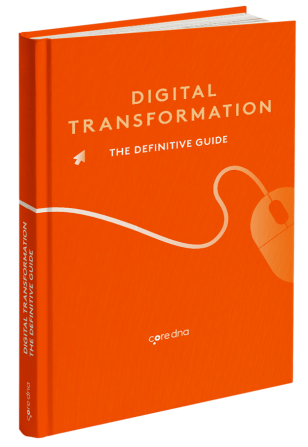 Digital transformation: The definitive guide
Everything you need to know about digital transformation, PLUS a bonus digital transformation sheet that we use internally to track chart vs effort tasks.
5 diverse digital transformation examples
Many companies will also find themselves tackling the digital transformation problem in different ways. Here are some examples of how companies from various industries have approached digital transformation.
1. IKEA embraces convenience
Swedish retail giant IKEA uses an alarming 1% of the world's commercial wood supply every year for its furniture needs. With an increasing push towards environmental sustainability, digital transformation has been necessary to maximize revenue, avoid waste and maintain value for their customers.
Making location less of a hassle
IKEA stores tended to be located in suburban areas to accommodate their sizable and unique store experiences. In previous years, this was appealing to customers who viewed shopping at an IKEA store as an experience.
However, convenience is one of the most critical factors for customers when it comes to deciding where they will make their purchases, and eCommerce has become the norm.
Digitizing furniture buying
Not only can IKEA products be delivered to your door, but with its acquisition of TaskRabbit, someone can come to your home to assemble the furniture.
This, coupled with the ability to view products in your home with 3D rendering and AR using IKEA Place before purchasing means that the entire furniture buying experience has been adapted to appeal to today's digital-savvy customers.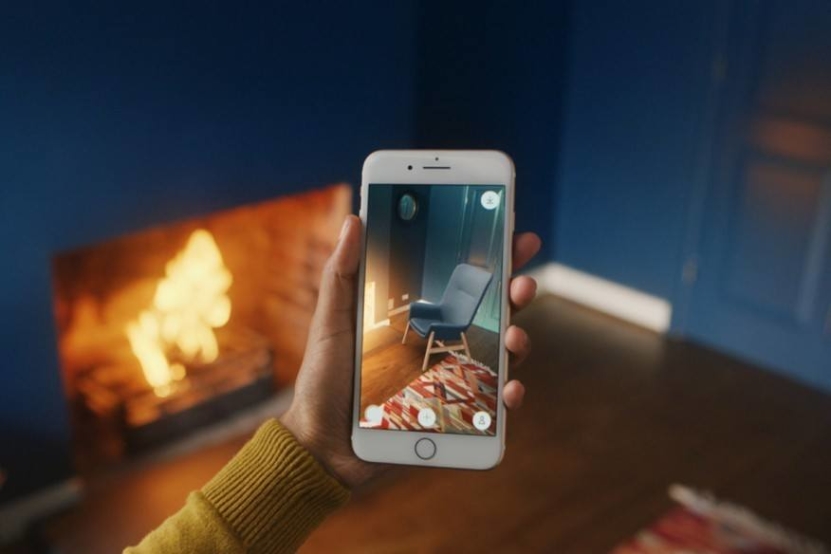 Room for growth
Also, IKEA continues to look towards the future with products built to fit smart homes and rooms as the growth of IoT continues. IKEA's digital transformation allows it to not only cater to its existing customer base but offers them the flexibility to appeal to new demographics as well.
2. Nike doubles down on sneakers
Another major retailer, Nike, has already been doing quite well on the eCommerce front for quite some time with Nike shoes and apparel available at several online retailers, including the Nike.com website.
Previously misplaced transformation efforts
Nike thought of digital transformation and simply embracing new technology without taking other factors into account.
As part of their quest to enter the wearables market, Nike tested out different solutions. Unfortunately, it failed in attempts to catch up to the likes of Apple and Fitbit who were dominating the space.
Improving the buying experience
However, Nike's digital transformation has seen them grow in the area of omnichannel retail with a mobile strategy that includes several apps that boost the customer buying experience, including Nike+ and Nike SNKRS.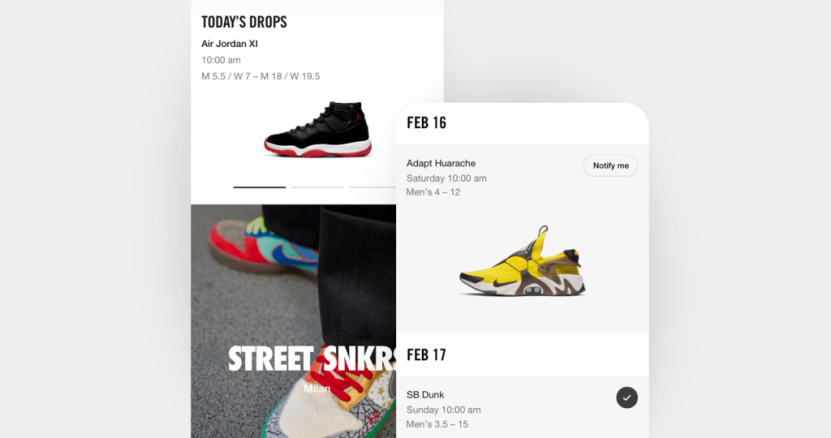 Sneakers are some of Nike's most popular items, and with the SNKRS app, they have been able to tap further into the wealth of opportunity that sneakerheads provide. With these apps that also facilitate in-store rewards, Nike can improve their personalization efforts and encourage more customers to enroll in their loyalty rewards programs.
Transformation in other areas
Nike's RFID tracking technology has helped them to manage inventory and gather more data about their supply chains that can be used to increase efficiency and boost revenue. This approach shows that Nike doesn't just see their digital transformation as being relevant for one area, and other departments can benefit from their digital efforts.
3. Dominos lets you order from anywhere
Pizza brand Dominos found itself falling behind other pizza stores in several categories before it decided to make a change.
Popularized by its '30-minutes or less' slogan, the company was known for delivering pizza fast, but the pizza wasn't necessarily better or even on par with any of its competitors. After making adjustments to the product, the next logical step was to undergo a digital transformation.
The start of pizza commerce
Dominos stopped viewing itself as a pizza company and instead became an eCommerce company that sold pizza. By adopting this mindset, Dominos was able to focus on creating better digital experiences for their customers and use the data generated to improve even more.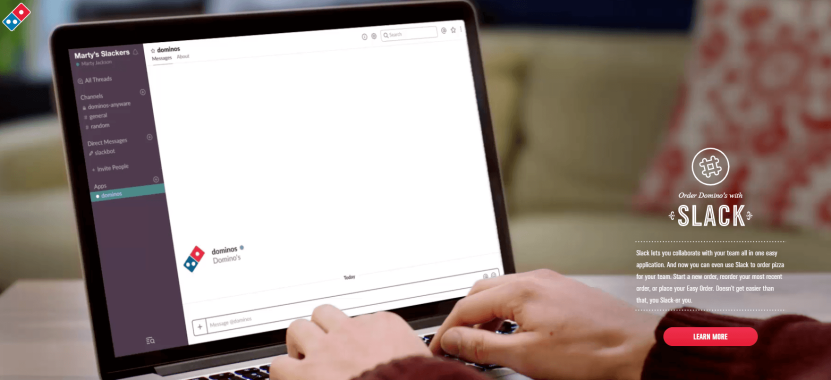 Order on the go
Before embracing its digital strategy, eCommerce wasn't as big as it is today. However, Dominos became one of the stalwarts of it in the restaurant industry.
Yes, customers were able to order from their desktop, but today Dominos has continued to improve by allowing customers to order from anywhere. Mobile, tablets, smart speakers, via text or even using Slack to order at work, the Dominos Anyware option lets customers order pizza from any device they choose. This approach highlights Dominos commitment to the customer and shows how they can continuously improve.
4. Randys streamlines the search for parts
Randys, sellers of aftermarket drivetrain parts including gears, axles, driveshafts and more, needed to update their CMS since their main website was running slow.
Previously searches had to query their entire 20,000 item catalogue and didn't offer the speed expected from eCommerce websites today.
The original website made it impossible to search for products via part number or description and sort by a few categories.
Information provided on the product page was limited and didn't give the viewer much that they could use to make a buying decision if they didn't already know what they wanted.
New search capabilities
Core dna offers a solution that simplified everything found on the website and gave visitors the ability to search by several categories and subcategories as well as filter by various properties.
The new site is designed to make it fast and smooth for mechanics to find parts. A predictive search option helps to narrow down options by part numbers, description (Yukon gear), keywords, and even allowed for misspellings.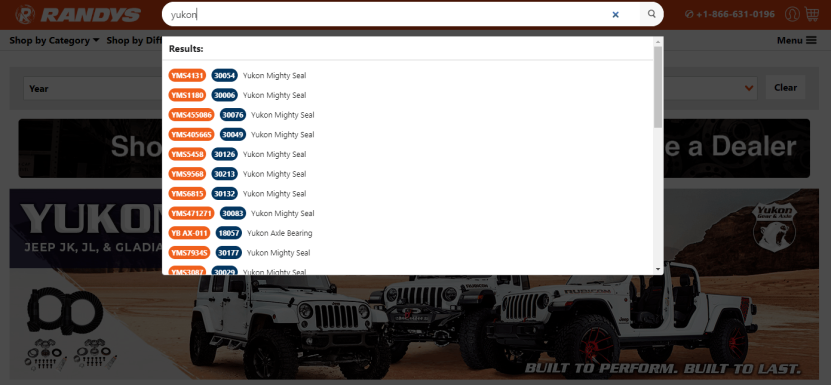 Stock and warehouse availability are now visible for logged in/logged out customers.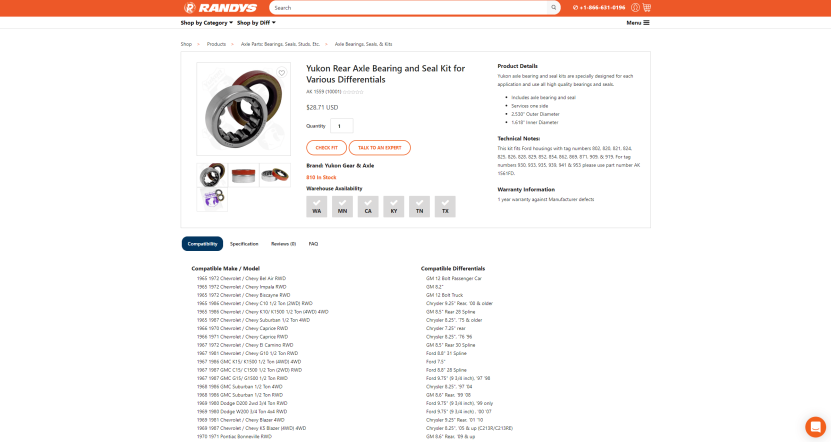 Improved user features
Visitors can now talk to an expert which prompts Intercom chat, view a list of all compatible differentials, and show the list of all compatible make/models.
Flexible accounts
Users can now log in from any page to view their accounts. Updated account profiles displayed the user's favorite items as well as several payment and shipping options to make the customer's experience more streamlined.
From the 'my account page' they can view:
Order history,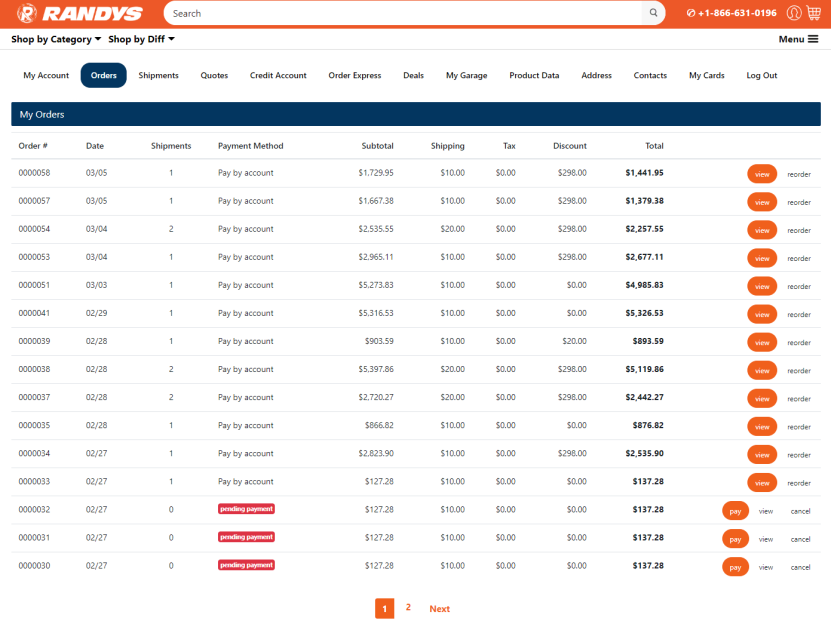 Shipment tracking,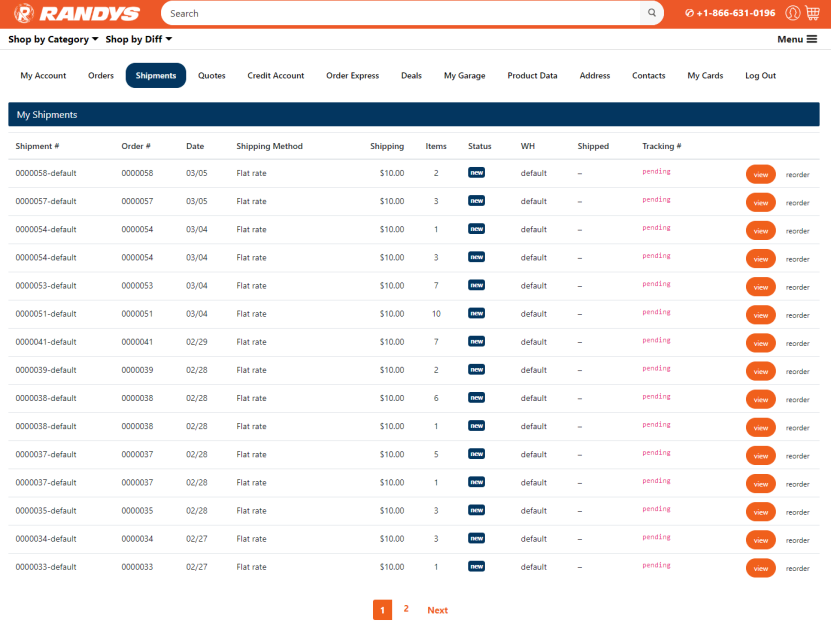 Credit history,
Saved quotes,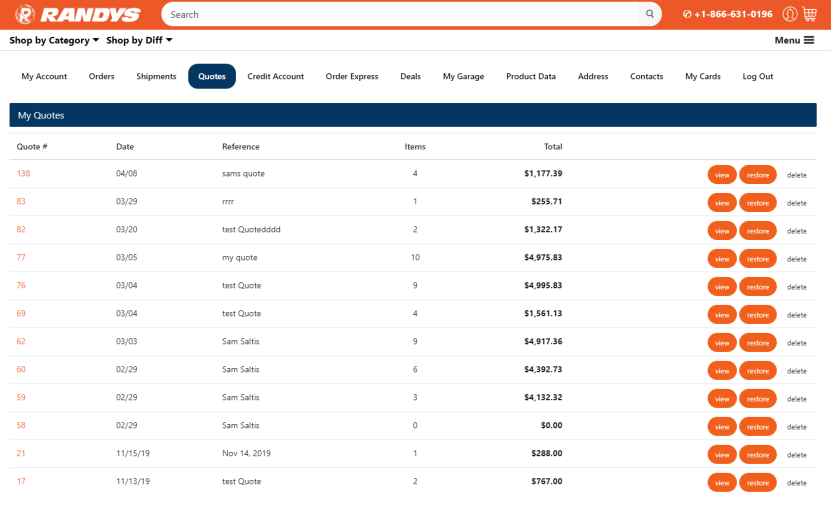 Which they can view and restore to cart: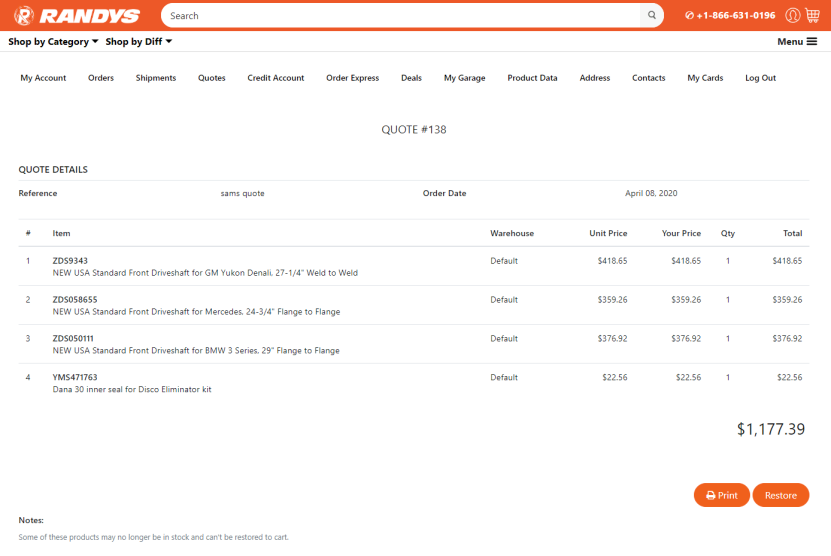 Favorited products,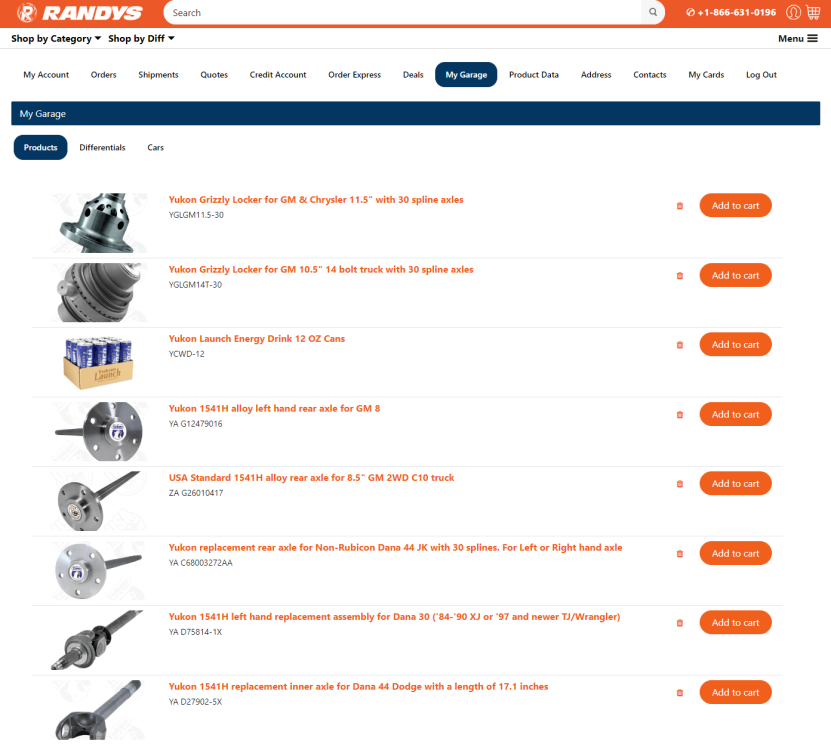 Express order,

and more.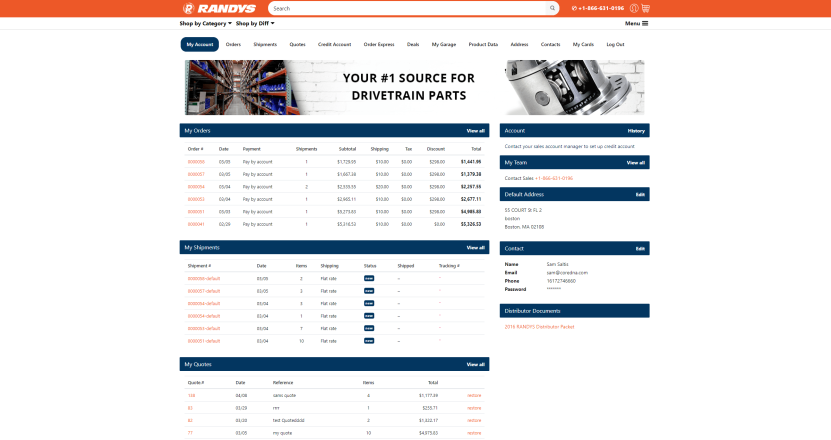 Also with improved user-based personalization, depending on which group a user belongs to, whether it's B2B or B2C, they'll see different products and deals.
5. Mentoring Minds capitalizes on CMS for re-functionality
Mentoring Minds, a publishing company that supports K-12 teachers with resources and instructional strategies that can positively impact student academic achievement, needed to blend their print and digital content to improve synchronization and flexibility.
The need for user-friendliness
Their authors - former teachers - had to work with complicated software like InCopy and other software to prepare their content for their printing companies.
A new interface
They needed a CMS that could store all of their content and display it in an elegant and user-friendly manner.
With the help of Core dna, Mentoring Minds is able to create a new interface that makes it easier for their admins, graphic designers/editors, and reviewers. Writers are able to build questions and instructional content, such as creating complex math content using our math editor. They are also able to access different parts of the CMS environment, depending on their permission levels.
This solution created better synchronization of digital and print formats, making it easy for users to pull data from the content repository of the CMS using APIs and then edit and preview content before it is distributed.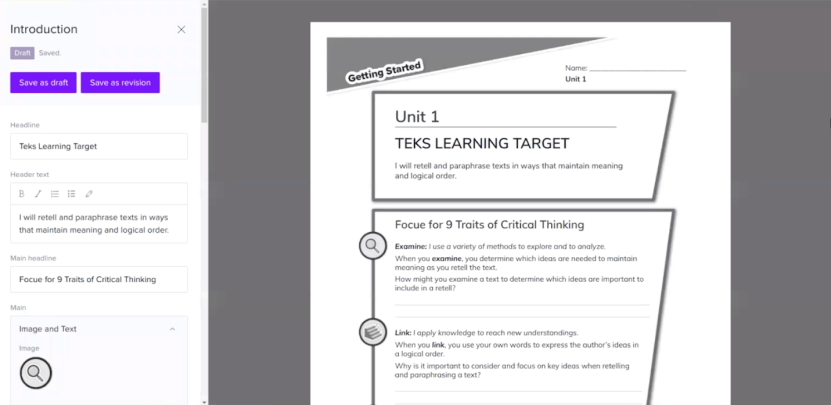 Now, they have API-powered publishing and a platform divided into two environments - an admin portal (Core dna's DXP) and a writer portal (where the writer and editors work).
The new solution offers content hierarchy and structure that includes books, units, pages and more.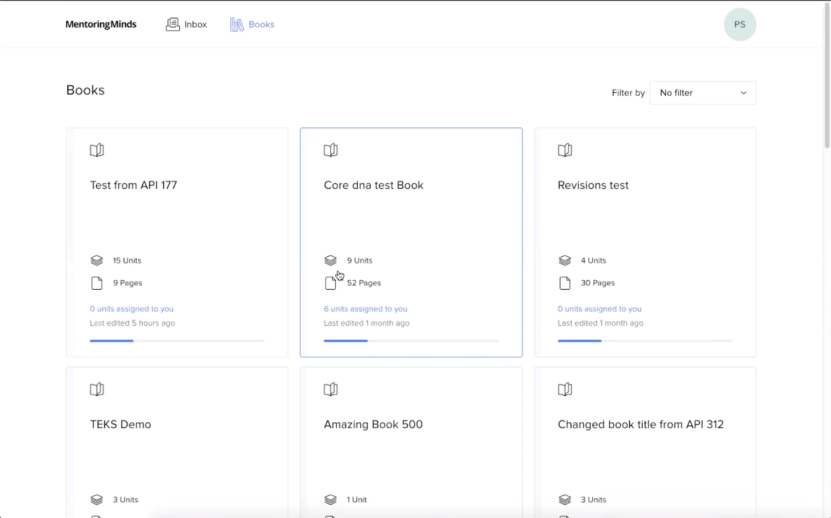 Content flexibility
Mentoring Minds can now tap into Core dna's full suite of content features.
Content tagging: All content is taggable with various metadata, indicating things like subjects, grade level, applicability (National or state-specific standards) etc. All tagging can take place at any hierarchy level (i.e. book, unit, individual component).
Content editor: a powerful, easy-to-use, intuitive WYSIWYG editor, similar in function and features to common desktop editors.
Author-centric interface: The layout and functionality will be designed specifically for the authors and includes roles & permissions for editing & authoring as well as exporting & preview.
Global components: Global components are components that are reusable throughout their books. Which means, they can copy these global components into a local book and edit if required.
Adaptable technology paves the way for adaptable digital experiences
When you consider the uniqueness of each brand's digital transformation, it's hard to pinpoint the exact ingredients needed to evolve a digital experience. However, there is one common denominator among digital experience leaders; cutting-edge, adaptable, and future-proof technology.
What you won't see among digital experience leaders, is platforms being used that can launch a new website, but fall short when it comes to integrating with third-party systems, like a digital asset management system or shipping service. Moreover, you won't see leading brands leveraging technology that can't adapt to the ever-evolving consumer technology market.
Core dna's hybrid headless CMS solution offers a complete platform to meet your needs. Our developer-friendly ecosystem allows you to innovate faster and integrate with any tools you need. Also, our family of digital solutions for content, marketing, commerce, and more make it easy to scale as the market requires.
Ready to begin your digital transformation? Learn why you need to think of your marketer's first before starting and discover how to plan a marketer-first digital transformation strategy.
Watch video demo