How to Craft an Effective Customer Loyalty Program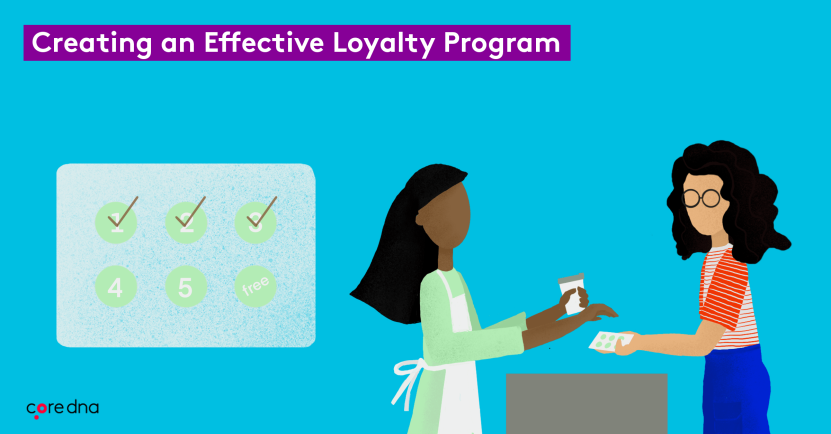 The key to business success?
A product that stands out.
Small businesses and sought-after brands face the same challenge to lasting popularity: expanding their customer base.
Capturing new interest and reaching more people is tricky — and it isn't cheap.
But lucky for you, your most promising asset is right in your own backyard.
That's right — your business' biggest potential for growth rests with the customers you already have.
In the end, what's going to persuade them to repeatedly choose your products over the alternatives offered by your competitors?
This is where a well-designed customer loyalty program comes in. If you play your cards right, you can turn customers into repeat customers — and repeat customers into brand loyalists.
In this article, we'll chat about how you can grow your business by giving your existing customers a reason to return.
In a hurry? Here's what you'll find in this article:
The ultimate guide to growing and scaling an eCommerce business
What are the goals of a loyalty program?
Loyalty programs cultivate customer retention by rewarding customers for supporting a business. While most businesses award perks based on purchases, some have gotten more creative.
These companies reward customers for things like social media involvement, customer testimonials, item recycling, and survey participation.
The benefit of any loyalty program is that, by signing up, customers commit themselves by agreeing to the possibility that they will buy your products again in the future.
Technological advancements have expanded the popularity of rewards programs, but customers have been collecting and redeeming points for quite some time.
Customer loyalty programs: It all started with loyalty cards
We all know of restaurants with a simple loyalty program. You get a card and for every appetizer (or sandwich, or drink) you order, you earn a stamp. Once you collect 12 stamps, you earn a free appetizer, or sandwich, or drink.
This is a classic example of a low-tech loyalty program. Something as simple as a wallet-sized card tracks customer's purchases, usually with a punch card.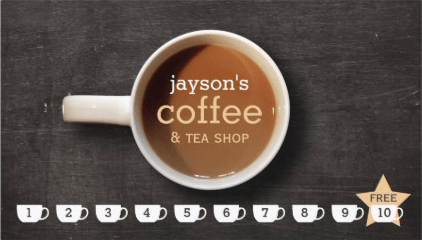 The modern version: Email opt-in programs
The next step up from this old-school approach is the opt-in email program. Customers can sign up to be notified of special offers that are reserved only for members of the email list.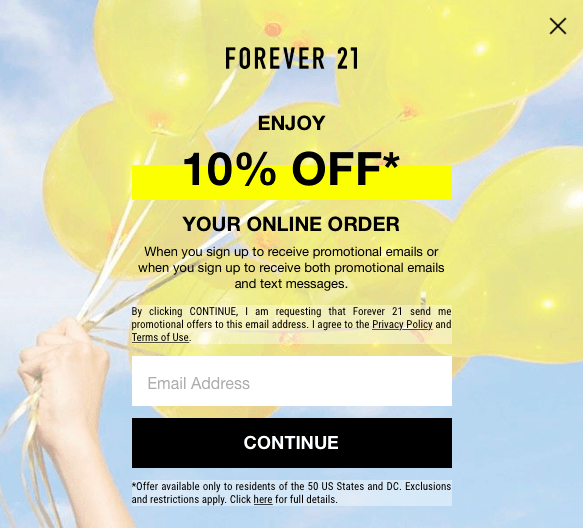 Given the high volume of advertisements that the average person sees in a day, many shoppers don't like the idea of yet another company's emails infiltrating their already crowded inbox.
The solution? Convince your customer that your email list is worth it.
For example, Williams-Sonoma's signup window gives shoppers two options: "continue" (i.e., sign up), or "pay full price."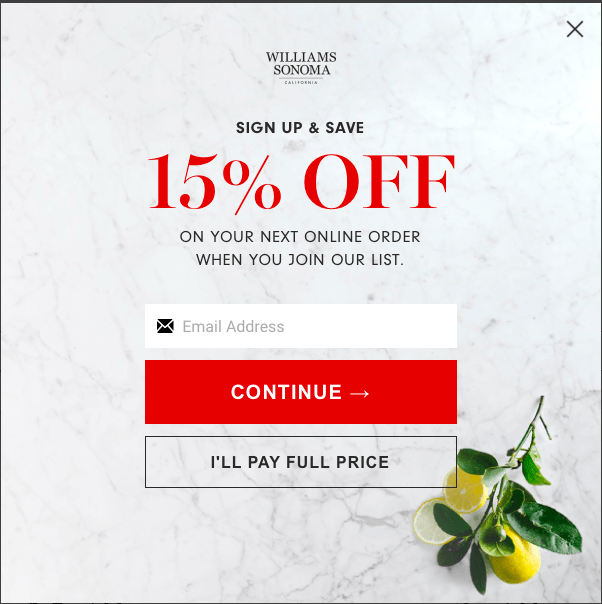 When it's put this way, the customer might think twice about turning down the offer.
Once the customer takes the bait and signs up, something changes. From that point on, they're seeing your ads because they chose to, not because they unknowingly clicked something that resulted in an unwanted promotional email.
This dynamic shifts your relationship with the customer in your favor and gives you a chance to draw them in even more.
So once you've won it, don't waste it — make sure your email list actually does offer perks that are tempting enough to encourage signups (more on this later).
High-tech loyalty programs usually involve an app or website that tracks how much the customer spends every time they shop. This system requires an initial enrollment process on the customer's part.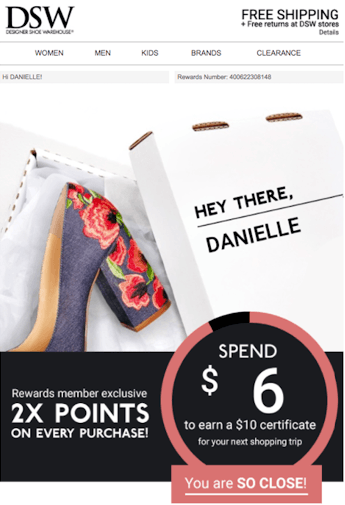 Dollars spent become points, and points can be redeemed to earn a reward.
Do you need to have a customer loyalty program?
If you're interested in creating a rewards program, think about what you want from one so you can determine what kind of program is most beneficial.
Need to boost sales? Want to see more repeat customers or a larger social media presence? Perhaps you need more information about your customers so that you can use it to improve your brand and increase customer satisfaction.
Whatever your priorities may be, there are many ways to customize your loyalty program to align with your goals.
Let's dive into some ideas.
How to set up a basic loyalty program
If you want to start with a basic approach, you can set up a place for customers to create an account on your website.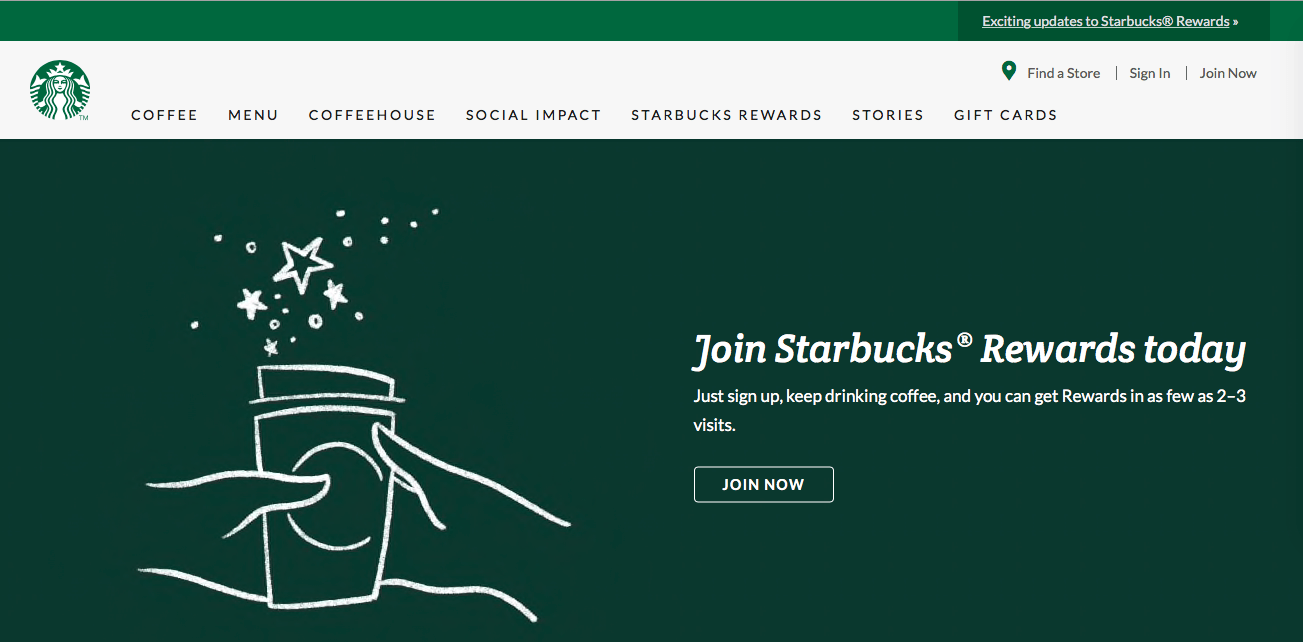 If you want to increase the likelihood of getting as many signups as possible, consider incentivizing customers to take the plunge by offering a signup bonus.
BJ's restaurant does this by offering new members one of their signature Pizookies.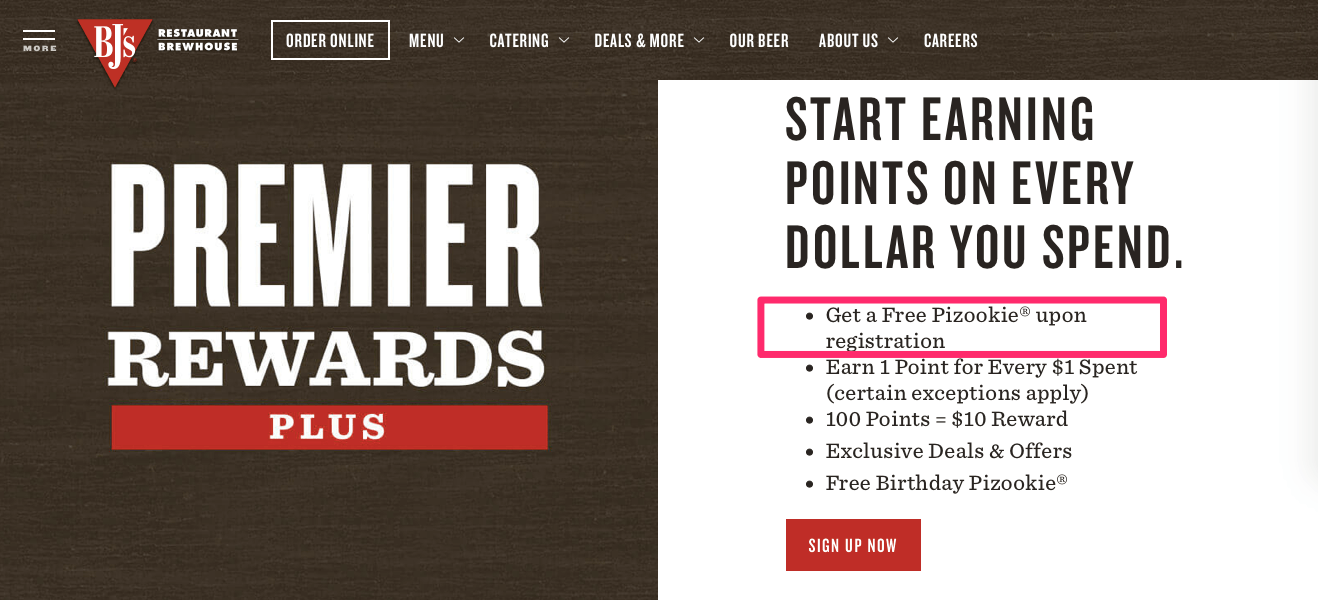 And there you have it — instant gratification at its finest.
How to set up point programs
There are a few different ways to reward your customers for becoming members of your loyalty program. The good news is, some of these strategies don't cost much.
Offer redeemable points based on purchases
A very common type of loyalty program is based on a points system.
Customers earn points with every dollar they spend. When they reach a certain threshold, they can redeem their points for something of value (usually a free item or service).
This graphic from Pizza Hut's website displays the typical setup for a points-based program.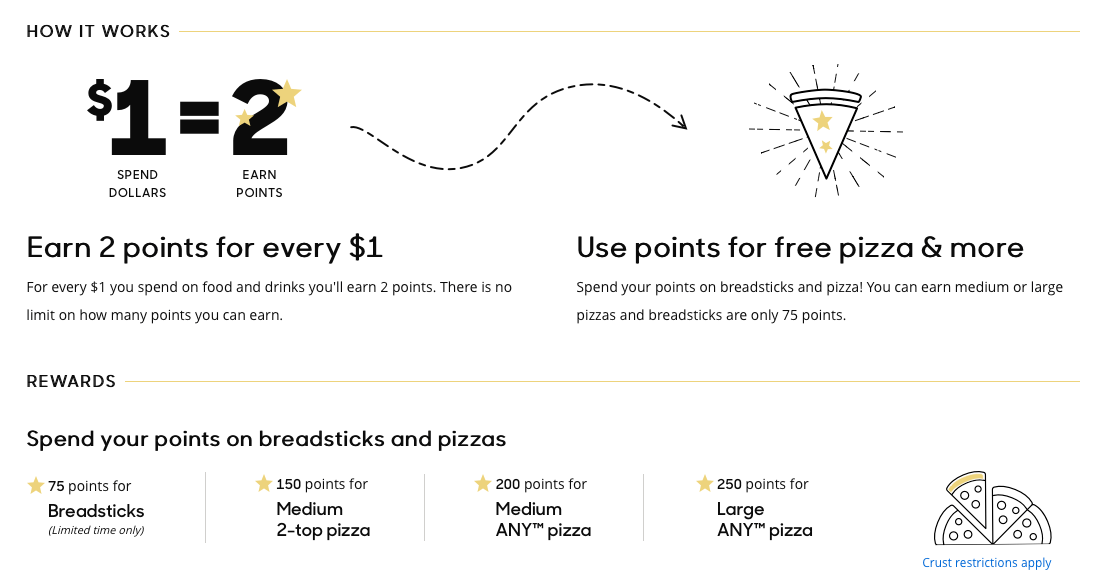 Southwest's loyalty program is also points-based, but they go a step further by teaming up with other businesses.
Rapid Rewards members can earn points not only by flying Southwest, but also by shopping at certain restaurants and online stores.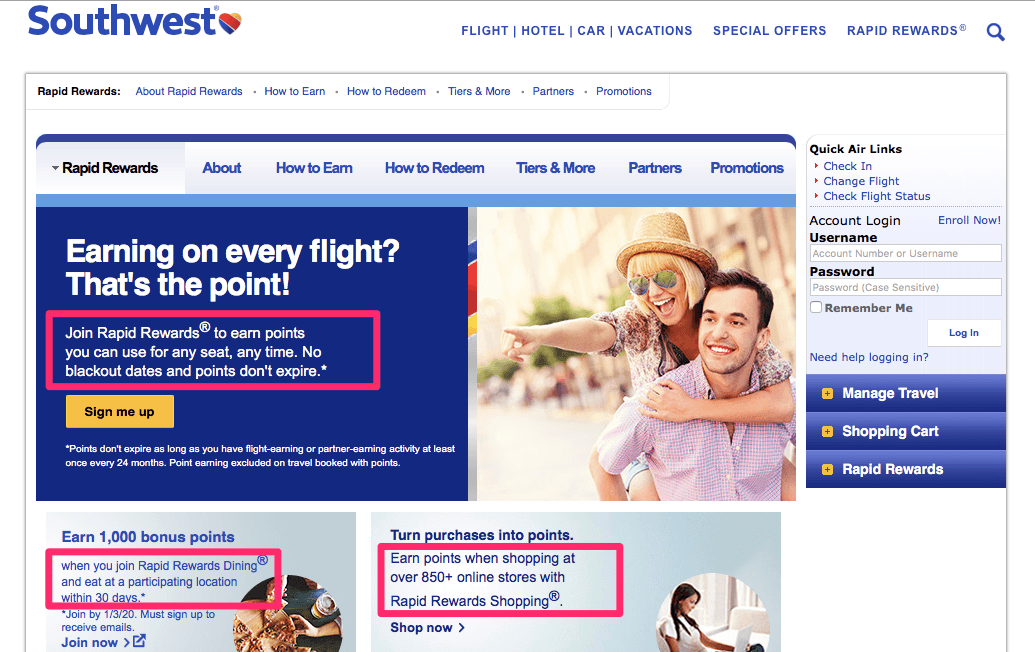 This is a very effective way to design a loyalty program, since the prospect of having more places to earn or spend points is intuitively appealing. Loyalty programs that involve partnerships are often highly successful — and they don't have to be high-tech.
Loyalty reward ideas that don't break the bank
If your budget doesn't have room for a points-based program at the moment, consider other ways to give your repeat customers some extra attention.
1. Exclusive access
For example, some customers value exclusive access to products or experiences.
Businesses like REI cater to this appreciation for eliteness and VIP status. They release limited-edition versions of products that are available only to loyalty program members.

2. Members-only events and activities
Other strategies include inviting rewards members to participate in experiences that fit with your brand.
This could mean anything from discounts for events and activities, to specialized tutorials and insider information. Sephora offers numerous perks, including exclusive classes, to their VIB Rouge members.

Encouraging signups can be as simple as teasing content that intrigues your customers.
Some businesses go out of their way to separate their material from spam by assuring the customer that their emails contain useful content that's actually worth receiving.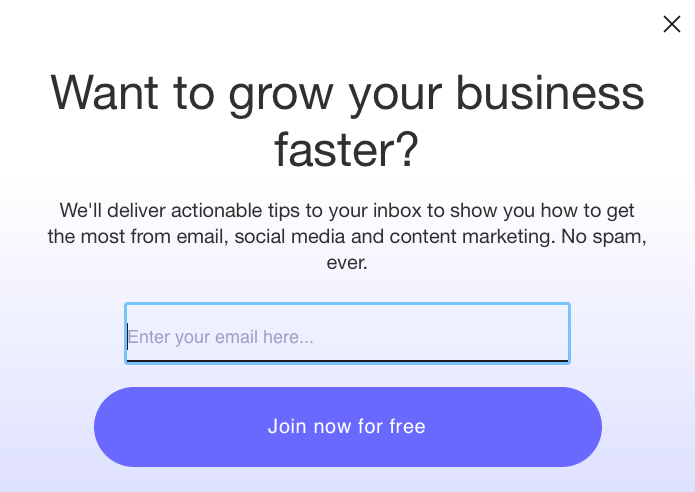 Massachusetts-based bakery Treat Cupcake Bar also offers engaging material in the form of "fun recipes" and "eye candy" to members of their mailing list.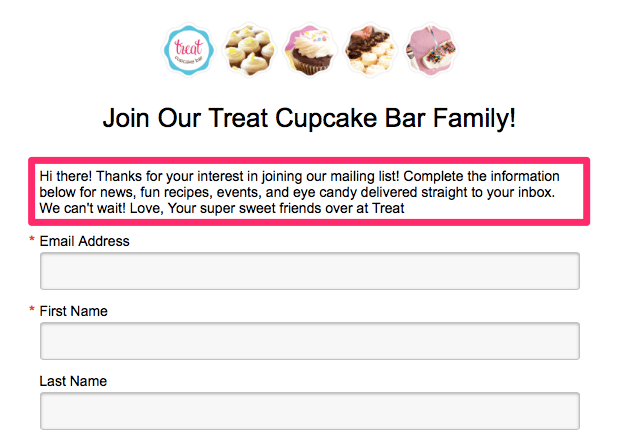 3. "Be the first to know"
Another special perk is early notifications — what's on the horizon that customers might be interested in?
After all, it's always nice to be in the know. Preparing a new product launch or planning an upcoming sale? Looping in select customers before non-members is a simple gesture that feels both convenient and exclusive from the customer's end.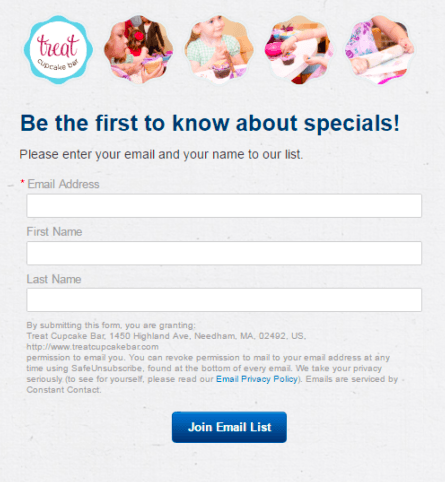 4. Save time and skip the queue
Speaking of convenience, sometimes saving time is just as good as saving money. This is why some restaurants and coffee shops offer perks that remove daily hassles from the customer's schedule.
Starbucks offers one such perk in their loyalty program. Members can order from their phone and swing by for pickup — no need to stand in line in a crowded shop during the morning rush.

Wendy's took things a step further in December 2017 by partnering with DoorDash to offer free delivery to their rewards members.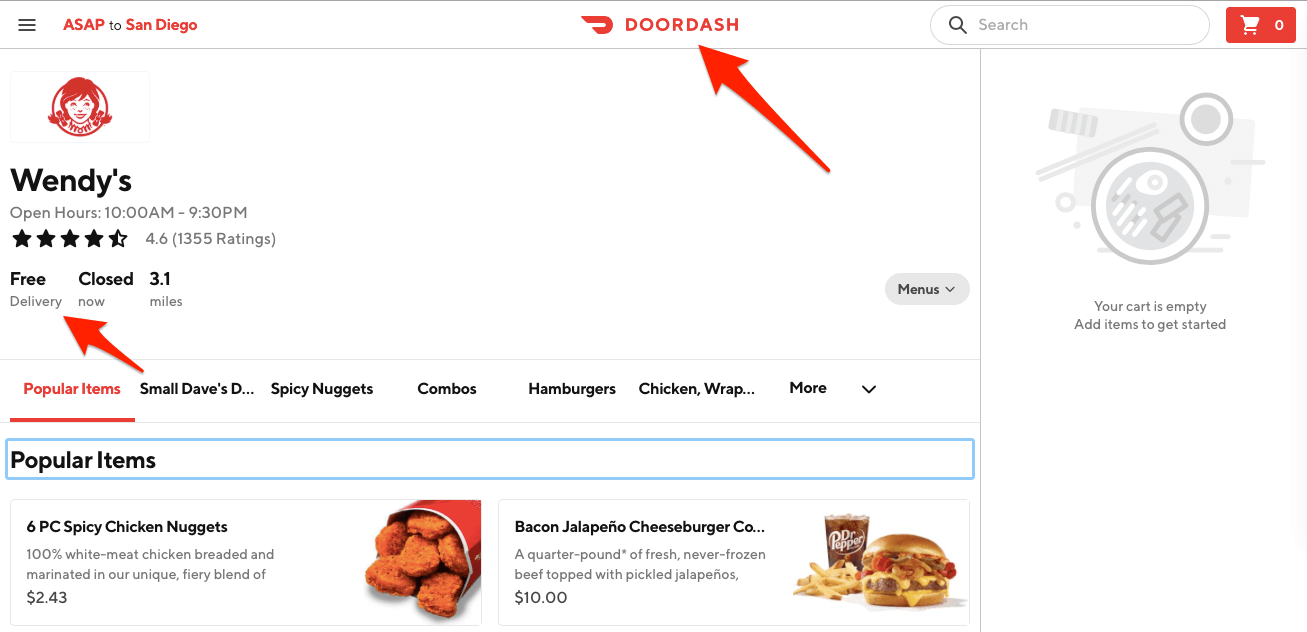 5. Make the world a better place
Appealing to your customers' generosity is another compelling way to inspire loyalty. Chick-Fil-A does this by allowing Silver members to donate a meal on another's behalf.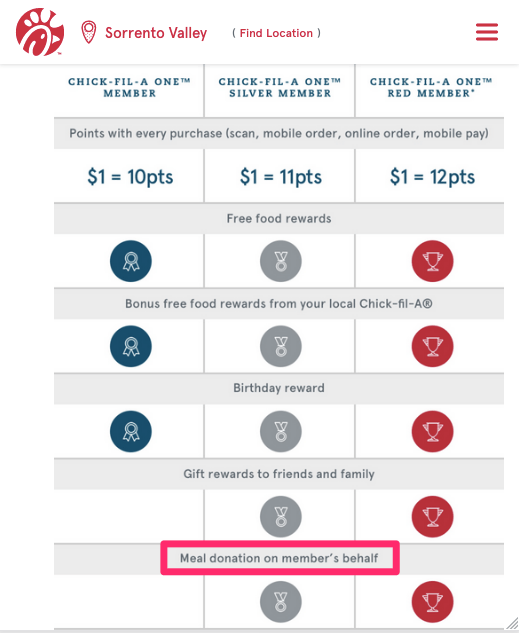 And, of course, relating to ethically-conscious consumers is always a good idea. BareMinerals bolsters their rewards program and their status as a clean beauty brand by incorporating a makeup recycling program called "Give Back Get Back" into their points system.

How to set up paid and tiered loyalty programs
While planning a points-based program, you can choose between either a basic model, where every member is eligible for the same rewards (like Pizza Hut's system), or a multilevel membership program.
Let's explore a few ways to organize a tiered loyalty program.
Set tier based on annual spending level
The most common type of tiered loyalty program determines a member's status based on how much they spend per year.
Moosejaw is an online-only store that follows this model. As a customer's spending amount increases, they reach certain thresholds that unlock more exclusive rewards.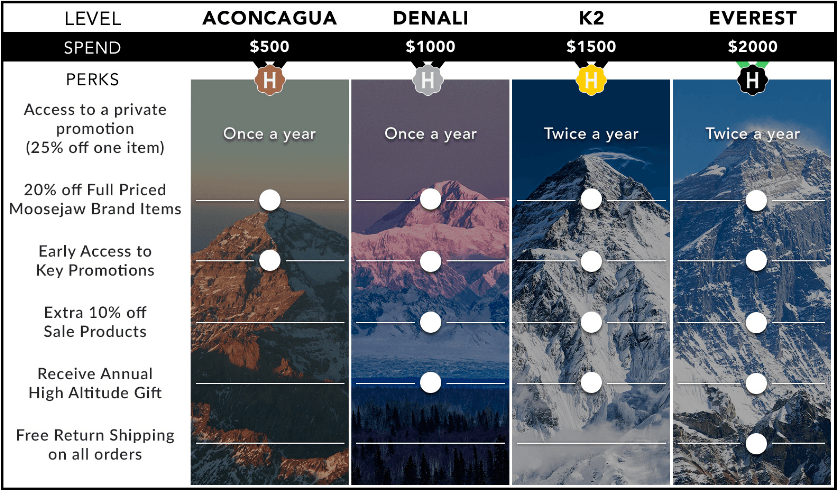 Notice how Moosejaw carefully designed all aspects of their High Altitude loyalty program — from its name and the names of each tier, to the images on the graphic—to reflect the aesthetic of their brand.
Using your loyalty program to heighten the positive associations customers have with your brand and the lifestyle that accompanies it is an excellent way to kill two birds with one stone and make your program more than worth the investment.
Set a "freemium" model, with a free basic tier and paid upgrades
A less common way to set up a tiered loyalty program is by offering customers a way to enroll for free while also making premium upgrades available.
For example, AMC Stubs members can start earning points for free—but instead 0f earning their way from tier to tier, customers must pay directly for a more exclusive membership that involves more perks.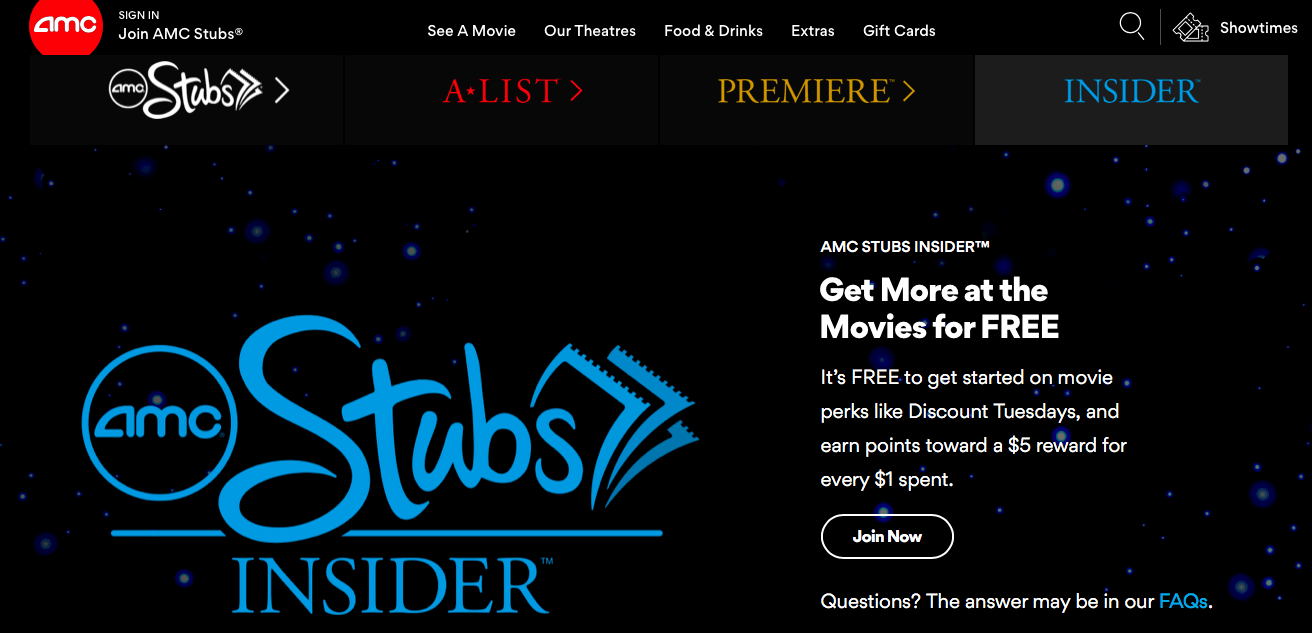 Set a paid-only loyalty programs
Barnes & Noble is among a smaller portion of businesses that only offer exclusive discounts and perks to customers who purchase an annual membership.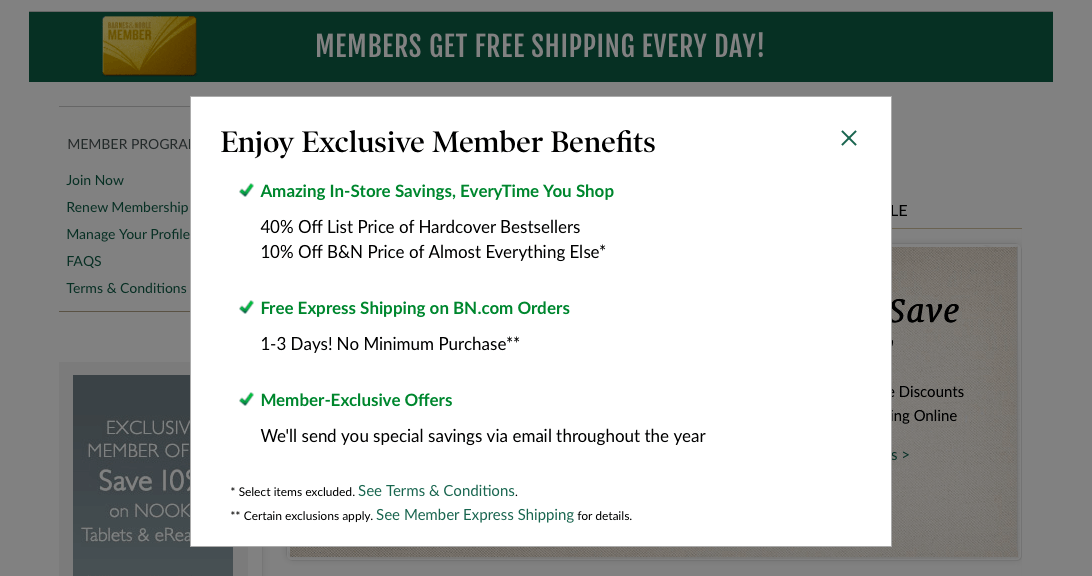 REI also charges a fee for entry into their rewards program. Unlike Barnes & Noble, though, customers pay a one-time fee of $20 in exchange for a lifetime membership with REI.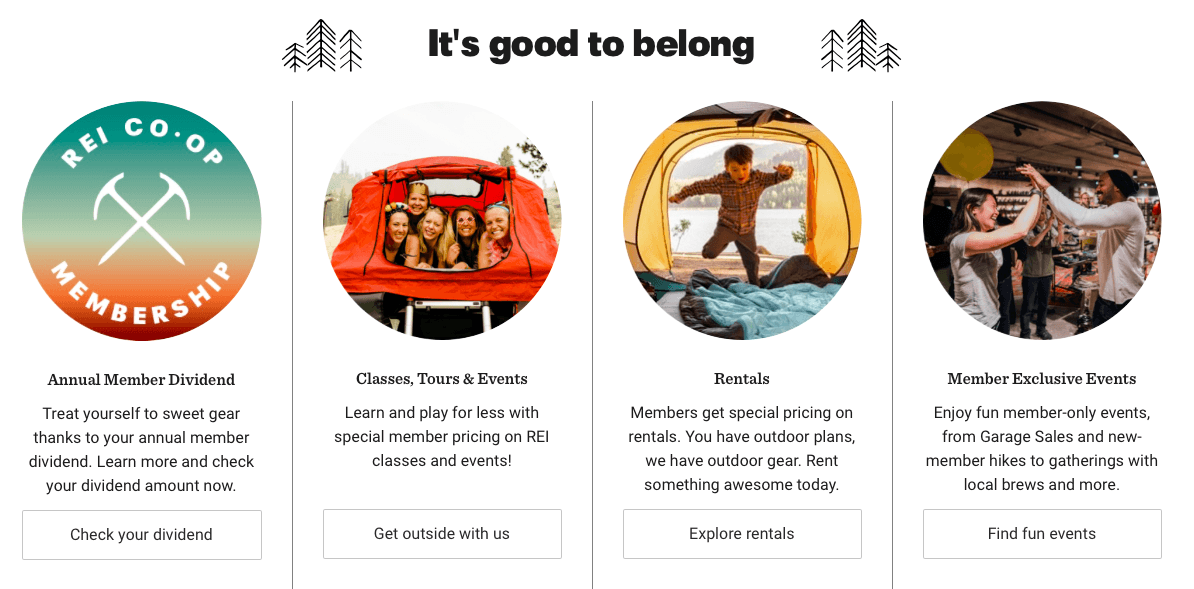 Businesses who go this route typically put more effort into playing up the value of their perks so as to reassure customers that the program will save money in the long run.
Some businesses (including AMC) communicate the value of their premium memberships by estimating how few purchases it will take to pay them off.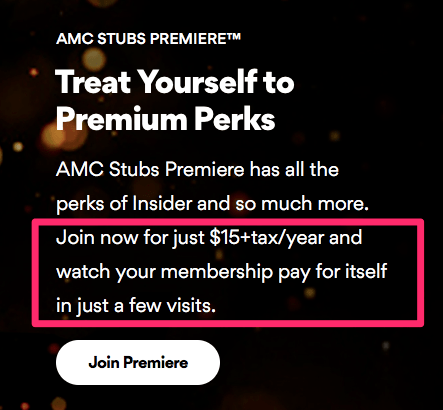 REI keeps it simple and sophisticated by letting an appealing photo do most of the talking — accompanied only by an effortlessly persuasive headline and a signup link.

How to make sure your customer loyalty program is successful
It can be difficult to predict how much new business a marketing strategy will generate, especially if you're a small business owner. To set yourself up for success, plan for every possible outcome before launching a loyalty program.
Here are a few ways to make that happen:
1. Plan for and track ROI
Evaluating whether or not your program produces the results you need to make it worth your while is a critical part of the process. Prepare for this ahead of time by defining your criteria for success as well as your profit margins.
After establishing your goals, be sure you have a way to track all aspects of your program as it gains momentum.
How much new activity is it generating? Which promotions and perks are customers responding to, and which ones are ineffective?
Increasing users is a great metric, for example, but it's not the only one that counts. More than half of loyalty program members are deemed inactive.

2. Train employees for a seamless website experience
Well-executed loyalty programs are supported by a team that is prepared to interact regularly with members and to manage customer feedback. Training your employees to provide top-notch customer service is key to making members feel both welcome and valued.
This includes keeping up with regular promotional emails and coming up with fresh content to keep customers interested (lest they lose interest and unsubscribe).
3. Plan for "viral success" — make sure you can fulfill your offers
You'll need to ensure that you have the resources and the flexibility to meet the needs of all your rewards members should your program end up attracting widespread participation.
So, cover all your bases. Be prepared to hire and train additional team members and consultants, and make sure you have the capacity to ramp up production as well.
watch video demo
Make the most of the momentum you've built
If your business is struggling to reach its next milestone, or if you're just itching to take it to another level, now may be the time to consider a customer loyalty program.
Why? Because many shoppers chase the feeling of snagging deals, and businesses stand to gain significantly from collecting data about their customers and convincing them to come back for more.
Figure out what both you and your customers want from a loyalty program and how it can highlight what already makes your brand stand out.
Done right, you can curb your customers' negative associations with promotional spam, unwanted ads, and excessive consumerism. Make your loyalty program the exception, where customers feel both valued by your business and drawn in by the brand experience.