How to Choose The Best CMS Platform to Help Drive Your Business Growth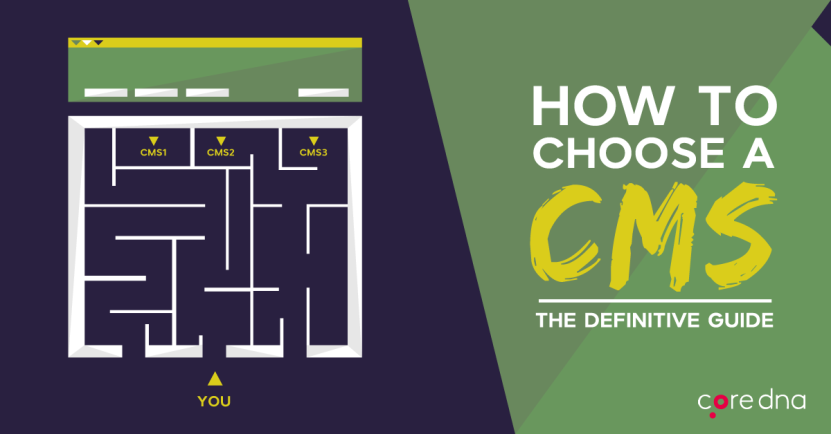 Your Content Management System (CMS) is the chassis of your content marketing campaign.
It doesn't matter how great your content is, if your CMS can't display and manage it right, it won't have nearly half the impact it deserves.
This might sound like a moot point, but I've seen plenty of organizations plateau because their CMS can't keep up with their ambitions or their growth. The fact that you can't switch over your CMS with a flick of a button makes your choice all the more important.
So what should you look for when choosing a CMS? What features should you prioritize? Should you opt for a SaaS or a hosted solution? What stakeholders should be part of the decision-making process?
In this post, I'll show you answers to these questions, and more.
In a hurry? Jump into a specific section: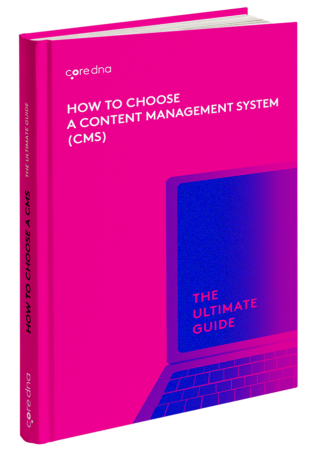 How to Choose a CMS: The Ultimate Guide (With Bonus Checklist To Ask Your Vendor)
The definitive guide to choosing the right CMS for your business plus bonus questions and checklist to ask your CMS vendor.
Who is the primary stakeholder for choosing a Content Management System (CMS)?
Before you can even consider different CMS features, you need to figure out who decides what CMS to use.
This is harder than it appears. As the size and needs of your organization grows, so do the number of stakeholders. Your IT might demand a CMS that fits with their current infrastructure stack. Marketing might want something that plugs in with their marketing tools. Sales, on the other hand, would want CRM integration.
Keeping all stakeholders happy can be a potential minefield.
In fact, according to one Forrester survey, most web content management system initiatives fail because of internal politics.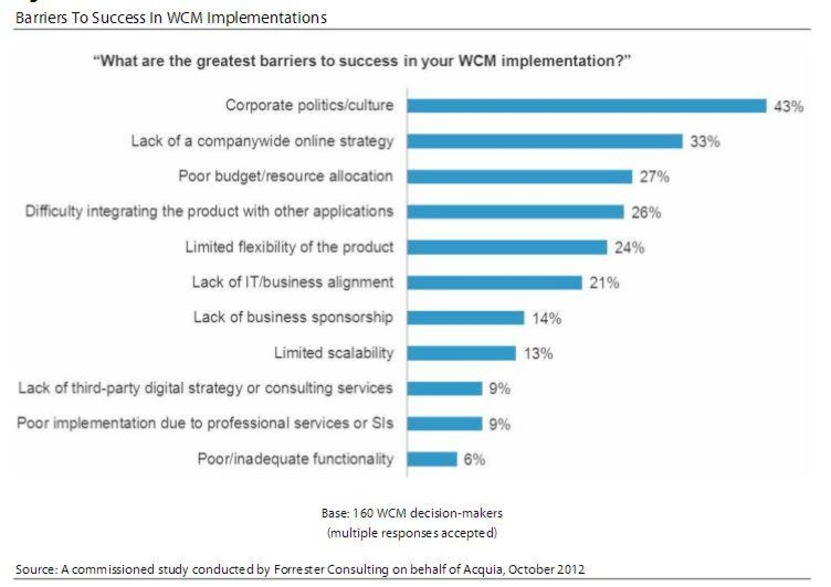 This is why the first two steps in choosing a CMS is to:
1. Figure out stakeholders involved in the CMS decision
In most organizations, the following departments would be involved in the CMS decision-making process:
IT
Since IT will be ultimately responsible for the technology and may need to maintain and modifying the CMS, then integrating them in the selection is vital for the success of a CMS deployment.
Marketing
The CMS is essentially a marketing tool. For content marketing-focused organizations, it's crucial that marketing gives the go ahead before making a CMS selection.
Sales
Close integration between the CRM and CMS will improve sales efficiency and effectiveness.
2. Prioritize stakeholder requirements
Every department involved in the CMS selection process will have different requirements. Ask them to prioritize their requirements (in terms of features and integrations) using the MoSCoW method:
Must-have
Essential features the department can't work without.
Should-have
Features that are generally as important as Must-have's but are not as time critical
Could-have
Features that are desirable but not critical for the department's functioning.
Would-have
Features that are least critical, lowest payback or not appropriate at this time.
You might have a matrix like this after taking their recommendations under consideration: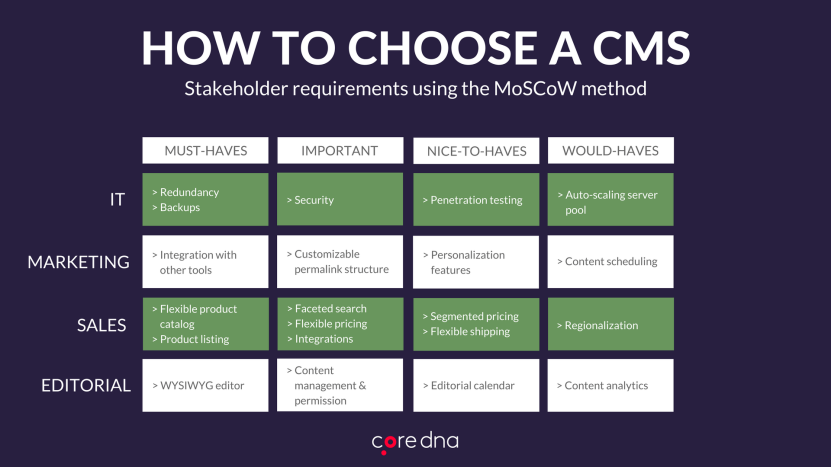 Keep this in mind before you start the CMS selection process. Understand that a typical CMS selection process will take a significant amount of time. For a medium-sized business, you can expect 2-7 months between understanding requirements, writing the RFP and signing the final contract. Essentially, you're looking for a solution that checks off as many high-priority features for as many stakeholders as possible.
What content management system should you use: SaaS vs. hosted vs. on-premise CMS platform
One of the most important decisions you'll have to make upfront is deciding between a SaaS, hosted or an on-premise solution.
On-premise CMS
With an on-premise CMS, you buy a license from the vendor and install the software on your own servers or your hosting provider's servers. The CMS provider is only responsible for maintaining and updating the software; everything from installation to security, and infrastructure upgrades will be handled by you.
WordPress and Drupal are two examples of on-premise solutions.
Cloud Hosted CMS
With a cloud hosted solution, you buy a license then install the software at a data center or web host where you lease server space. This works just like an on-premise CMS, except that it is installed on third-party servers you don't directly own.
Typically, any on-premise solution can also be a hosted solution provided the web host meets the server requirements.
Hostway and WPEngine are two examples of hosted solutions.
To make a very simple analogy, think of the difference between taking an Uber and owning a car. With the latter - like on-premise CMS - you are responsible for the car's maintenance, insurance, and fuel.
SaaS CMS
A Software as a Service Solution (SaaS) CMS solution is an emerging category that has risen to prominence in the past few years. The SaaS CMS works like any of your favorite SaaS tools - Salesforce, Google Docs or even Gmail. There is nothing to install, update or maintain. The CMS provider takes care of all technical issues so you can focus on creating and managing content.
You usually buy a subscription and pay on a monthly basis for your use of the CMS. There is normally no long-term contract or upfront costs before deployment. The Software is pre-built and you benefit from the ongoing enhancements and improvements made by the vendors.
Core dna and CrownPeak are two examples of SaaS CMS solutions.
Watch video demo
Software as a Service Solution (SaaS) CMS platform pros & cons
SaaS solutions are a paradigm shift from the normal website CMS platforms, like in the CRM industry where Salesforce disrupted the traditional CRM vendors, SaaS is starting to become more prevalent.
SaaS CMS pros
Here are some of the pros of SaaS CMS platforms:
1. Feature Rich
SaaS platforms are developed once and used by everyone in the community, this means they are designed to be easy to use and have lots of features to help drive your online business.
2. No maintenance/upkeep
All the maintenance work - fixing bugs, maintaining infrastructure - is taken care of by the CMS provider.
3. Regular updates
SaaS solutions upgrade their platforms continuously, making sure you're always up to date with the latest features.
4. No installation
All installation work is taken care of by the CMS provider. All the applications are pre-built and working in production. You can sign-up, pay the monthly fee, and start using the CMS right away.
5. Pay-as-you-go model
SaaS solutions typically offer monthly payment plans. Instead of paying a big upfront licensing fee, you pay for each month that you use the CMS. This brings down costs substantially.
6. Security
Since the CMS is installed away from the premises, you can take advantage of established processes and infrastructure to reduce security risks. Any decent SaaS solution would also have strong backups and a recovery process in case of security concerns.
7. Scalability
Since SaaS solutions are usually hosted in the cloud, they can scale with your demand. A sudden burst of viral traffic wouldn't take your site down.
8. Service Level Agreements
Most SaaS CMS vendors will offer a minimum uptime promise, backup and redundancy plans.
SaaS CMS Cons
Here are some of the cons of SaaS CMS platforms
1. Customization
SaaS CMS platforms aren't development platforms so you can't dramatically change how the core application works to suit your needs.
2. Support
Since the CMS vendor is responsible for all installation and maintenance, you are essentially dependent on a third party for your support. If the support isn't good, you can't jump in and fix things yourself.
3. Security
Again, with a Saas CMS, you give away your security to a third party. For most businesses, this shouldn't be an issue, but if you deal with sensitive data, this loss of control over security can be a concern.
Best SaaS CMS comparisons
The SaaS CMS market is barely ten years old, but even so, this relatively young section of the enterprise content management market has already produced a plethora of SaaS solutions such as Kentico, Crownpeak, Contentstack. We've compared some of the market's best offerings below.
1. Crownpeak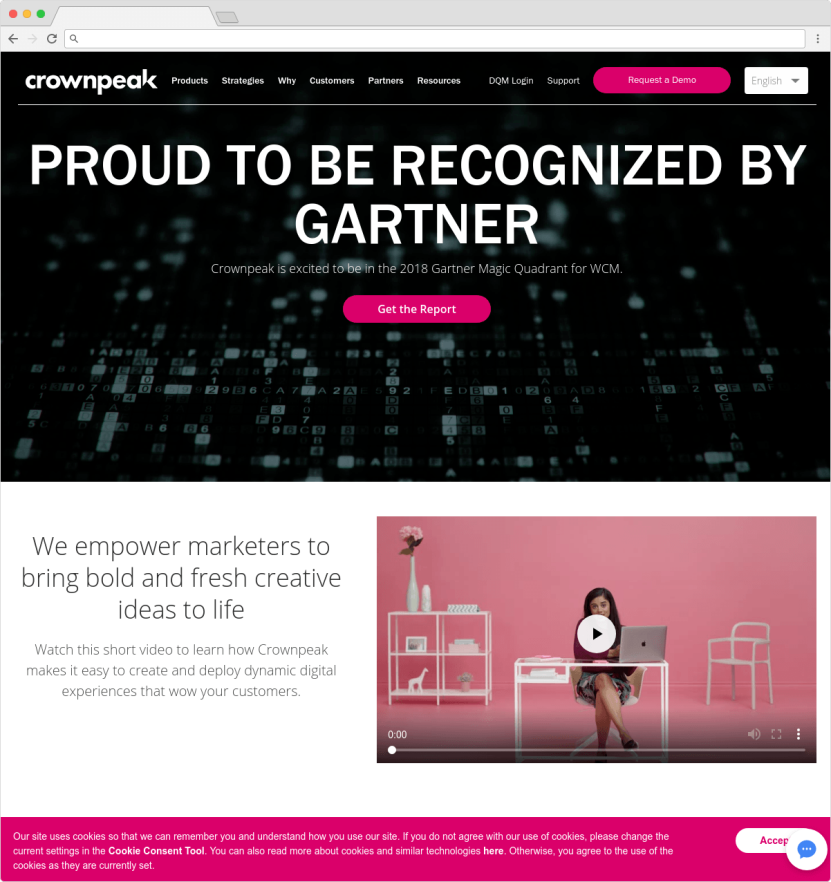 Crownpeak is an enterprise-grade decoupled Digital Experience Platform (DXP) that comes with Digital Quality Management (DQM) which ensures that all of the brand's experiences come in line with their best practices and web accessibility compliance. It features A/B testing and has over 60 built-in integrations including Dropbox, Oracle, and Brightcove as well as advanced security features.
Who it's for: Crownpeak is ideal for marketers who want to deliver personalized content via omnichannel delivery without heavily relying on IT. Also, since Crownpeak has strong vertical compliance, it is suitable for brands in financial and healthcare.
2. Kentico Cloud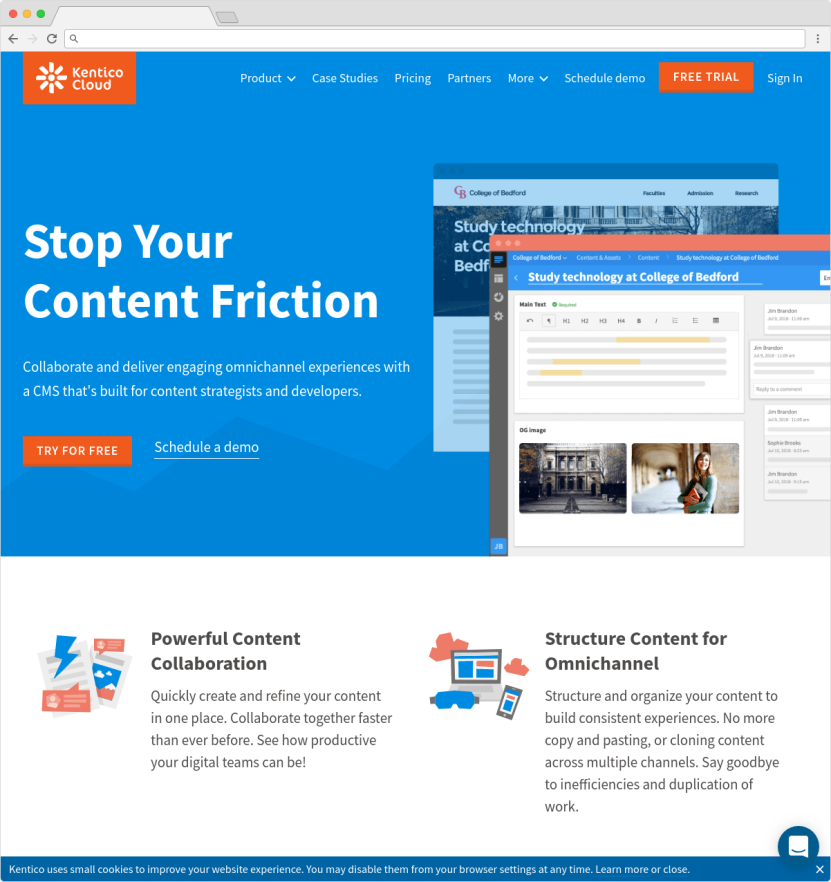 Kentico Cloud is an API-first headless CMS that is aimed at enterprises. With Kentico, developers can create their own customer experiences using the tools and programming language of their choice. Marketers can also use Kentico to collaborate with developers and fellow marketers to write, edit, review, and approve content.
But the major drawback is that there is a noticeable lack of front-end presentation layer to enable marketers to preview their content to help them become familiar with the end-user experience. And also, marketers will be heavily relying on their development team to create their desired experiences.
Who it's for: Kentico is geared towards companies looking to manage an omnichannel presence.
3. Core dna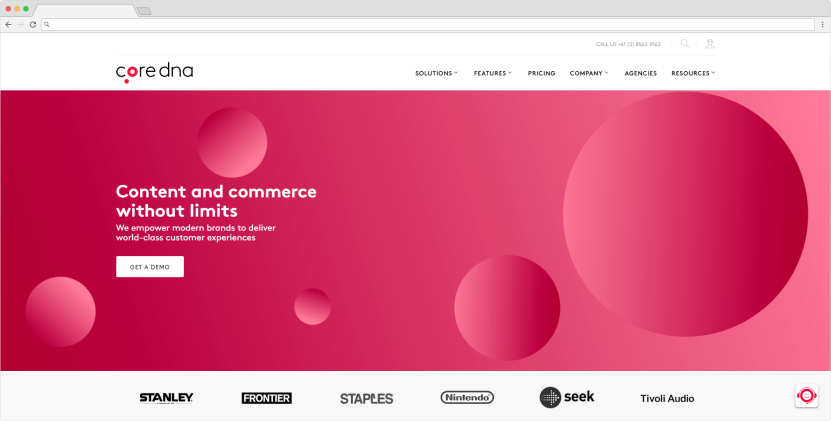 Core dna is a marketer-friendly decoupled (hybrid) CMS that comes with 80 built-in applications that facilitate functionality such as eCommerce, intranets, extranets, portals, as well as enterprise-grade content and asset management. Our platform also allows you to track your customer activity across multiple touchpoints so you can deliver personalized content throughout the customer journey.
Who it's for: Core dna is suitable for a wide range of industries and verticals, from eCommerce brands, to companies wanting to deliver a seamless omnichannel experience, to organizations in need of a powerful employee intranet. It is also ideal for industries that follow a strict vertical compliance as Core dna comes in line with GDPR and HIPAA compliance. But, don't take our words for it. Check out what other people say about us.
4. Squarespace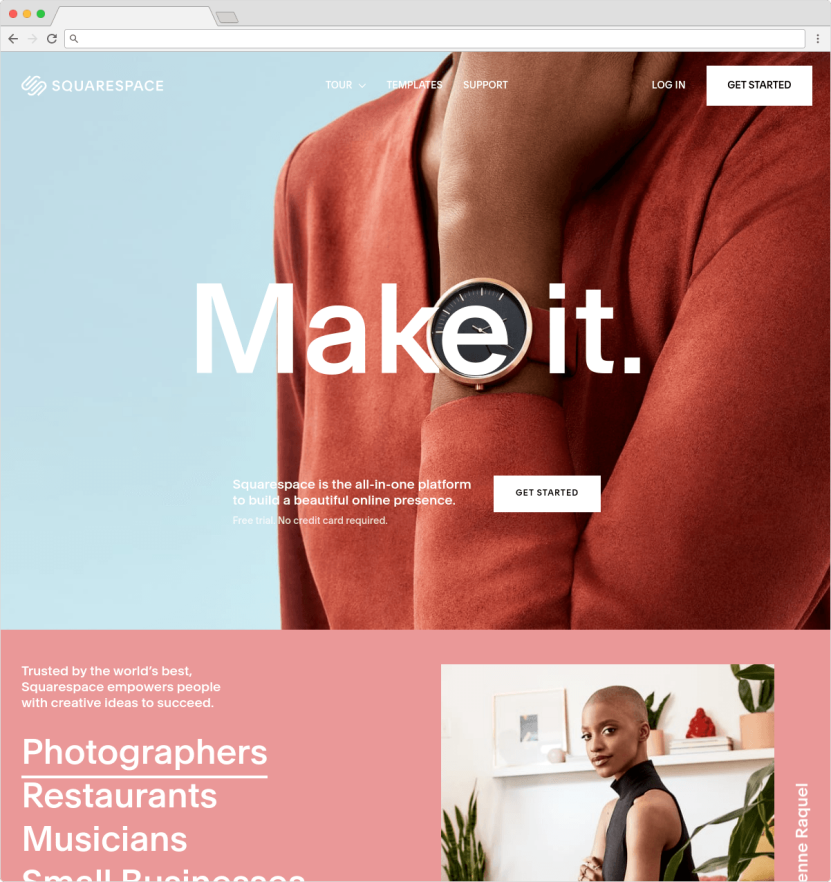 Squarespace is known for its ease-of-use thanks to its user-friendly interface and drag and drop capability. Users can create their own customized designs for websites and online stores. It also comes with a multitude of built-in integrations including Adobe Creative Suite, Google Drive, Getty Images, and more.
But I would like to highlight that Squarespace is not a headless CMS out-of-the-box. It can be turned into an API, but you would need the assistance of a full-time developer to make this possible.
Who it's for: Suitable for bloggers and small businesses who want to set up a website and just get going, without having to worry about any technical elements.
5. Cloud CMS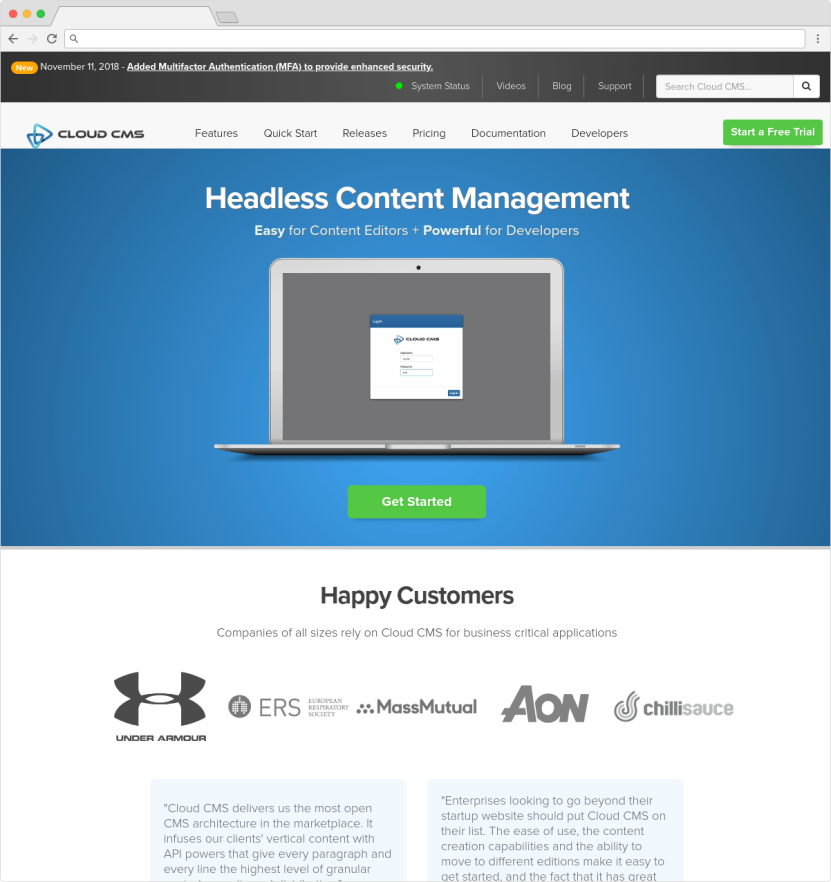 Cloud CMS is a headless CMS that also follows an API-first approach, similar to Kentico Cloud. Cloud CMS is built around JSON and possesses a number of enterprise features including full editorial environment, flexible content models, multi-factor authentication, and instant preview - a feature not available in Kentico Cloud.
But Cloud CMS is quite complex to use and will require a lot of support from a developer. And also there is no SEO support out-of-the-box.
Who it's for: Cloud CMS is mainly aimed at developers who want to have full control over how they want to deliver experiences to the end-user.
On-premise CMS platform pros & cons
Despite the enormous popularity of SaaS solutions, on-premise software still commands an enormous share of the CMS pie.
On-premise CMS pros
Here are some of the pros of on-premise CMS platforms:
1. More control
You decide the infrastructure and environment to install the CMS on. This gives you more control over the CMS.
2. Customization
If you're using an open-source CMS, you can customize the solution to fit your exact requirements. Even closed-source CMS will give you considerable room for customization, especially when it comes to integrations.
On-premise CMS cons
Here are some of the cons of on-premise CMS platforms:
1. Maintenance, installation, and upkeep
Your IT team will be responsible for supporting the CMS. This can radically increase deployment time, add to upfront costs and might even require hiring additional personnel.
2. Scalability
Unlike a SaaS solution, the scalability of an on-premise CMS depends entirely on the underlying infrastructure. This can impact scalability, especially if you don't take advantage of the cloud.
3. High upfront costs
Besides the license fee, you'll also have to pay for infrastructure and IT to install the CMS.
4. Long deployment time
Between the installation and customization, you might end up spending weeks and even months to deploy the CMS.
In a nutshell, a SaaS solution represents the future. It is cheaper upfront, highly scalable, and gives you the flexibility to switch to another provider. On-premise solutions might have been viable 10 years ago, but the security, maintenance and scalability issues are a big red mark today. The continuous innovation ensures that your investment is never outdated.
Bottomline: Small to medium-sized businesses would do well with a SaaS solution since it keeps upfront costs low and doesn't require IT. Large businesses with complex needs can pursue an on-premise CMS but only if they have the personnel and expertise to handle the requirements.
Hosted CMS platform pros & cons
Hosted solutions work pretty much like on-premise solutions. The only difference is that they are hosted on third-party servers.
Hosted CMS platform pros
Here are some of the pros of hosted CMS platforms:
1. Faster deployment
Since you don't have to set up servers on-premises, you can start the installation and deployment process much faster.
2. Scalability
You can host the CMS in the cloud (such as AWS), which means you can instantly scale your resources when the need arises.
3. Lower upfront costs
You can rent server space from your web host on a monthly basis. This keeps upfront costs lower compared to an on-premise solution.
Hosted CMS platform cons
Here are some of the cons of hosted CMS platforms:
1. Host-dependant vulnerabilities
The security and scalability of your CMS depend entirely on your host. If the host goes down or has any security vulnerabilities, you can't jump in and solve the problem yourself.
2. Higher long-term costs
Since you are essentially leasing server space from your host, your costs will remain static or even increase month over month. Long-term, this might be less cost-effective than buying your own on-premise servers.
On-premise and hosted CMS comparisons
Most, if not all, CMSs that can be hosted on-premise can also be hosted on third-party servers. The CMS vendor may even host your website instance in-house, but without offering the SaaS features, services, and benefits associated with SaaS CMS solutions. Below are some examples of on-premise and hosted CMSs, compared.
1. WordPress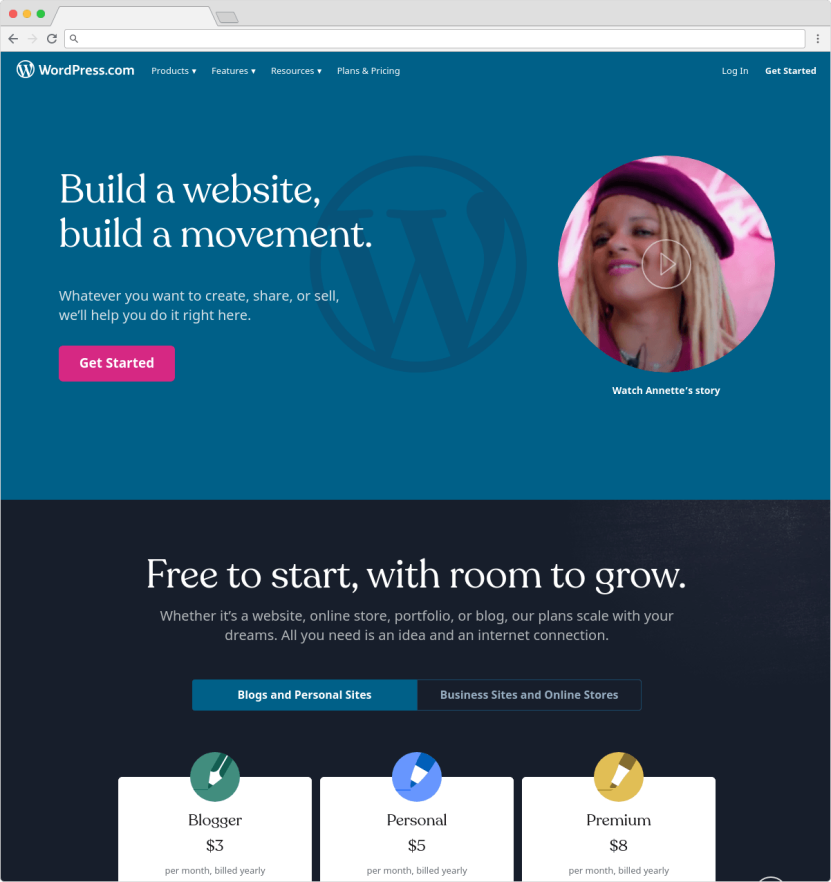 There's no denying the popularity of WordPress. Powering over 32 percent of websites is a major feat. With its extensive directory of plugins and themes along with its easy-to-use front-end editor, WordPress has allowed many brands to set up a website, blog or app with little or no technical support.
However, the downside is that WordPress does suck up a lot of time in maintenance, and you'll need technical knowledge to customize the design, functionality, and layout of your site.
Who it's for: WordPress is suitable for setting up simple and straightforward blogs in travel, lifestyle and other recreational areas, news sites, and websites containing static content. Some businesses have used WordPress for eCommerce via the WooCommerce plugin.
2. Drupal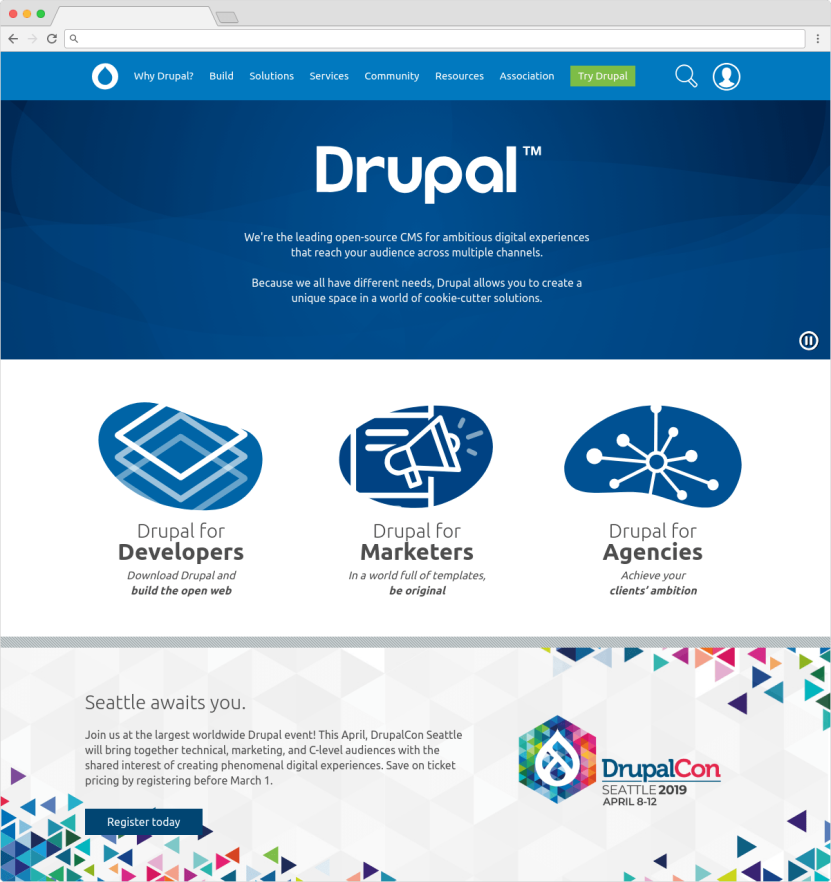 Originally developed as a student community solution, Drupal has gone on to become a fully-fledged open source social publishing CMS with a flexible and modular layout, making it highly customizable. Plus, with over 36,000 extension modules, Drupal can be extended to suit a company's needs.
The downside though, is that the backend administration in Drupal is quite complicated and does require a lot of technical expertise. For example, to add a module, you need to install it via FTP, which is a complex process. Plus, updating extensions are also quite tedious, since some of the extensions are not always compatible with the backend.
Who it's for: Drupal is suitable for small and medium-sized organizations who have access to technical expertise. It's ideal for community platforms, sites with multiple users, and sites which require complex data organization.
3. Joomla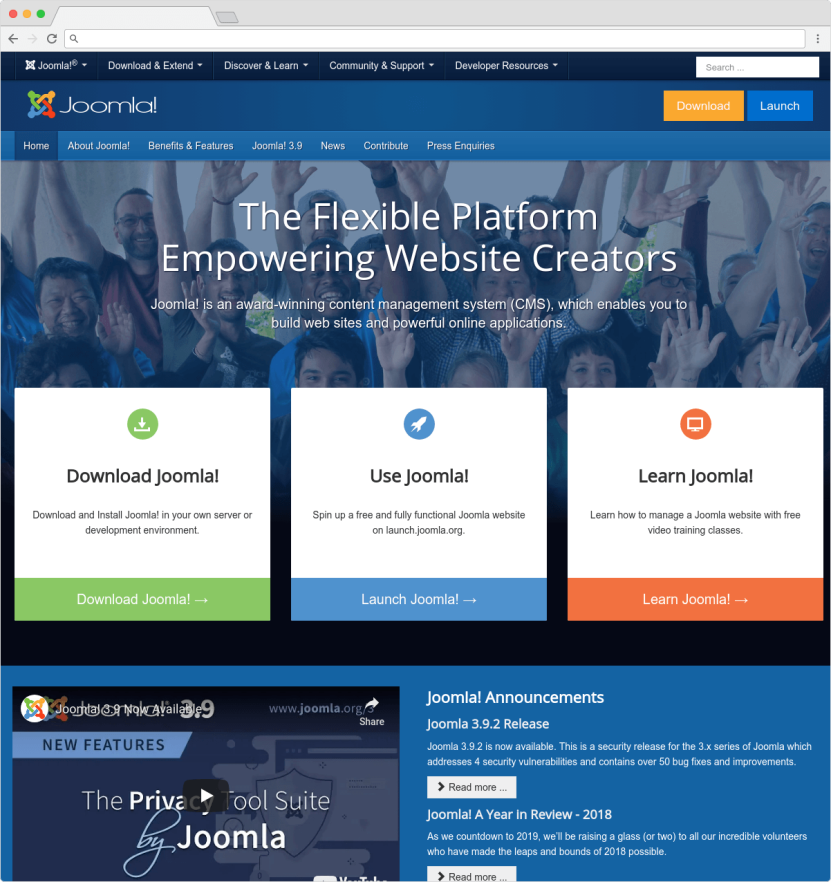 Joomla is the second biggest open source CMS offering in the market with over 2.5 million installations. Unlike WordPress, Joomla comes with more comprehensive out-of-the-box features, meaning you don't need to install a load of extensions during the initial set up. This particular CMS is based on a stand-alone MVC framework, allowing Joomla users to create their own extensions and share it with the community.
But similar to Drupal, the extensions need to be installed via the backend. Also, the premium extensions can be quite pricey as well. And in terms of rights management and approval, this is often seen as inadequate.
Who it's for: Despite being aimed at both beginners and advanced users, Joomla is more challenging than WordPress. It is suitable for smaller and medium-sized projects in e-commerce, community platforms, social publishing, and social networking.
4. Concrete5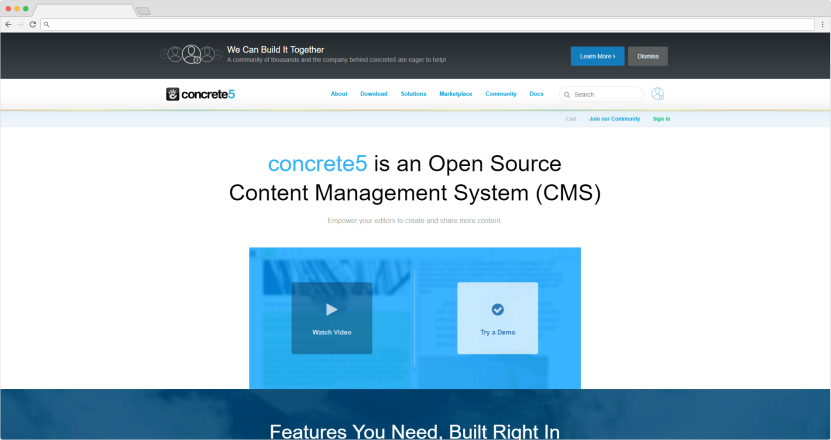 Concrete5 is known for its ease-of-use. Its intuitive interface lets non-technical users create a basic website with relative ease. Users can make modifications to the core functionality without needing to go into the source code and they can also install add-ons without having to go to the backend.
Though the lack of market penetration in comparison to WordPress, Drupal, and Joomla means there are far fewer themes available, but this is improving with time.
Who it's for: Ideal for non-technical marketers who want to set up a website for online magazines, newspapers, non-profit organizations, small businesses, and online communities.
5. Alfresco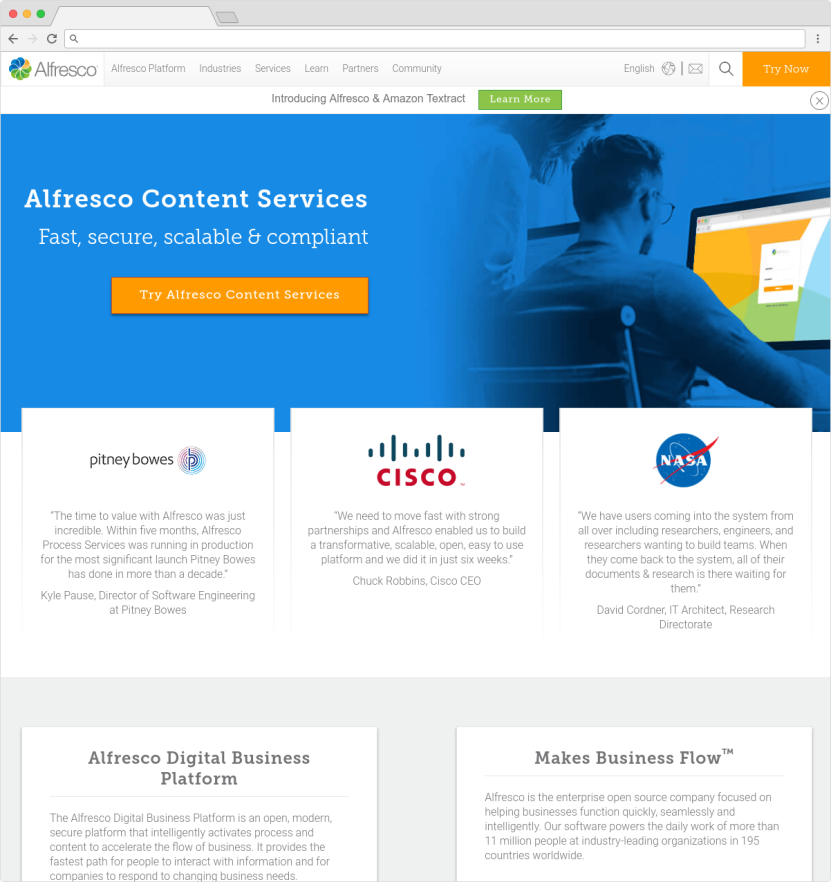 Alfresco is an Enterprise Content Management (ECM) that supports open standards, open APIs and a range of deployment options including on-premise, cloud, and hybrid. The API-driven environment in Alfresco makes it highly integratable and extendable.
While Alfresco can be used to organize your documents in a systematic way and keep track of previous versions, many users have stated that the interface is quite "intimidating". Also if you want to customize your Alfresco site, you need Java skills and full-time developers.
Who it's for: Ideal for enterprises with access to technical expertise who want to manage and store their documents.
Watch video demo
What to look for in a Content Management System (CMS) platform?
When you break it down, every CMS choice essentially boils down to these 14 things:
Business impacts: What impacts will this platform have on my business?
Real costs: Do I understand the true costs of the platform?
Ongoing requirements: Launching a website is only the start, what are the ongoing needs of the selected platform?
Technology: How well does the CMS play with my existing technology stack?
Skillset: How easy is the CMS to deploy? Does it require special skills to use?
Security: Security is obviously a big consideration. You want a CMS that will keep your content and customer data secure against current and future threats.
Blogging: The CMS software must not only manage the blog, but also make it easy for content providers to create, edit, post, and promote blog entries.
Customization: The best CMS platforms are not always the ones that give clients everything they need right out of the box, but the ones that allow clients to customize the platform to meet their needs.
Search engine optimization: SEO is an art that you'll want to keep practising, and you'll need your new CMS to aid you in that.
Social media marketing: Does the CMS make it easy to share content to all the major social networks?
Email marketing: Your chosen CMS should be the content hub for all your publishing and marketing requirements, including email marketing.
WYSIWYG content creation: Can marketers easily edit the look and feel of content using the editor?
Future needs: How does the platform cope with changes in my business needs?
Support: Does the vendor provide the training and ongoing support I need to be successful?
Let's look at each of these three things in more detail.
1. Business impacts
At the start of this post, the first item we considered was the organizational impact of technology.
When considering a CMS platform your choice will impact very differently.
The CMS platforms at a high level can be divided into two main camps, The 'Development platforms' and the 'Solution platforms'. Development platforms are like a blank canvas that you build anything you want. A solution platform comes pre-built and can be customized to your needs. All SaaS platforms are generally solution platforms.
When considering the impacts on your business you need to think about the responsibilities that you take on when selecting a platform.
With a development platform, you will either need internal staff or contract out external technical expertise. When you develop your website on these platforms, it requires considerably more steps in terms of functional requirements and development cycles to produce the final product.
With Solutions platforms, most of the development is done and your business will need to configure the platform to suit your needs. Adoption is also generally faster as these systems are designed to be easy to use, with extensive documentation and support.
2. Real costs
A recent post we took a detailed look into the true costs of managing a website. We looked at the costs across a number of lenses and provided a 20 point checklist to help you make sure the pricing was correct.
3. Ongoing requirements
The processing of building a website for your business can be challenging. Managing the stakeholder, ensuring you deliver on the requirements of the business, getting your vendor to deliver on their promises are only a few of the issues that arise during the process.
The build, however, should be considered the start of your digital journey. The hard work begins the day the site is launched and you now need to validate the assumptions you made many months prior during the discovery phase.
Integrated analytics provide the starting point for your answers, A/B testing of content and user journeys. This then leads to updates to the website, changes to content, launching landing pages for specific campaigns. Understanding how the CMS platform behaves when continuous change is required should form part of the decision-making process.
4. Technology integration
Your CMS can't exist in a silo. At a time when technology affects every aspect of your business, it is crucial that your CMS work well with your other marketing, sales, communication, and project management initiatives.
Start by doing a technology audit. Make note of the tools/technologies you use to do the following:
Marketing automation
Customer relationship management
Project management system
Forms management
Email/Social media marketing
ERP
Customer support
Most of these tools will either feed data into or pull data from your CMS.
For example, your blog post might have a gated content or lead magnet associated with it. This lead magnet plugs into your lead acquisition tool, which, in turn, plugs into your marketing automation and email marketing tools.
Once a lead is qualified, you would want to feed it to your CRM. This, in turn, should plug into your marketing automation tool to further nurture the lead(s).
This creates a number of dependencies which affect your CMS decision. The better integrated your CMS is with your other marketing and sales tools, the smoother your marketing machinery.
While you're doing this, also take a close look at any other upgrades or migration planned in the near future. If you're going to make significant changes to your technology stack in the next six months, it makes sense to choose a CMS that will be compatible with these changes.
5. Skillsets
This is an often overlooked part of the CMS selection process but it has a deep impact on the success of any CMS deployment.
Simply put, you want to choose a CMS that your team can actually use.
Broadly speaking, you can divide this into two categories: technical and end-user skill availability.
A. Technical skill resources
The first thing you should consider is your existing IT expertise.
Understand that installing, maintaining and securing a CMS is a challenge. If you don't have in-house IT capabilities to do this, you can rule out on-premise/hosted solutions altogether.
Start by auditing your IT resources and document the following:
Security expertise: Ask how competent is my IT team in securing the CMS against different, ongoing attacks?
Existing infrastructure: Is my existing infrastructure secure and scalable enough to run the CMS? If not, is a SaaS solution a more viable option?
Maintenance: Can your IT handle ongoing maintenance and upkeep work?
Ease of development: Do you have in-house resources to modify the CMS if need be? If not, how easy is it to find freelancers to outsource development? Is the CMS written in a language with plenty of third-party development options (say, PHP vs. Perl)?
Keep in mind that technical skills are a concern only if you choose a hosted/on-premise solution.
If you go with a SaaS solution, you can skip these technical requirements altogether and focus on the end-user experience.
B. End-user skill
Besides the technical requirements, you'll also want to consider how easy the CMS is to use for your end-users (marketers, content creators, and salespeople).
Ideally, you should choose a CMS that your end-users can use readily, without additional training.
Here are two things you should consider here:
Authorship Experience (AX): Authorship experience determines how easy it is to create, edit and manage content. A poor AX will have an impact on the productivity, efficiency, and morale of your content creators.
User-Experience (UX): This determines the actual experience of using the CMS. For a SaaS solution, this will include the process to onboard new users, integrate third-party tools, etc. For a hosted solution, this would include the installation, maintenance, and modification process as well
It's also a good idea to do a skills audit for all stakeholders in the CMS decision-making process. Try to understand how comfortable they are with content management systems in particular and technology in general. For developers, audit for existing programming skills as well.
6. Security
Security is obviously a big consideration. You want a CMS that will keep your content and customer data secure against current and future threats.
There are four things to consider here:
Security features: Does the CMS have built-in security features (such as 2-step authentication)? If not, does it have plugins and third-party integrations to improve security?
The pace of development: Do the developers release updates and security fixes quickly? This is a particularly big issue with open-source software.
Infrastructure requirements: Does the CMS support any infrastructure-level upgrades to improve security?
Plugin/module environment: Are your commonly used plugins/modules secure? Do their developers regularly check for fixes?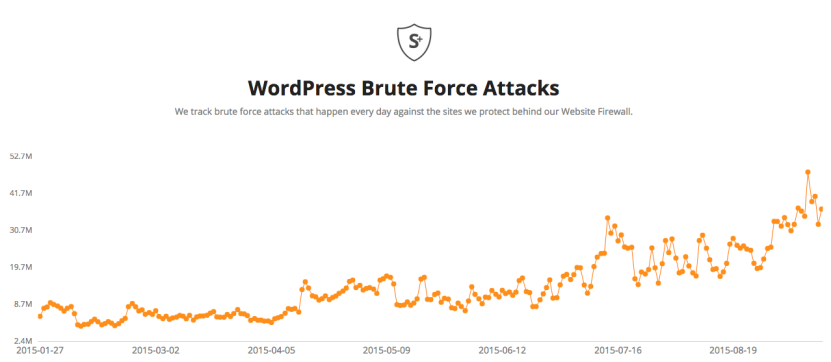 Security is a double-edged sword. The more popular a CMS, the more it will be prone to attacks. But more popularity also means that developers will be faster to respond to attacks.
Considering that there are tens of millions of brute force attacks against a popular CMS like WordPress every day, it's crucial that you invest in security.
7. Blogging
A major component of keeping customers up to date on company news involves blogging. The CMS software must not only manage the blog, but also make it easy for content providers to create, edit, post, and promote blog entries. These blog posts can also form a key facet of the company's content marketing strategy, so a CMS platform that enables blog posting is ideal.
Consider the following:
Can the CMS accommodate your content creation workflows?
Is the content creation, editing, previewing, and publishing experience simple for non-technical users?
Can the CMS automatically publish to RSS feeds?
Is it easy for readers to share posts on social media?
8. Customization
The best CMS platforms are not always the ones that give clients everything they need right out of the box, but the ones that allow clients to customize the platform to meet their needs.
Some platforms restrict access to code and force you to use the platform exactly as it is. Usually, those same platforms provide front-end templates that may be pretty but are difficult to customize or re-build. You want to be in a position to tweak the UI and UX of the back-end content authoring experience for your in-house team, as well as the end user experience, giving you full control over the customer experience.
Ask the following:
Can I customize the look and feel of my website freely, or are there restrictions?
Can the backend be tailored to simplify the interface, hide functionality, or to match my brand?
Will it be prohibitively expensive to add the features I need?
Does the vendor offer a strong level of documentation?
What are the additional costs for support and custom development from the vendor or their agency partners?
9. Search engine optimization
Simply put, if you implement a new CMS, but nobody can find your website or content in search engine results, that's a bad investment.
SEO is an art that you'll want to keep practising, and you'll need your new CMS to aid you in that. You need to find a CMS with capabilities to optimize content for search engine crawlers.
The best CMS platforms will have features that help you configure title tags, meta tags, site maps, and search-friendly URLs to boost the content's visibility on major search engines.
Ask yourself these questions:
Does the CMS have basic SEO features such as SEO friendly URLs, sitemaps, and image alt-tagging?
Are there SEO optimization features enabled by default?
Have other clients had positive SEO results using the CMS?
10. Social media marketing
With so many users getting their information from social networks, a CMS that can deliver content to these networks is not a luxury, it's a necessity. In fact, social networks are the biggest source of inspiration for consumer purchases with 37% of consumers finding purchase inspiration through platforms like Facebook, Twitter, and Instagram.
In the B2B space, 73% of B2B companies say their salespeople use LinkedIn to engage with clients and prospects, leading to roughly 80% of social media B2B leads coming from the platform. If these numbers don't convince you to get serious about social media, nothing will.
Consider these points:
Does the CMS make it easy to share content to all the major social networks?
Does the CMS offer analytics to help track social traffic and shares?
11. Email marketing
Your chosen CMS should be the content hub for all your publishing and marketing requirements, including email marketing. With that in mind, the CMS you choose must work with automated email marketing tools to make sure that the correct content gets sent to the qualified segments of your audience.
Think about the following:
Can I manage email marketing campaigns from within the CMS?
Are there metrics tracking features for email marketing?
Are there other useful features to nurture email leads?
Does the platform integrate with email marketing technologies like MailChimp and Campaign Monitor?
12. WYSIWYG content creation
WYSIWYG (What You See Is What You Get) user interfaces have become a staple of CMS platforms, from the most primitive to the most advanced.
As the name suggests, a WYSIWYG content authoring environment allows marketers and non-technical users to use familiar formatting tools (like the ones you would find within Microsoft Word), to create content. Advanced editors may also support drag-and-drop, allowing content creators to move images and other page elements around.
Consider these questions:
Can marketers easily edit the look and feel of content using the editor?
Does the editor support multiple delivery channels, with content previews?
Is the editor quick and responsive, or is it slow and difficult to use?
Does the editor allow you to embed video to support your video content on product pages and other web pages?
Features for marketing & editorial
The CMS features listed above will make up the foundation needed to launch a successful website. But when it comes to features specifically for marketing and content creation, we have a lot more to discuss.
As mentioned before, it's a good idea to prioritize these features into three categories; must-have, important, and nice-to-have. This will make your selection process much easier.
Some features you should consider are:
Must-have features
Integrations with your marketing and sales stack: Just as the choice of CMS impacts numerous departments, that choice also affects the systems upon which those departments depend. The CMS must integrate with systems like customer relationship management (CRM) platforms, marketing campaign management systems, and enterprise resource planning (ERP) software to ensure smooth operations across departmental boundaries.
Easy-to-use and feature-rich editors: WYSIWYG editing, content versioning, customization options, and a UI that content authors love to use.
A mobile-friendly dashboard: Your team should be able to read, manage and even edit content on the go without any issues.
Important features
User-management with permission control: Particularly important if you have a lot of content contributors.
Supports a variety of content types: Including videos, audio (including podcasts), blog posts, and standalone pages.
Personalization: The ability to create segments, serve them with personalized content, and build one-to-one experiences.
Strong level of vendor support: The vendor should have a strong ethos around supporting their customers to learn the mechanics of the platform, overcome roadblocks, connect with partners, and grow their digital presence.
Nice-to-have features
Workflows and content approval processes: To ensure efficient content creation and higher content velocity.
Multi-site support: To manage all your brands and online properties in one place, even if they serve overseas markets.
Multilingual support: For clients with a global reach, a CMS that supports multiple languages is a must. These capabilities must go beyond a simple machine translation and take into account dialects, idioms, and cultural references. Not only must a CMS adapt to users who read different languages, but it also must work for content creators who write in those languages.
Documentation and training: Preferably in multiple formats (text, video, and audio).
Of course, these are only guidelines. Your business might classify these features into other categories depending on your requirements.
Features for developers
Your developers have distinctly different requirements from your marketing and editorial teams. For them, maintaining, modifying and keeping the CMS secure are top priorities.
On that note, here are some developer-focused features you should consider:
Must-have features
Scalability: The CMS shouldn't compromise on performance when traffic spikes occur, or new sites are launched. This is often achievable through a SaaS or PaaS infrastructure.
Security features: Such as user management, permission control, regular bug fixes, 2-step authentication, etc.
Stability: The CMS shouldn't crash or hang.
Important features
Performance: CDNs and reliable servers should be high on your priorities list.
Upgradability: Without leading to compatibility and migration issues associated with Drupal.
Modularity: Especially with open-source software.
In-depth documentation: For a better developer experience
Framework-agnostic: Or not relying on a specific tech stack
Version control: So content authors can access previous versions of content, compare current the content to current versions, and track which team member made the changes and when those changes were made.
Nice-to-haves
24x7 support: When users encounter issues with their CMS platform, their internal resources may not have what they need to solve the problem. Open-source CMS platforms often have user forums, in which developers can answer questions and provide solutions. Proprietary platforms can also offer support by phone or email for a fee or a part of the purchase price.
Resolves issues: Has a great track record when it comes to fixing bugs and issues.
13. Future needs
Your CMS platform is an investment and asset to your business. Many businesses depreciate the asset as they assume that there is a lifespan to the CMS platform. This isn't necessarily the case, with the growth of SaaS platforms, re-platforming will become a thing of the past. Your website will "evolve" with the needs of your business. Retraining and retooling will become a thing of the past.
Ask vendors how the product is kept current and how new features find their way into your website. Understand how upgrades work and the costs involved with the upkeep and maintenance of the CMS platform. Propose a staged approach to the development of your website and ask when you change and want new features, applications, and how these are priced
14. Support
Support is one of those services that are either neglected or completely absent. With open source, support is an additional cost to the CMS platform. What adds complication is a traditional development platform is that you not only need support of the software but support of the hosting Infrastructure.
What can arise in this situation is the people supporting the software are not necessarily the same people, this leads to the blame game where each party points the finger at the other.
Having a single party responsible for the whole solution is imperative. With SaaS platforms, it is an end to end system so all aspects are supported.
In addition, training is a support item. Helping you achieve the most from your platform ensures that your satisfied and achieve the return on your investment. With SaaS platforms, they have "customer success teams" who are allocated to ensure that your solutions deliver on your expectations.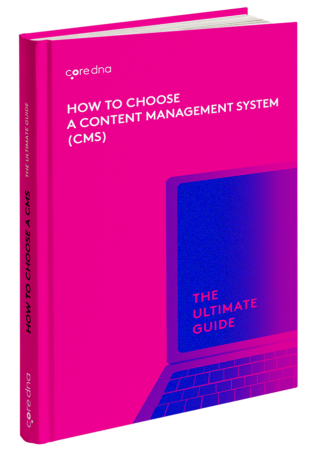 How to Choose a CMS: The Ultimate Guide (With Bonus Checklist To Ask Your Vendor)
The definitive guide to choosing the right CMS for your business plus bonus questions and checklist to ask your CMS vendor.
4 mistakes to avoid when choosing a CMS platform
You might do all your homework and still end up making a mistake when choosing your CMS.
Some common mistakes I regularly see businesses make are:
1. Confusing "feature bloat" for "feature rich"
A "feature rich" CMS has features you and your team actually cares about.
A "feature bloat" CMS has tons of features with very little actual use.
Don't confuse the two. A laundry list of features looks good on a sales page, but ask yourself: are they actually useful and relevant to your needs?
2. Choosing a complex and costly CMS for future needs
It's not uncommon for businesses to select a CMS based on unrealistic growth expectations. They might end up choosing a complex and costly CMS just because they anticipate accelerated growth "in the future".
While it's important to plan ahead, it is even more important to make sure that your CMS fulfills your existing needs. If a CMS has complicated features that won't be of any use until you have, say, 100,000 pages, it might be wise to choose something simpler.
SaaS platforms allow you to "evolve" as your needs change. Starting with something for your current needs and then adding features as you become more comfortable and your customer expectations increase.
This is a tough balancing act, but making this mistake can cost you thousands of dollars while impacting your current work.
3. Choosing features over ease-of-use
Ease-of-use is often overlooked in the CMS decision-making process. Sure, features are important, but what good are they if no one can use them?
This mistake is often a result of IT and not end-users making the CMS decision. What might be intuitive to one department might be completely alien to another.
With SaaS platforms, extensive testing and user feedback provide continuous improvement to the user interface and the functionality. When considering a SaaS platform you can engage with their demonstration environments and know exactly what you're purchasing
Having to lock yourself into a development environment and the functionality before you have had a chance to understand the relevance of the functionality is where considerable time and budget is lost. Reworking and reconstructing features and interfaces don't add value to the project
4. Not understanding your content management problems
Before you even go into the market to choose a CMS, ask yourself: do you fully understand your own content management problems?
It's not surprising for businesses to often want a new CMS without fully understanding the why.
If you have an existing CMS solution, ask yourself:
Do you really need an alternative?
Can you modify your existing solution to accommodate your new requirements?
In case you're not using a CMS, ask yourself:
Will a CMS offer a significant productivity boost compared to your current methods?
Will your productivity gains be substantial enough to justify CMS costs?
Will you grow fast enough in the next few years to demand a CMS?
This will give you A much-needed clarity for making a better decision.
Watch video demo
Over to you
Choosing a CMS is a tough ask. You have to balance multiple requirements across multiple departments, evaluate dozens of options and pick something that fits the Goldilocks zone of cost, complexity, and ease of use.
Hopefully, this guide will help you make a better CMS decision.
Before you leave, here are your next three action steps:
Consult your marketing, editorial, sales and IT departments and ask for their CMS demands.
Assess your existing technology stack and skills across all stakeholders.
Estimate a budget and consider the cost of implementation for both open vs. closed source solutions.