#AgencyGrowth: Mastering The Art of Overdelivery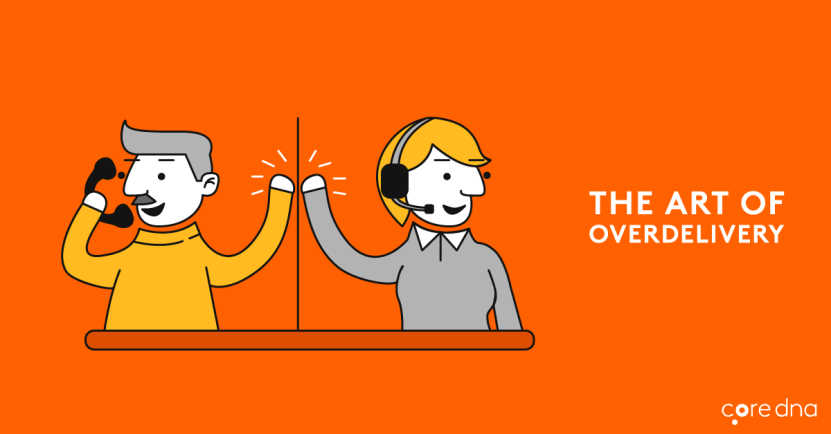 "Under promise and over deliver."
Business writer and motivational speaker, Tom Peters, came up with that idea in 1987, and during the three decades that followed, it evolved from concept to commandment to cliché.
The idea of keeping client expectations manageable, while delivering results that go above and beyond the call of duty, may seem simple on the surface. However, the ability to deliver those results, and getting the client to notice the extra commitment, can often be one of the biggest struggles an agency can face.
[Overdelivery tip #1] Clients vs. partners
The agency-client relationship is often defined as an exchange: the agency provides material, such as content or campaign strategies, and the client provides feedback and funding. The agency (ideally) reaches their project milestones as promised, and the client (hopefully) makes their payments on time. The agency delivers the project, the client makes the final payment, and the whole process starts all over again on the next project.
When agencies treat their clients as partners in a venture, rather than strictly a source of cash flow, it can motivate them to deliver more results in a shorter time. In a healthy personal relationship, most people will do more for their partners than they will for themselves. The ability to extend this into a business relationship can not only bring more satisfaction to the client, it can also cause the relationship to evolve from a discrete set of projects into a continuous partnership to the benefit of both parties.
Matt Eastwood, Chief Creative Officer at J. Walter Thompson, proposed the idea of "co-creation" in an Ad Week article in 2013. "The basic premise (of co-creation) is that no one person has a monopoly on creative thinking. We are all creative individuals, clients included. Add to that the fact that our clients know the most about their business, and it clearly makes sense to share ideas openly and freely."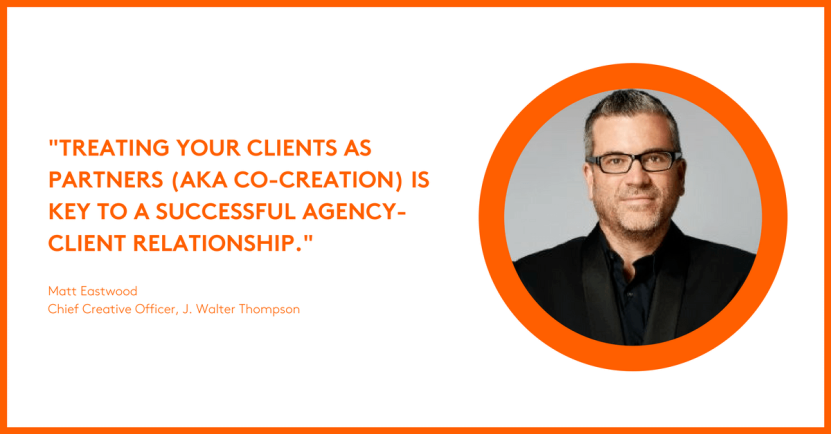 Key takeaway: Don't see your clients as clients, see them as partners. Their success is your success!
[Overdelivery tip #2] Reactive vs. proactive
One of the biggest time-sinks that agencies often face is reacting to client needs. When a client calls with an issue, the agency often scrambles to come up with a way to soothe the client's hurt feelings and to patch up the relationship. These efforts often lead to frustration on both sides, with the client unsatisfied and the agency frustrated at spending time fixing a problem rather than building their business.
A proactive approach can reduce these stressful incidents, while also over-delivering services to the client. The agency can alert the client to potential problems with the project prior to starting and come up with contingency plans, which the client sees as looking out for their best interests. When a problem does occur, the agency can step up and take care of it immediately, even before the client notices that an issue occurred in the first place.
"We believe that agencies are hired to be there before the client asks, to look around corners, to bring new ideas and opportunities to the table and to not wait to be asked to help with any activity," INK's Starr Million Baker told Forbes Magazine. "This proactivity builds lasting partnerships with clients and fulfilling careers for team members.", she continued.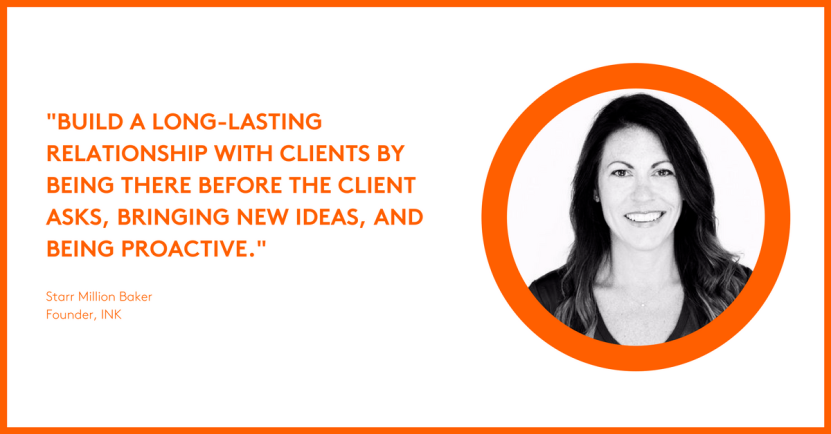 Key takeaway: Don't wait for instructions or for issues to arise before you act. Always be thinking about how you can impress your clients — and then do it.
[Overdelivery tip #3] Automation vs. human interaction
Automated phone routing systems. Automated text message updates. Twitter bots. Chatbots.
While these automated processes can save time and human effort, they also serve to add layers of impersonal interaction between the agency and the client. They insulate both parties from the messy, but often necessary, need for human interaction. More agency professionals and industry experts recommend using human interaction to over-deliver a better experience for clients.
"If you're not service-focused and give your clients a personal touch of genuine interest and absolute willingness to serve them above all, you're like a Reese's peanut butter cup with a wonderful chocolate covering exterior but peanut-butter-less on the inside," – Ximena Cordon of Madre Consulting.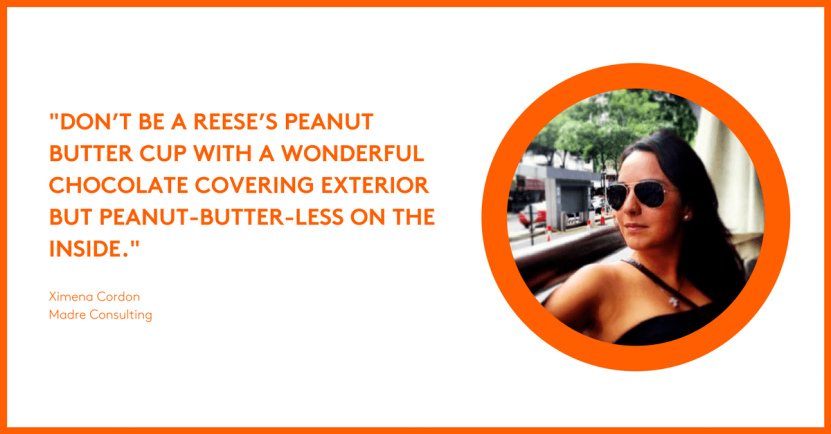 Learn the secrets of growing and scaling an agency from these founders
Crashlytics CEO, Wayne Chang, made a regular practice of sending fresh cookies or pizza deliveries to clients as a way of maintaining that human touch. Each delivery included a hand-written note from Chang to show his appreciation.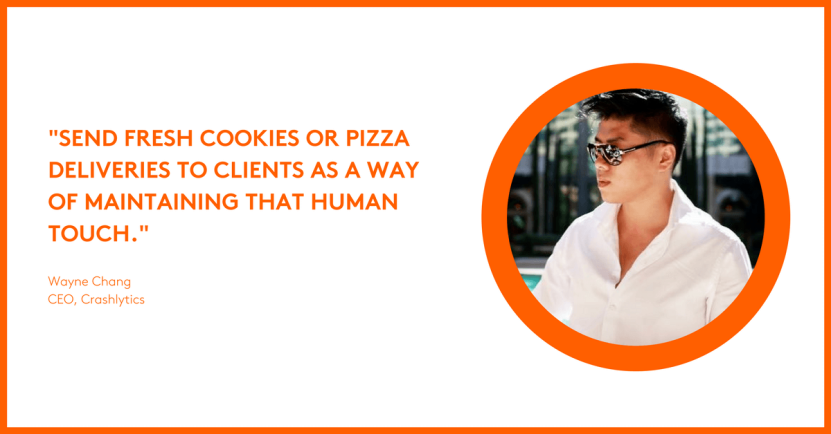 "As a company, you've now made a DEPOSIT in that relationship," Chang wrote in Art Plus Marketing in October 2017. "Which means, should something go wrong somewhere along the way, they will be far more understanding. They will be less likely to complain, and more willing to provide helpful feedback. But most of all, they will talk about your company in a positive way."
Key takeaway: Automated processes have their place, but be sure your clients have regular interactions with humans in your agency who can help them.
[Overdelivery tip #4] Expectations vs. reality
Of course, a key factor in the "over-delivering" lies in setting the client's expectations as to what "delivering" actually means. While some agencies may promise the moon and stars to a prospective client in hopes of landing the account, the time eventually comes when the agency must deliver on those lofty promises.
An agency that understands the delicate balance of making promises that fulfill the client's needs, while still allowing for the agency's capabilities, will often have more successful relationships. An agency that sets client expectations at unattainable levels can work themselves into the ground, while still dealing with dissatisfied clients.
In a 2016 blog post, TapClicks Former Senior Vice President of Products and Solutions, Anthony Adams, addressed this issue.
"When you continue to underdeliver, your clients will get frustrated, wonder what they are paying you for, and seek marketing help elsewhere," Adams wrote. "Instead, promise the minimum of what you know you can achieve (within the range of their expectations, of course), and then your clients will be pumped when you deliver much more than they were ever expecting to get out of the relationship."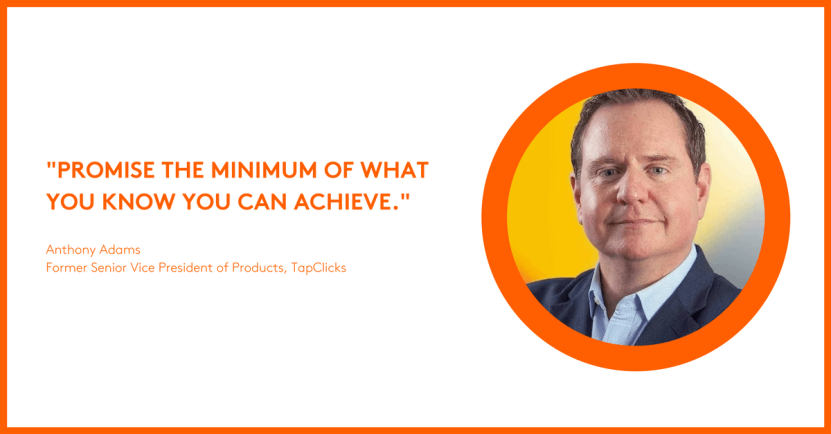 Key takeaway: If you over-promise, it's going to be hard to deliver, let alone over-deliver. Start out with a scope of works you know you can handle, and build from there.
Do the right thing for your clients — and your business
The effort required to exceed client expectations, anticipate problems, and maintain a human connection is seldom easy. Many agency owners and staff may experience times when they feel that those efforts go unappreciated, both internally and externally.
Plattr (formerly known as Native Commerce Media) CEO, Keren Kang, wrote about her experiences with these efforts in November 2017.
"Do we owe this (effort) to our clients as part of our deliverables? No. Do we do it anyway? Yes. Why? Because it's the right thing to do especially if you have clients with limited resources."
The "art of overdelivery" doesn't lie in doing the easy thing. It often lies simply in doing the right thing — which also just happens to be good for business.
Join a partnership that grows your agency (and your clients') business to the next level