Digital Agency Trends for 2021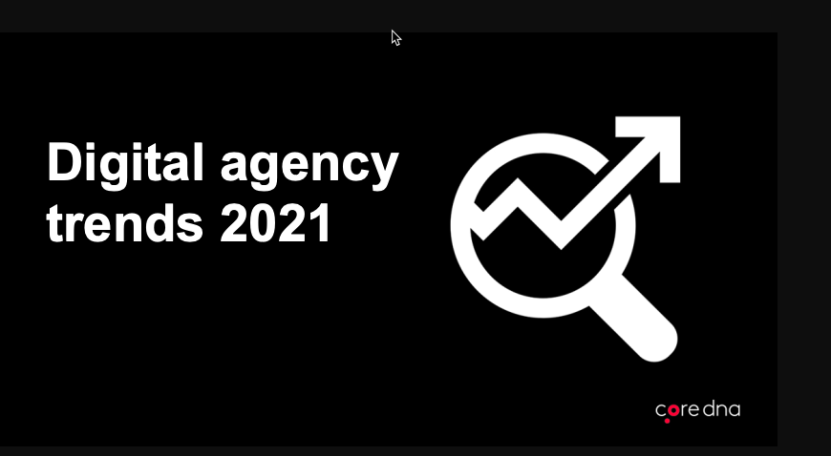 1. Direct Sales are Dead
Direct sales are collapsing with the rise of knowledge-sharing and content marketing. Agencies are now specializing and finding cohorts of customers where they can become true partners to their businesses, and provide ongoing insights and shared knowledge based on experience and industry know-how.
2. Platforms are Solving Business Problems
SaaS platforms are finding ways to resolve complex business problems out of the box. Clients are now finding solutions without the traditional design and build process. Thousands of business problems are being targeted and customers are able to access high calibre solutions using their credit cards. Agencies will be required to also understand the current technology landscape and provide customers with a variety of solutions.
3. User Journeys Become an Obsession
In terms of developing better UX customer management, agencies will drive user journeys as a part of client strategies. Being able to identify and map out the paths to goals and measuring the performance of the paths will become an obsession. Tools including A/B testing, content marketing, heat mapping and video sessions will help provide feedback for review and refinement.
Learn the secrets of growing and scaling an agency from these founders
4. Data-Driven Decision Making
We are entering the era of the 360 connected campaign. These campaigns will be driven across multiple channels, across multiple assets and technologies. Analytics platforms will play an integral role in capturing the masses of information and being able to distil this into key actions. In addition, visitor profiling will go across channels – specifically the mobile world – where applications will continue to gather more and more information about users' habits.
5. Website Lifecycle Changes
The democratization of technologies through advances in Cloud and SaaS is about to transform the way we buy, use and manage software. Companies are emerging to handle many of the mundane activities for technology companies, including hosting, scaling and security. The days of customers needing to follow the traditional "Design, Build, and Destroy" software cycle are over. New approaches will make a breakthrough for agencies to partner with technologies that provide continuous support and insights, which moves the software cycle towards "Design, Build, and Evolve".
6. Cloud Gets a Little Dark
Cloud computing continues to hit the mainstream and more companies are shifting from in-house systems. With this comes a number of challenges agencies will need to keep top of mind. The dark side of cloud computing has surfaced on a number of occasions already with hackings, data loss and cyber-attacks compromising systems. Finding partners who remain vigilant and have the processes in place to protect assets is imperative.
7. Marketing Takes Control
The role of marketers continues to expand in this digital universe. Not only do the marketing teams have to develop the campaigns, execute them and measure performance, today marketers have to remain knowledgeable on the platforms, the channels, and understand the touchpoints of customer engagement. Marketers are now moving more into both a technology and sales role, taking responsibility for driving the strategies that bring engagement and revenue.
8. Waterfalls Become Agile
Large-scale projects with lofty goals are always fraught – potentially resulting in high-risk, long delivery times, and disappointment on both sides of the transaction. With the changes in platforms, agencies can now plan smaller phased projects, delivering results quickly with cost containment. Clients will engage in a series of projects whose goals are to learn and refine.
9. Material Design
For anyone that uses Google products, you would have experienced (perhaps without even noticing) a new design principle known as Material Design. It provides a grid-based layout that can be used across all channels. Expect to see more material design hitting both applications and websites on the back of Google's development.
Are there any other trends that you're predicting for this year? What have you seen that's on the up in the web agency world? Let us know in the comments.