We Analyzed 19,658 Job Listings. Here's What We Learnt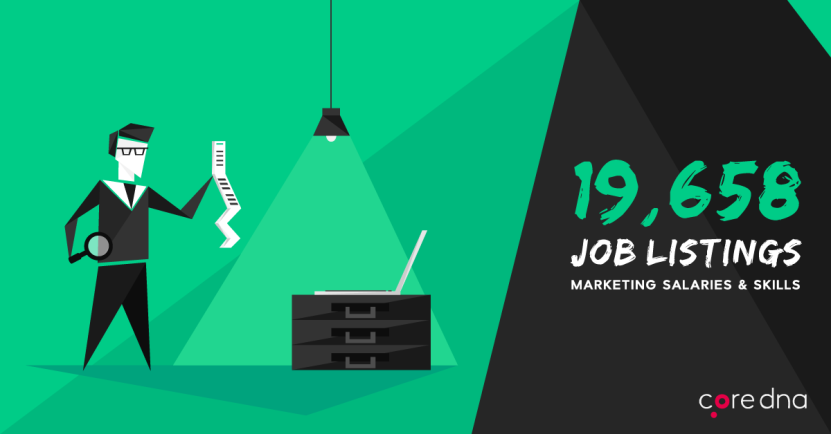 Do you want to know the best time to search for a new job? It's the beginning of the year, more specifically, January and February. Here's why:
People are just coming back from the holidays and you know what they do when they have a meeting in the beginning of the year? They decide "what's next?". They decided what was lacking last year, what can be improved, and all that good stuff.
So, in the spirit of getting you (job hunters) the best place and position to apply, and you (employers) the benchmark to pay your (new) employees, we decided to scrape 18,768 Indeed and 890 Glassdoor job listings (USA and Australia) from August 2016 to Oct 2016 that included the phrase:
Chief marketing officer
Head of marketing
Content marketing manager
Content marketing specialist
Digital marketing manager
Digital marketing specialist
Content marketing manager
Content marketing specialist
Inbound marketing manager
Inbound marketing specialist
SEO manager
SEO specialist
SEM manager
SEM specialist
Social media manager
Social media specialist
And here's what we found.
Get our exclusive data
[Marketing job takeaway #1] The USA and Australia are crazy for SEM managers and specialists with 3,330 (18.8%) and 231 (20.1%) jobs advertised respectively
During the 3-month period we recorded:
CMO and Head of Marketing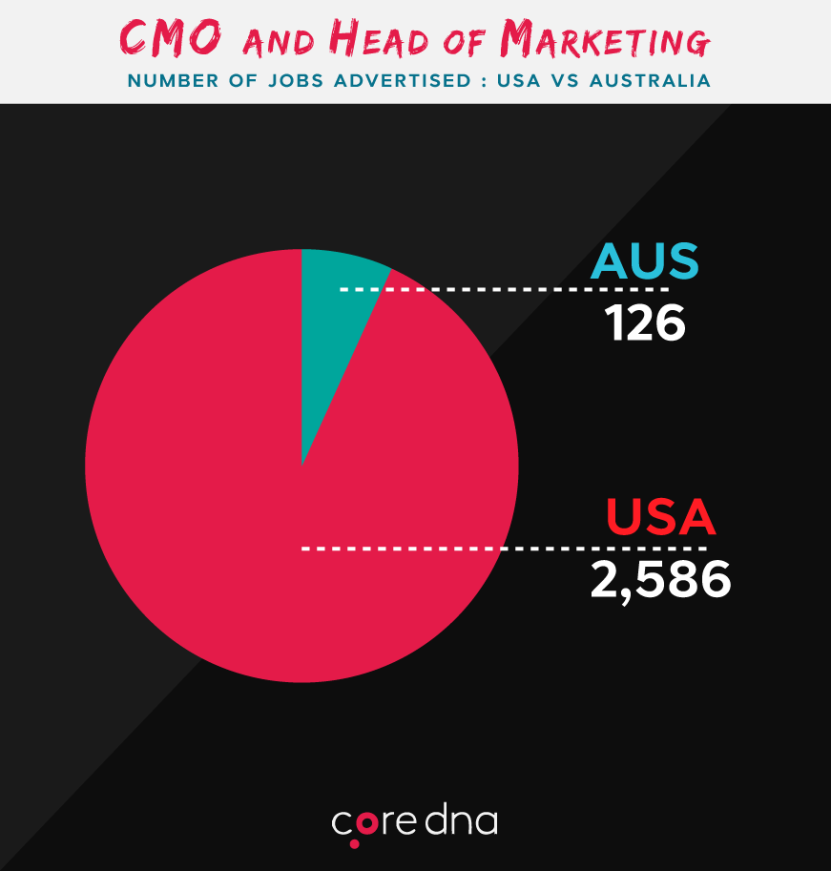 Content Marketing Manager And Specialist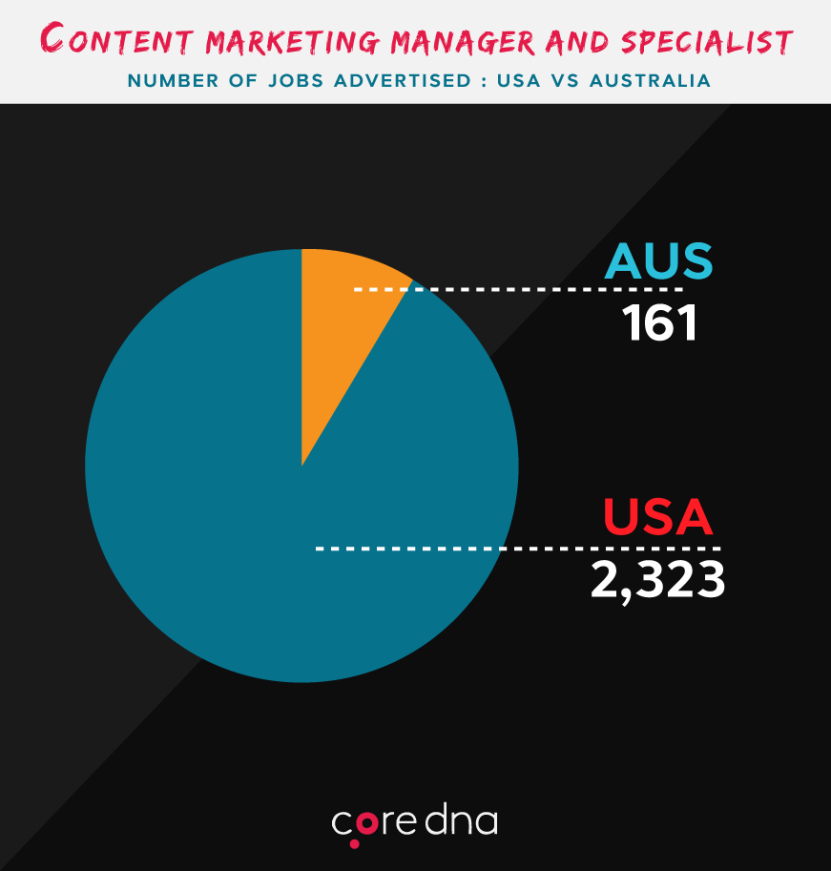 Digital Marketing Manager and Specialist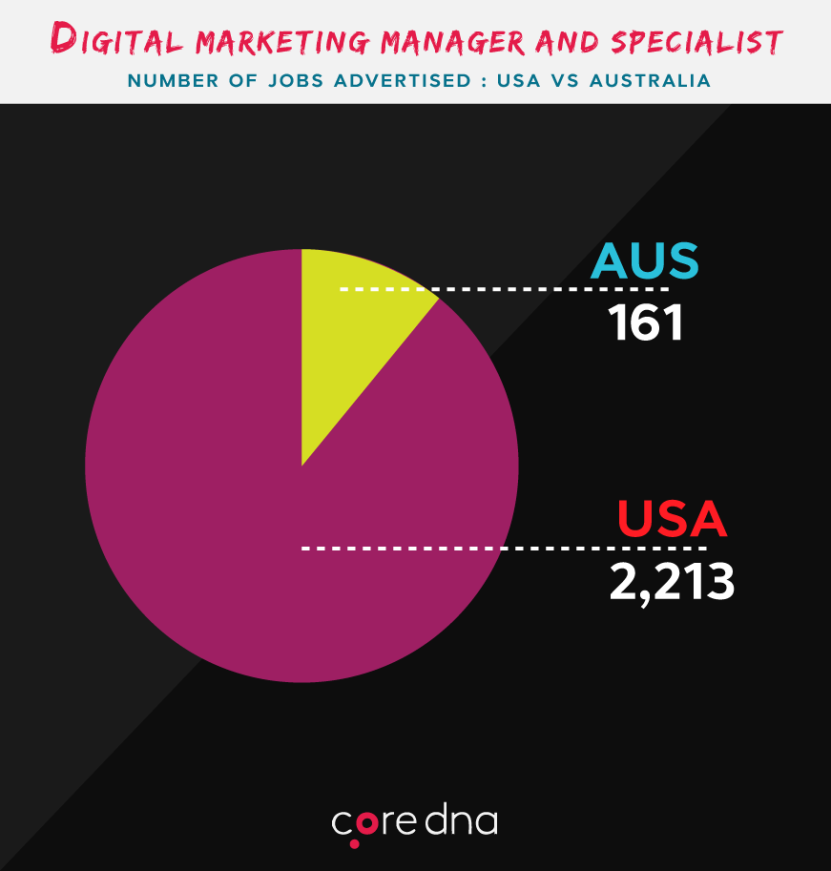 Inbound Marketing Manager And Specialist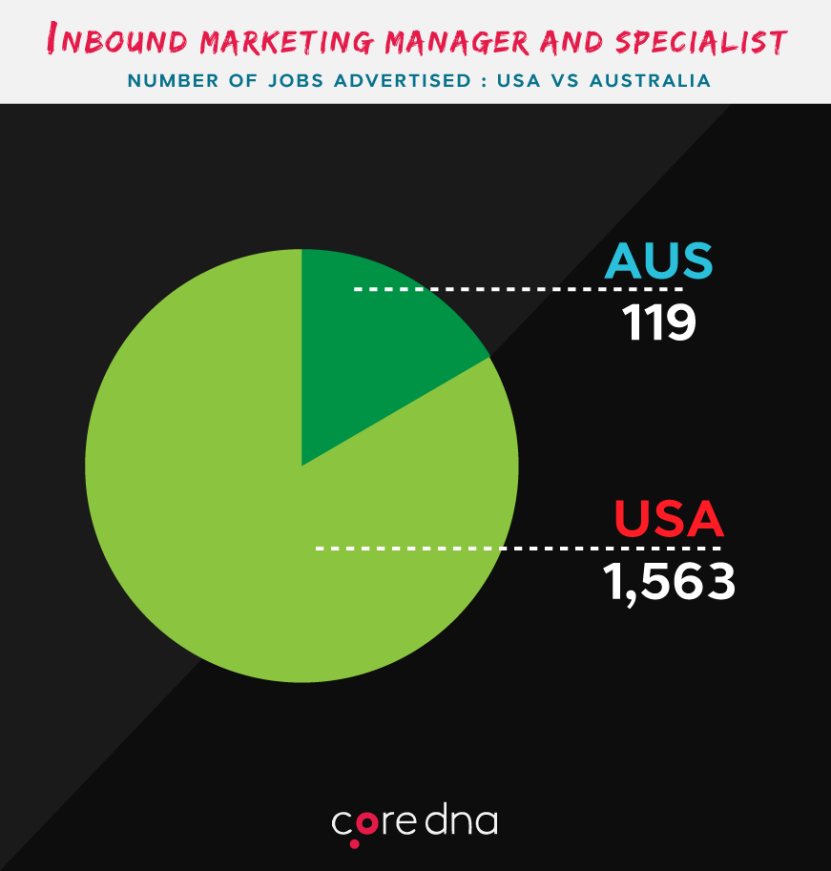 SEM Manager And Specialist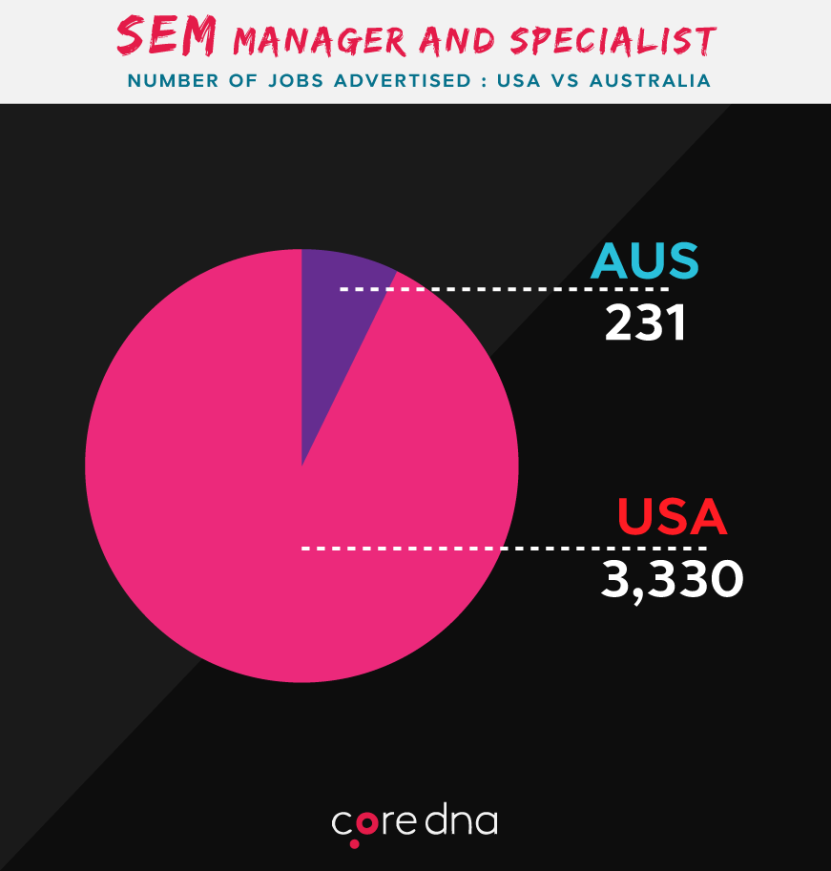 SEO Manager And Specialist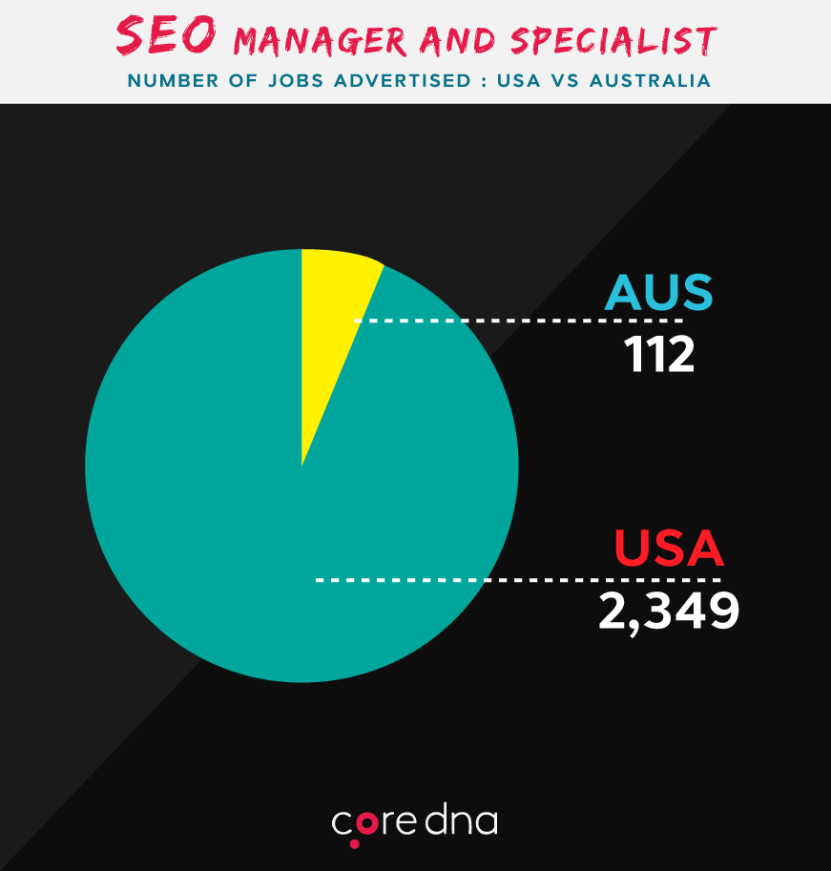 Social Media Manager And Specialist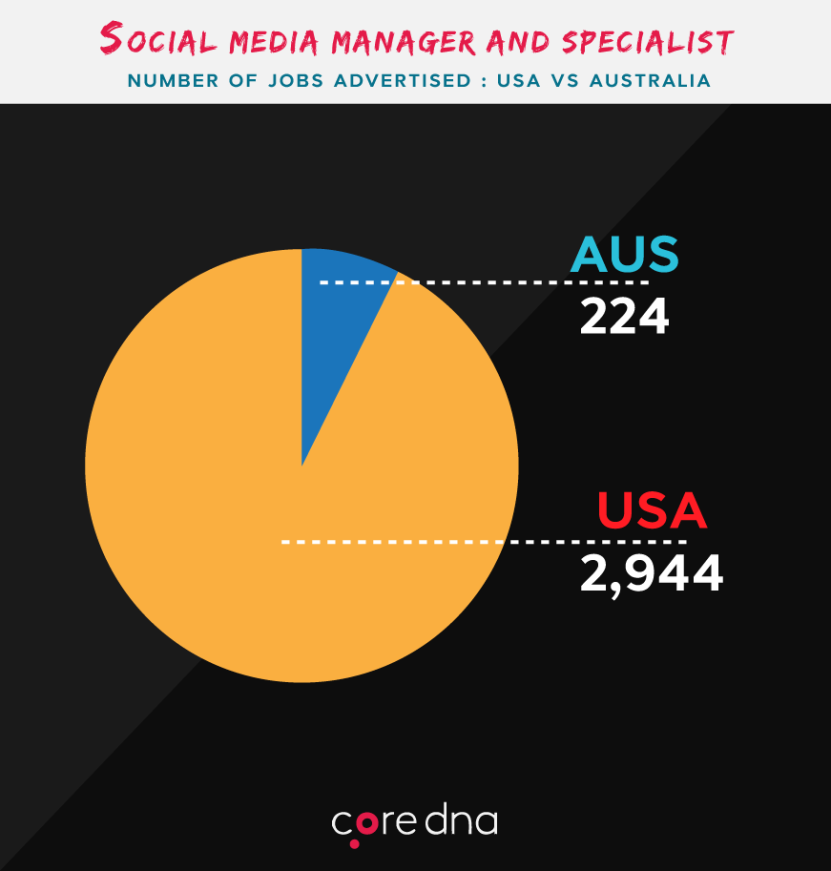 [Marketing job takeaway #2] Australia is more generous than USA, but not that much

(Click here to see the image in full size)
Key takeaways:
The average salary for the USA is $71,286.34, while Australia is $74,522.88, which is to be expected because the cost of living in Australia is higher than the USA.
Australia trumps USA when it comes to average salaries across all boards, except SEO.
As expected, the highest paying job in the USA and Australia is CMO with $122,308.53 and $160,312.50 respectively.
While the lowest paying job in the USA and Australia is Inbound Marketing specialist with $50,855.00 and $52,368.42 respectively. Thanks for nothing Hubspot.
It (literally) pays to be a manager rather than a specialist other than in Social Media
[Marketing job takeaway #3] In the USA, big cities = bigger pays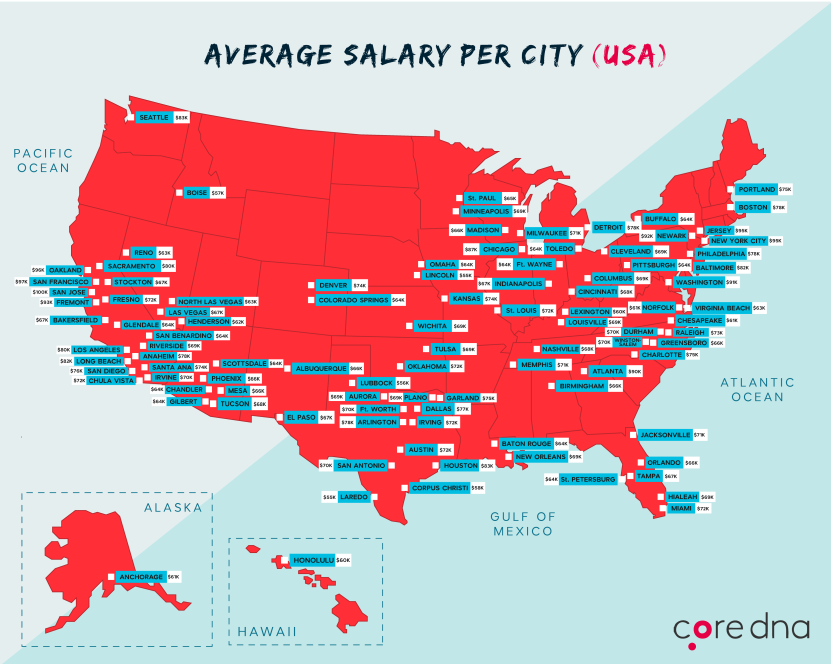 [Marketing job takeaway #4] In Australia, big cities = 'Meh' pays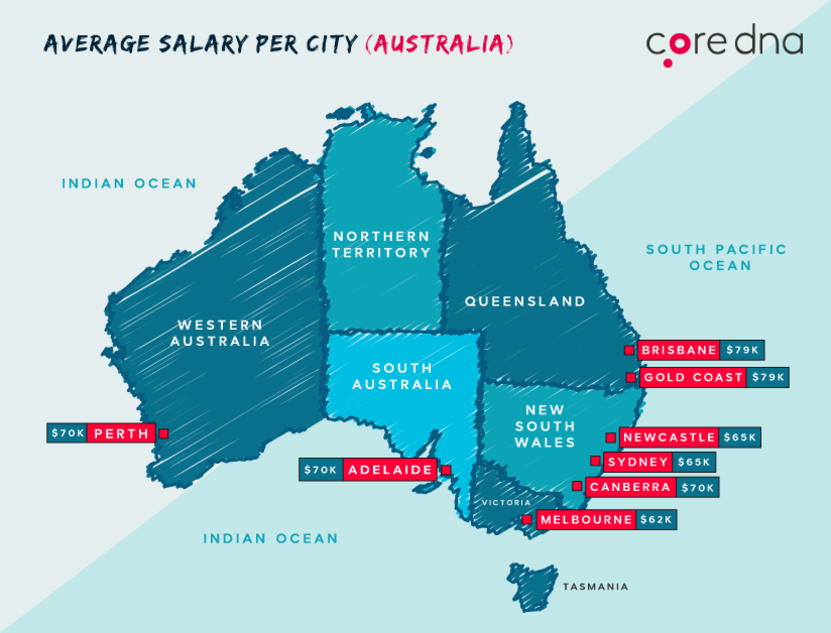 Key takeaways
No surprise that the average salary is The Valley (San Jose) is highest in the USA at $100,432.10. While Brisbane takes the cake for AUS with $79,361.11
The worst city in USA in terms of average salary is Laredo with $55,717.95, while the most liveable city in the world, Melbourne, is the worst city in Australia with an average salary of $55,717.95. One of the reasons why bigger cities have lower-than-average salary could be a case of more entry-level jobs being available in big cities, which would skew the average wage down. From a data point of view, fewer people = less downward skew.
If you don't mind spiders & heat, you like Rugby and XXXX beer then it pays to move to Queensland.
[Marketing job takeaway #5] Digital marketing and inbound have a wide range of responsibilities

[Marketing job takeaway #6] Companies want people who strive in a "Fast-paced" environment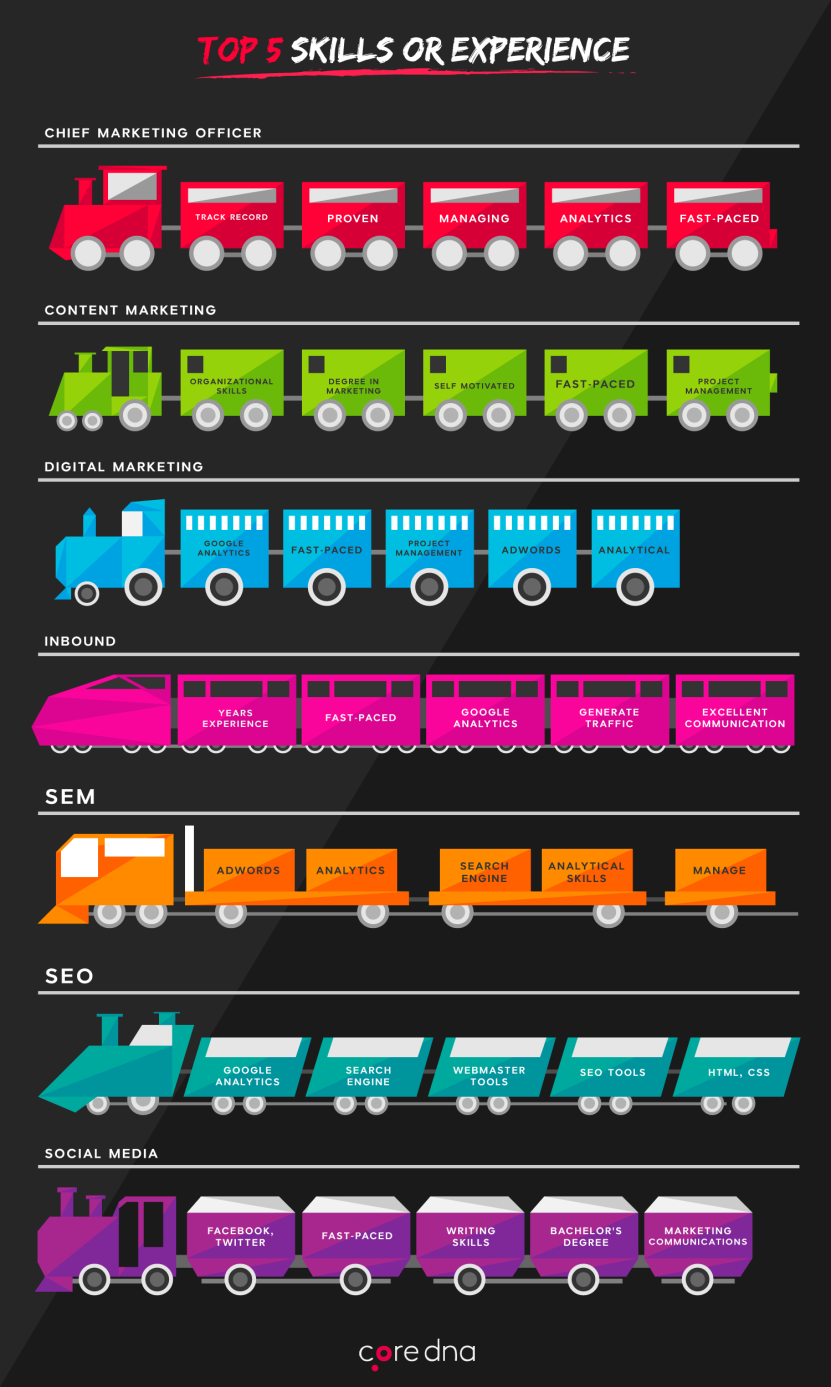 [Marketing job takeaway #7] 2 years of experience is the absolute minimum for all job titles. Good luck, graduates!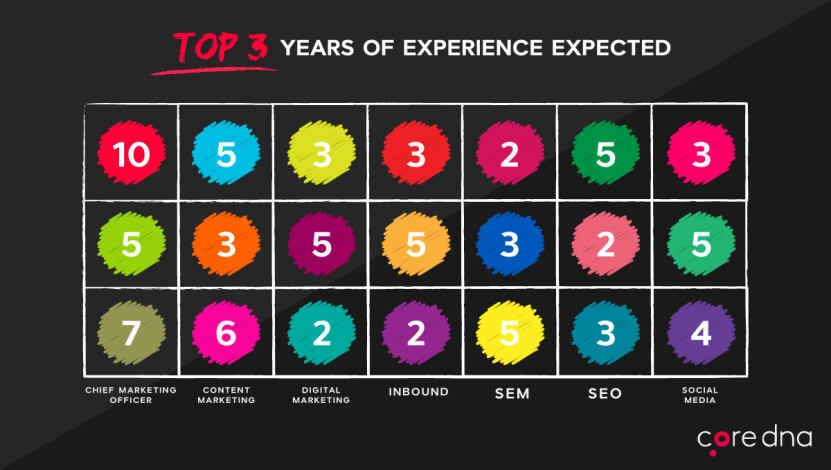 Key takeaways:
Content Marketing vs Inbound - what's the difference?

Content Marketing seems to be more tactical featuring Team, Strategy & Thought Leadership vs
Inbound seems to be more hands-on with Landing Pages, Lead Nurturing, and Automation

Likewise with CMO and Digital Marketing Manager/Specialist

CMO seems to handle high-level strategies, while
Digital Marketing Manager/Specialist takes whatever the goal/strategy the CMO puts in place and develop a step-by-step formula to achieve the goal(s)

Bachelor's degree wanted for Social Media - WTF?
Our theory - they interact with customers, potential customers, and possibly trolls. They deal with some 'brand-defining situations' that if badly handled - well history is littered with examples.
SEOs aren't just about link building and on-page optimization anymore. They are expected to have HTML/CSS skills.
Digital Marketing Manager seems to be a title for a "Jack of All Trades, Master of None" with wide, hands-on responsibilities.
Get our exclusive data