Direct-to-Consumer Retail Strategy: How a Luggage Retailer Won Big By Going D2C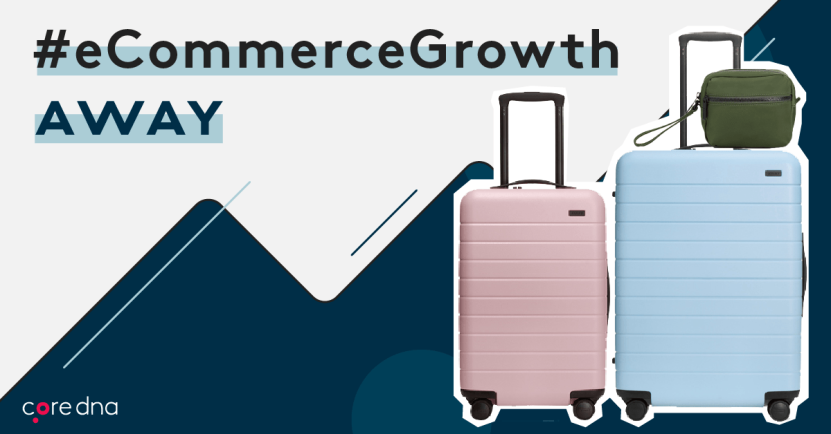 Real quick:
Name three luggage companies off the top of your head.
Okay, if you're a frequent flyer, maybe this was easy. If you only travel every once in a while, you probably don't even know what brand the luggage collecting dust in your spare room is.
(And if you're a Dumb & Dumber fan, your knowledge of luggage companies probably begins and ends with Samsonite.)
The point is, with everything that goes into the process of travelling - purchasing plane tickets, applying for passports, making hotel reservations...the list goes on - most of us probably think of luggage as a bit of an afterthought.
That is, until it breaks.
Which is precisely what lead Steph Korey and Jen Rubio to develop their own, much more durable, suitcase product - and to figure out a way to offer them at a price the average traveler could afford.
Here are D2C retail marketing strategies from Away:
From Warby Parker to Away
To be sure, Steph Korey and Jen Rubio didn't come out of nowhere.
Before collaborating to co-found Away, they had both had their fair share of success in their own fields - both separately and under the same roof. In fact, both Korey and Rubio had been named to Forbes' "30 Under 30" lists in their respective industries before Away was even a twinkle in either of their eyes.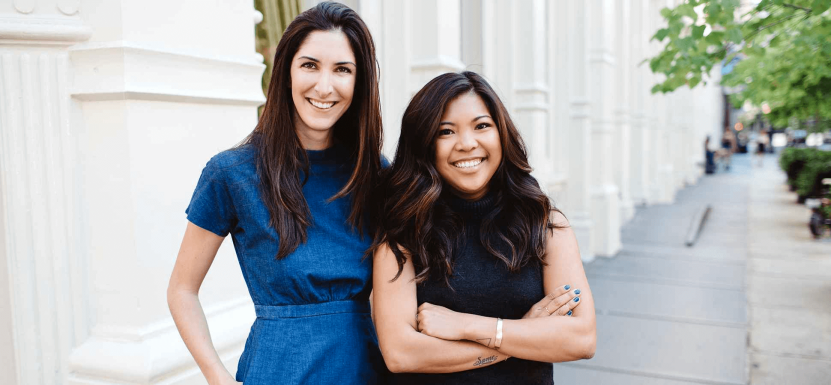 Korey, a supply chain and operations specialist, and Rubio, a branding and creative wizard, first met when they became part of direct-to-consumer eyeglass company Warby Parker's initial team of fifteen employees.
But it wasn't until about a year after both women had left Warby Parker that they came up with the idea for Away. According to Korey, Rubio "called (her) complaining about how terrible the replacement options were (for suitcases)," and also lamenting the fact that those looking to purchase luggage generally had two options: low in price and poorly made, or high in quality and way too expensive.
As Korey tells it, "it was just one of those moments when you're like 'wait a second.'"
In hindsight, we bet Rubio is pretty darn glad her luggage broke when it did.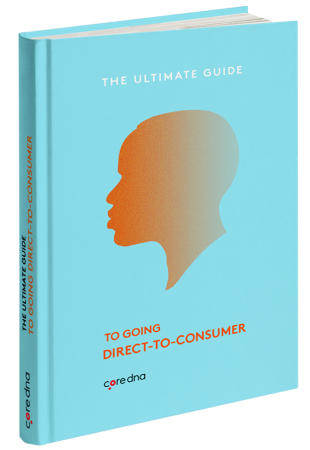 How to take your business direct to consumer in 2021: The ultimate guide
Strategies, insights, and tips on how to start and scale a direct-to-consumer business.
Up, up, and away
That minor inconvenience, coupled with a well-timed phone conversation with an old friend, would mark the beginning of what would quickly become a multimillion-dollar business.
Founded in 2015 and subsequently launched in February 2016, Away "somehow" snuck into the $32 billion luggage industry that Korey and Rubio had seen as relatively stagnant. Within its first year of operations, Away had generated over $12 million in sales - and quintupled this number in fiscal 2017. As of August 2018, Away has sold over 500,000 suitcases and accessories, generating a massive $125 million in revenue in less than three years.
(To add to that, the company has recently raised $50 million in Series C funding, which will help them expand even further into the brick-and-mortar realm.)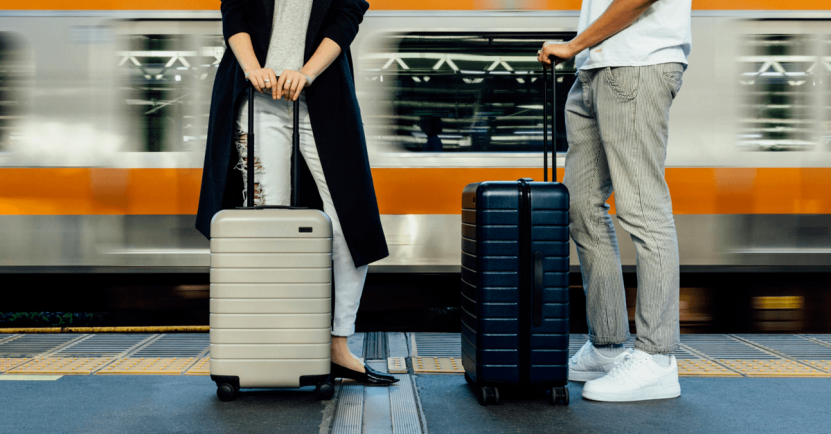 Now, we said that Korey and Rubio attained this success "somehow." This, in no way, was meant to imply that they got lucky, or that their success was a fluke.
In fact, the truth is quite the opposite: from the onset, the duo knew that if they wanted to be successful in such an established industry, they'd have to find numerous ways to turn the field on its head.
Which is exactly what they've set out to do.
How Away took the luggage industry by storm in less than three years
We mentioned earlier that, though Korey and Rubio had worked on the same team at Warby Parker in the past, their expertise lies in two very different areas.
It's no surprise, then, that Away's success is due in large part to the team's innovative approaches to fulfillment and marketing.
Throughout the remainder of this article, we're going to dive deep into how Korey and Rubio built a business empire by:
Implementing direct-to-consumer fulfillment
Creating a narrative for their brand
Focusing on community building
Transforming the customer experience
Let's dig in.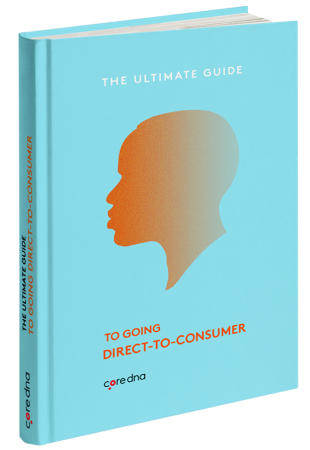 How to take your business direct to consumer in 2021: The ultimate guide
Strategies, insights, and tips on how to start and scale a direct-to-consumer business.
[D2C retail tip #1] Cutting the middleman
As we alluded to earlier, both Korey and Rubio knew that if they were to succeed in their new venture, they'd have to figure out a way to alleviate the price/quality conundrum that's ever-so-present in the luggage industry.
After all, if all they did was offer a more durable suitcase that still cost over $500 to buy, they'd simply be adding to the problem they had originally intended to fix.
Taking a step back, Korey - the supply chain expert - realized the main reason many "luxury" brand suitcases are so expensive in the first place is due to the cost of distribution, as well as the markup retailers place on these items.
Having worked for Warby Parker, as well as Casper - two companies that specifically operate using the direct-to-consumer model - Korey knew what needed to be done.
Says Korey:
"We dug into the supply chain and realized all those $1,000 suitcases were wildly marked up because of how they were distributed, and decided we'd make the best luggage in the world designed based on travelers' true experiences, and sell it exclusively direct to consumer."
By cutting out the retail middleman, Korey and Rubio had discovered a way to offer their products at prices their target customers were willing and able to pay - without having to sacrifice product quality in order to turn a profit.
But there's more to the story, here.
In addition to the direct-to-consumer supply model allowing the company to pass savings along to the customer, it also provides a direct line of communication between the company and its audience.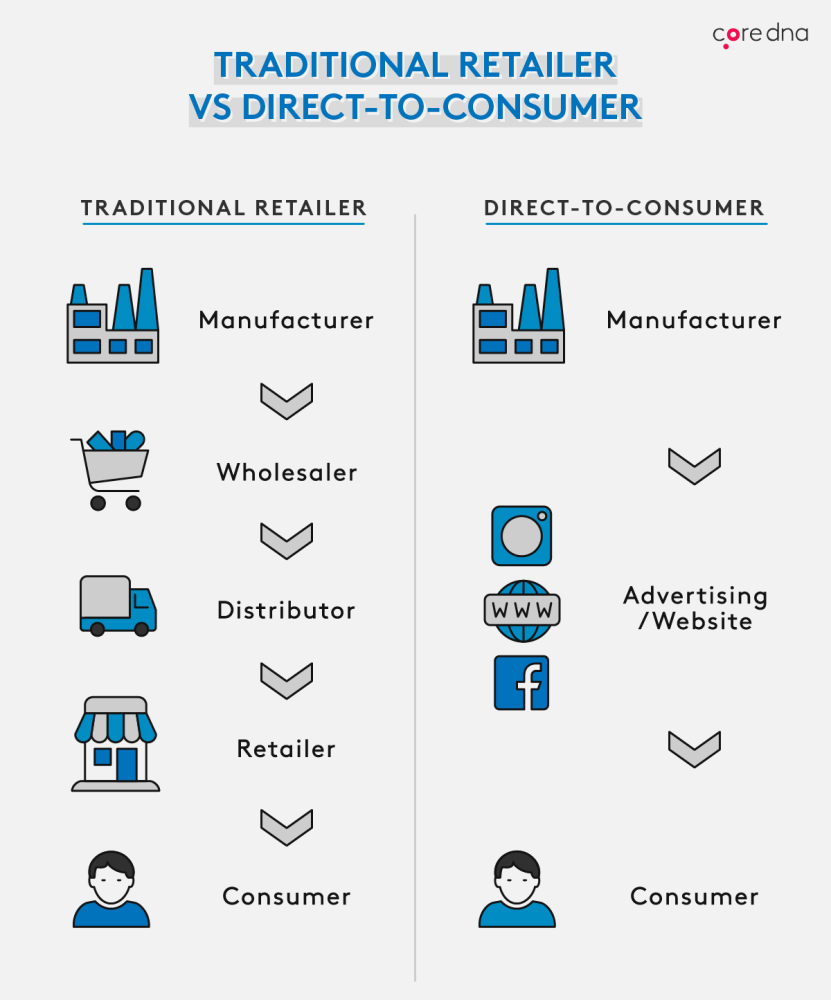 Here's Korey again:
"If a customer goes into a (retail store) and says, 'That purple is whack,' you're never going to know about it."
Since retail stores offer a variety of products from many, many different companies, they really have no reason to do any extra legwork for one company or another in this regard. Just as the manager of your local Dick's Sporting Goods isn't going to pass along your complaints about the new Jordans to Nike, the customer service rep at Kohl's wouldn't be reaching out to Away to relay any feedback a customer may have had about their suitcases.
Korey echoes this sentiment, predicting that "the future of retail (overall) is direct-to-consumer."
"The future of retail (overall) is direct-to-consumer."
With the success Away has had over the past few years, it's pretty hard to argue that point.
The takeaway
Now, the direct-to-consumer model might not be an option for you - and even if it is, it might not be the most beneficial move for your company. But that's not the point.
The real takeaway, here, is that you do need to figure out a way to maximize the efficiency with which you deliver your services, in the interest of passing savings along to your customers. The more efficient your processes, the more cost-effective these processes will be - meaning you won't have to dredge your customers' pockets just to turn a profit.
[D2C retail tip #2] Positioning their brand as a travel company (NOT a luggage company)
As we discussed in the intro, most of us typically don't think too much about the luggage we use when packing for a getaway or business trip.
I mean, the only reason I even know what color my main suitcase is because it's sitting in the corner of the room I'm currently in.
And, while I don't have many complaints about the product...I also don't have many positive things to say, either. Simply put: my luggage is just…there.
Neil Blumenthal, co-founder of Warby Parker - and former employer of Korey and Rubio - agrees, saying that "luggage is not discussed as frequently" as products related to fashion and similar industries.
With this in mind, Korey and Rubio set out to position their brand as more than just a company that sells luggage.
Their plan:
Position Away as a brand focused on all things travel - luggage included.
The key to their success: Content.
Rubio explains,
"Even before we were like 'let's choose luggage,' we were talking about editorial content and all we can do in the travel space. We see the long-term potential for Away to be much, much more than just selling luggage."
The team's first order of business was to begin building a storyline via social media. You get one guess as to the platform they decided to focus on.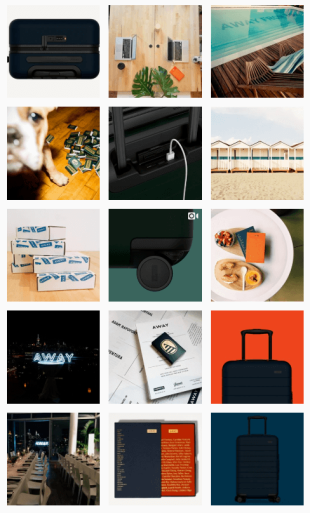 It's pretty much a no-brainer. If Instagram is chock-full of any type of person, it's travel junkies (and foodies, of course).
As you can see from this collection of Away's earliest Instagram posts, the company truly had its eyes on being seen as a travel-focused company from the start - with its luggage product being only a part of the experience.
(We'll revisit the "social" aspect of this venture in the next section, so keep it at the front of your mind.)
In addition to leveraging Instagram to weave a story for its audience to follow, Away decided to do something that, oddly enough, was revolutionary within the luggage industry:
Publish a magazine.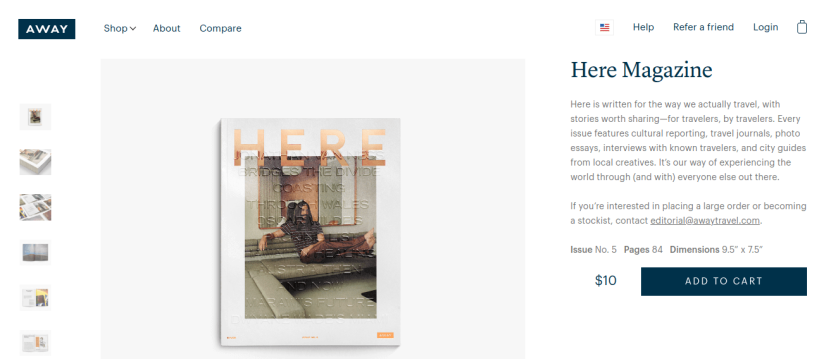 To paraphrase Rubio in an interview with NewsCred (which named Away one of 2018's top 50 content marketing brands), people don't really care about the suitcase they're buying; they care about the journey they're about to embark on with that suitcase in tow. With that in mind, Rubio and her team began developing Here, an in-house publication dedicated to showcasing stories of travel, adventure, and exploration, as told by the people who actually lived the experiences.
In addition to the print version of Here, Away also offers a digital version that provides its readers with city guides, must-see checklists, and essays, interviews, and photography from around the globe.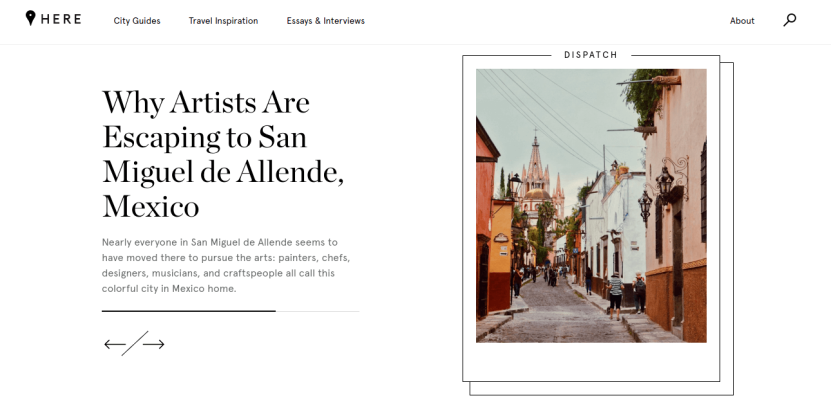 It's worth noting that, although there are links to Away's main website on its site dedicated to Here, the digital magazine stands alone completely, and is in no way meant to coerce its readers toward making a purchase (other than purchasing a physical copy of the magazine).
Our point, here, is that Away created Here not as a means to make money - but simply to provide value to their audience.
One last thing to point out with regard to Away's storytelling initiatives is that Rubio and company also developed Airplane Mode, a podcast "that explores the reasons we travel and places we find ourselves." Though the podcast only ran throughout the spring and summer of 2017, its mere existence in the first place showcases Rubio's willingness to think outside the box and experiment with new ways of telling Away's story.
The takeaway
Again, you don't necessarily need to copy Away's methods, here.
In fact, the lesson here is that you should work to find unique ways to weave your brand's story that your competitors haven't thought of. Your goal shouldn't be to fit into your industry - it should be to stand out in it.
When everyone zig, you zag.
[D2C retail tip #3] Celebrate your fans (even if you only have one)
As we mentioned a few times in the previous sections, Away's team knew from the get-go that, in order to stand out from their more established competition, they'd have to engage with their target audience on a deeper, more intimate level.
This, of course, is the main reason Rubio and company focused on creating a presence on Instagram before Away's products were even launched. In addition to writing the first few "pages" of the brand's story through the picture-based social media platform, Away was also able to plant the seeds that would eventually grow into what Dash Hudson calls a "social media cult following."
To be sure, Away's team didn't go it alone. In addition to creating their own content to be presented on the brand's Instagram page, Away partnered up with a few well-known travel bloggers and Instagrammers to help the company gain some visibility from way early on.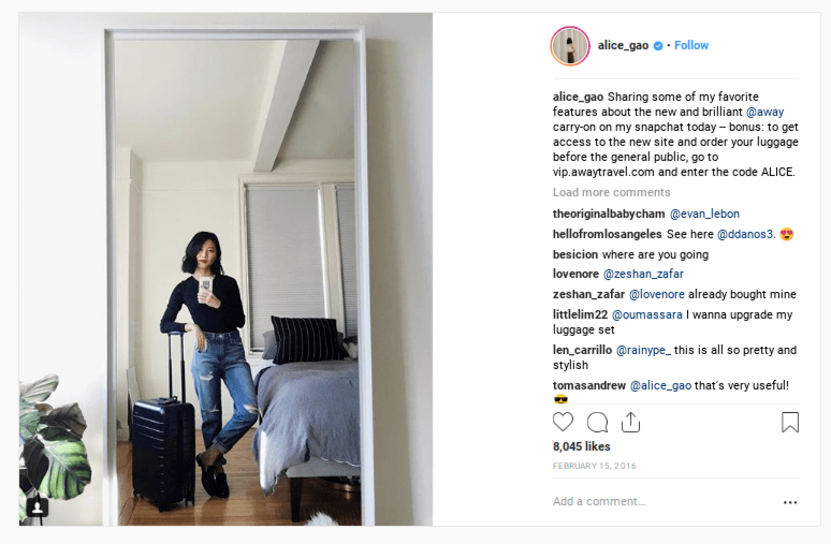 As far as influencer marketing goes, the above example is spot on. First of all, the influencer has close to one million followers - and it's safe to assume most of them are interested in her travel-related content.
Secondly, there's a clear air of authenticity to the post (it doesn't get much more authentic than a selfie, does it?...wait, don't answer that). Finally, the post offers a clear call to action, driving interested individuals to Away's VIP page, allowing them to be among the first people to own the company's products.
Once Away began to grow a following, the team's focus shifted onto engaging with these individuals in an authentic and celebratory manner. They did this by showcasing and promoting user-generated content featuring the brand's products.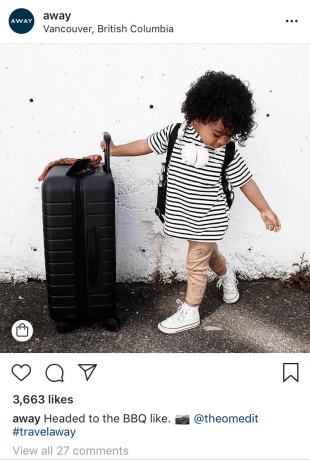 According to Dash Hudson, Away generated more than 325 pieces of UGC in February 2017 alone, which led to nearly 4.5 million impressions via Instagram.
The craziest part? Away does not solicit user-generated content; the team simply shares and otherwise promotes content that their fans create of their own volition.
From the very beginning, Rubio's strategy, in this aspect, has been to nurture the creation of UGC simply by celebrating those who provide it:
"Even when we (only) had 500 to 1,000 (Instagram followers), we were sharing their own photos...We've ingrained and embedded this behavior of sharing (within) our community."
Now, as we mentioned, Away's team has focused heavily on creating an online community specifically via Instagram. But that doesn't mean the company ignores other social media platforms altogether; Away's Facebook and Twitter pages are constantly being updated and monitored for customer queries, comments, and complaints.
The takeaway
The takeaway here is twofold:
Once you figure out the most effective and efficient way to connect with your target consumers, you'll want to focus a pretty decent chunk of your attention on this channel or platform. But, in the interest of building an omnichannel experience for your audience, you definitely want to make your presence known on the other channels your customers frequent.
Simply put, your goal is to be where your customers expect you to be. That way, you can create a seamless experience for them, and make their interactions with your brand a part of their day-to-day life.
[D2C retail tip #4] Data-backed product improvements and removals
Speaking of the customer experience…
Actually, in all this discussion about the ancillary services and experiences Away provides its customers, we haven't really talked about the actual product the company offers.
Here's a quick rundown of the features of each of Away's pieces of luggage:
Unbreakable polycarbonate shell
Ejectable battery that charges your phone
TSA-approved combination lock
360° Hinomoto wheels
Interior compression system
Hidden laundry bag
Additionally, each item comes with a lifetime warranty and a 100-day free return policy.
Talk about making improvements that matter, right?
In truth, this was simply a case of Korey and Rubio seeing a problem (or rather, multiple problems) with a product they currently owned, then doing their due diligence to determine if these issues were universal to all luggage owners.
Spoiler alert: they were.
After developing their first prototype, Korey and Rubio conducted user testing, created focus groups, and collected survey responses from more than 800 individuals.
This process allowed the team to easily focus on making improvements that their users truly wanted to see - and even cutting some of the features that fell short of their customers' expectations.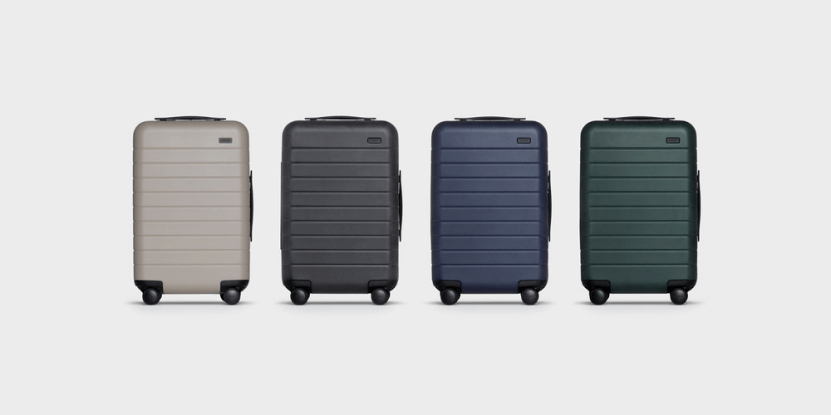 Regarding additions and improvements, Away is looking into the idea of offering a softshell version of its rolling luggage to add to its product collection. As far as removing features, Away now offers sans-battery pack versions of its products due to a few customer complaints that aren't worth diving into, here.
At any rate, the point is that the team at Away has developed a product that isn't just a case for your clothing; it truly is a travel companion. While Away has certainly disrupted the luggage industry by the way in which it approaches the business side of things, none of this would matter if the actual product didn't transform the user's experience in as many ways as it does.
The takeaway
The takeaway here is pretty straightforward:
Your main product or service needs to be top-notch, period.
Great marketing and ancillary experiences will certainly attract people to your brand, but if the actual "thing" you offer isn't high in quality, they're not going to stick around for long. In fact, if your product or service doesn't live up to the hype in the eyes of your customers, your brand's image will almost certainly suffer the consequences.
So, before you look into developing the "extras" and "nice-to-haves" that will help your brand stand out from the competition, make sure your baseline offering is up to snuff in the first place.
Watch demo
Wrapping up
If we were to boil down everything we've learned throughout this article into one message, it would be this:
Break the mold. Buck the status quo. Forge your own path.
(Okay, that's enough yearbook quotes for now.)
Trite as they may be, these words of wisdom are what helped Away become a content- and community-focused travel company that sells luggage, rather than just another brand of suitcases.