Choosing Agency Project Management Software: Key Features to Look For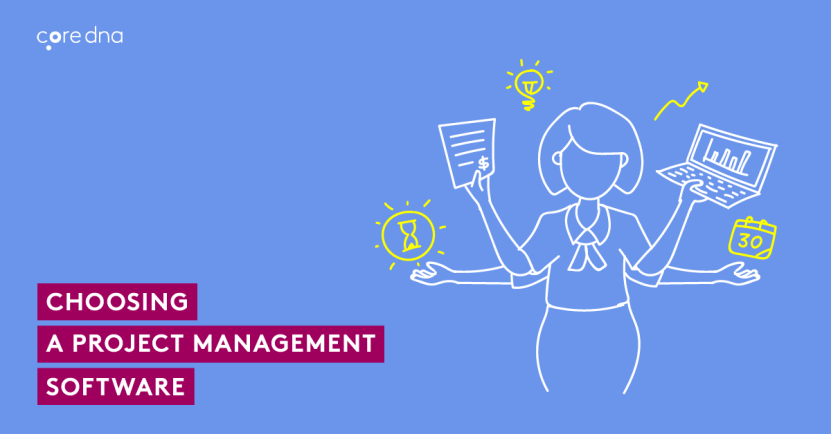 Agency project managers have a mountain of responsibilities, from organizing meetings, to planning and delegating tasks, to handling clients, project managers are often the glue holding the agency together.
But there is good news. With a powerful agency project management software in place, things get a little easier. In fact, a report by Information Week has highlighted that 87 percent of high-performing companies use project management software.
To help you find the best project management solution for your agency, we highlight the key features that you need to look out for in this article.
In a hurry? Here are the key features you need to look out for when choosing a project management tool:
[Feature #1] Planning and scheduling tools
The focal point of every project management software is to centralize all your projects on a single interface. This enables project managers to know which projects are on course for completion and which require urgent attention.
When managing multiple projects in a busy environment, like an agency, it can become very easy to get overwhelmed and lose track of who is doing what. This is why it is absolutely necessary to have your team members' tasks and responsibilities clearly outlined and visible.
To help you keep on top of your projects, make sure your project management software comes with the following planning and scheduling tools.
1. Task prioritization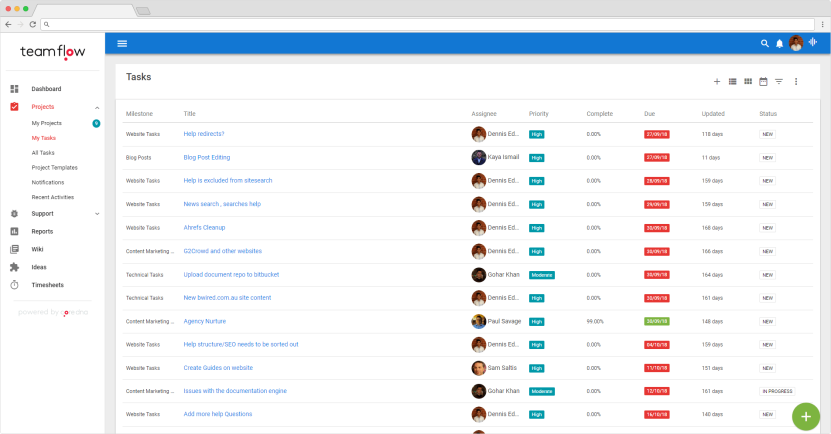 When you have heaps of projects to look after, you need to know where to start. Having a feature that allows you to label which projects require immediate attention is an incredibly simple but effective way of prioritizing your tasks. Some tools come with a built-in templated color-coded priority labels.
Here's a good example of a prioritization labelling system:
Routine: Not urgent.
Important: The task is of significant importance and has a tight deadline.
Urgent: This tag indicates that the project must supersede everything else.
2. A single dashboard for viewing all projects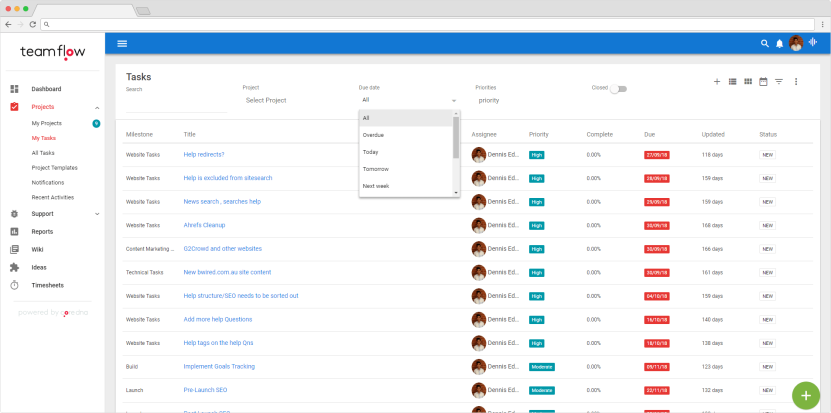 Besides task prioritization labeling, it is also handy to be able to view all your projects on a single dashboard and apply different filters to know which projects are open and closed. This prevents you from "accidentally" missing deadlines.
3. Agile task management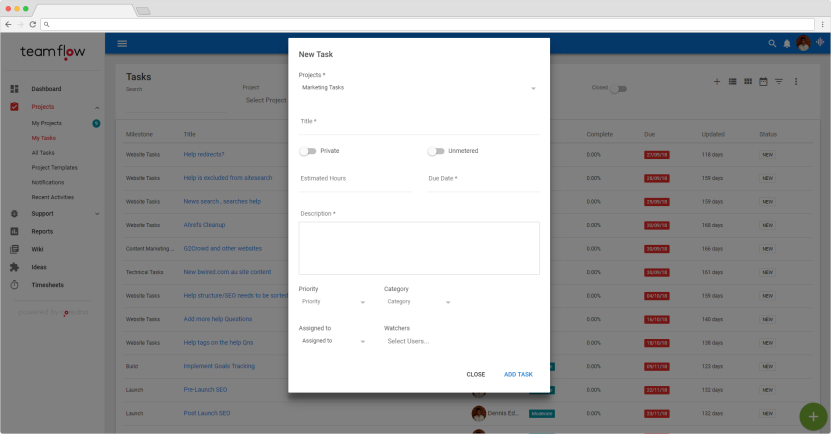 When you're leading several projects, you need a tool that can help you create and delegate tasks to team members in a relatively straightforward manner. And it should also allow you to outline all your upcoming activities too.
When delegating tasks for your team, you need to be able to define the project as clearly as possible. Be sure that the agile task management capability lets you:
Assign a name for the project or task.
Describe the project's brief and requirements.
Set a deadline for the project/task.
Assign a category for the task (i.e. data entry, review, development, content editing).
Determine how many hours it will take for the task/project to be completed.
Assign one or more team members who will be responsible for completing the task.
Assign team members who will be overlooking the project so they can get the latest updates.
Upload any supporting documents.
Additionally, it is also very useful to have the ability to manage your tasks on a SCRUM board interface. A SCRUM board lets you organize your tasks by lists, with each list defining the stage of progress. For example, you can have a simple four-list SCRUM board with the following:
To-do
In-Progress
Review
Complete
4. A shared team calendar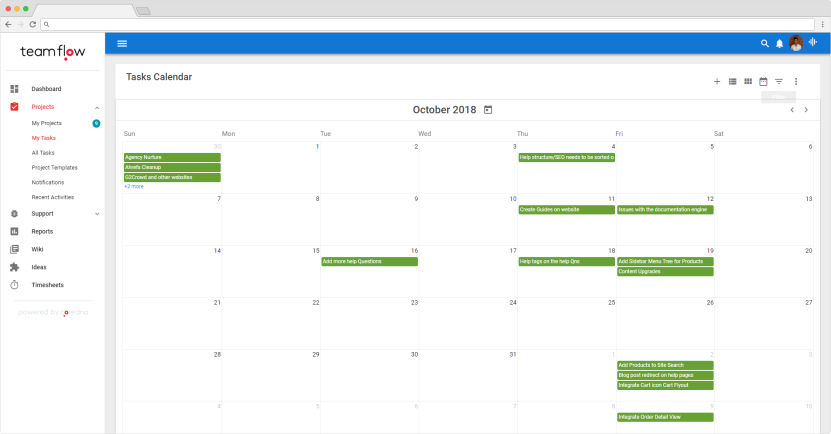 Team calendars are great for organizing meetings and scheduling tasks, and it is also a must-have for any project management software. Having a shared calendar that can synchronize and integrate with popular calendar tools like Google Calendar, Outlook, and iCal ensures everyone receives the relevant notifications for attending meetings on time.
As a bonus, it is also helpful to have the ability to synchronize all the deadlines of your projects onto your calendar as well. This way you can get an overview of all your projects.
[Feature #2] Collaboration
A typical enterprise team will consist of maybe tens or hundreds of people, with each team member working on a specific set of tasks. More often, team members will need to access their colleague's work or shared resources to complete their own assigned project.
From a project management perspective, it is critical to establish clear and effective communication channels.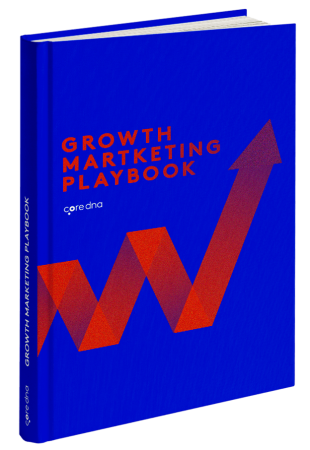 The ultimate growth marketing playbook
The exact 41 strategies we used to grow from 4-figure to 6-figure traffic in one year.


5. File sharing
File sharing is a standard feature found in most project management software solutions. Team members and managers must be able to upload information relatively quickly for easy access as and when required.
Typical files that are shared include client briefs, white papers, images, and videos. These can be uploaded as an attachment on a particular task.
In addition, managers and team members should be able to upload links to relevant resources that would come of use for a project.
6. Team communication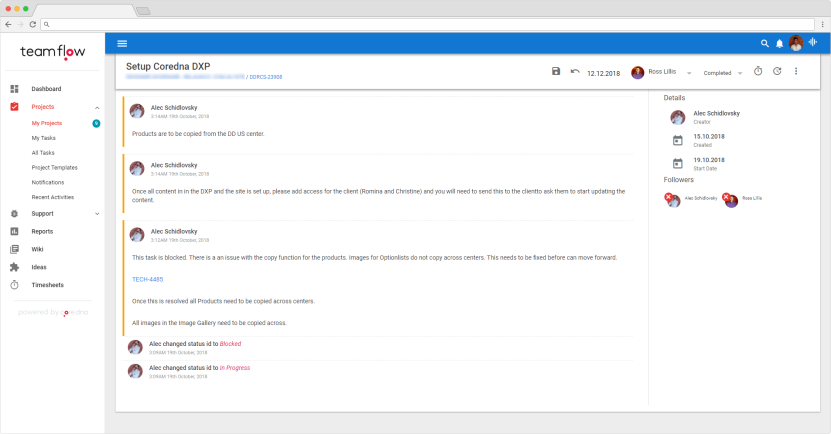 When multiple team members are collaborating on a particular task, it is best to have a feature that lets assigned members to exchange messages, files, and ideas with each other within the interface of the task itself. This should be on the same interface where you defined the requirements of the project.
When exchanging messages, the tool should send an email notification to the assigned members to ensure everyone is informed.
[Feature #3] Reporting
For the successful completion of your projects, you need to be aware of any potential problems or issues that will require a quick resolve. To get a thorough overview of your project's progression, you will need the following reporting features.
7. Customizable reports
Some project management platforms come with reporting tools which collate previously inputted project data for creating your own custom reports. For example, you can create reports for team members' performance, completed tasks, expenses, and your overall project budget.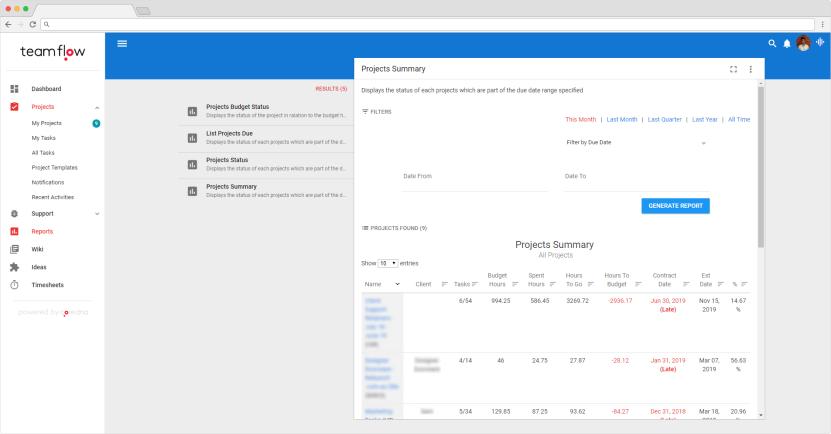 These reports will help you identify any negative trends such as which project team is underperforming and which project categories require more resources.
8. A project KPI dashboard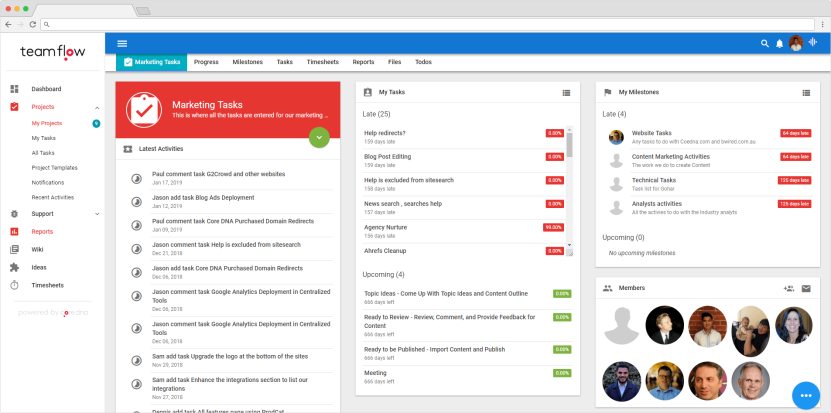 A project dashboard is the quickest way to get an overview of your projects. Ideally, this should be located on the same interface where you can view all your projects. The project dashboard can provide valuable at-a-glance metrics including the percentage of task completion and the total number of projects.
[Feature #4] Project budget
For larger projects, you're very likely to incur a higher expenditure. To help you document and manage this area, your project management tool should assist you in managing your budget. Relying on an excel spreadsheet alone should not be an option.


9. Budget reports
You'll need a project management tool that will keep track of your expenses and provide a quick and clear report on your project's budget performance. You should look for a project budgeting tool which gives you weekly or monthly reports on your project's expenses.
10. Automated invoicing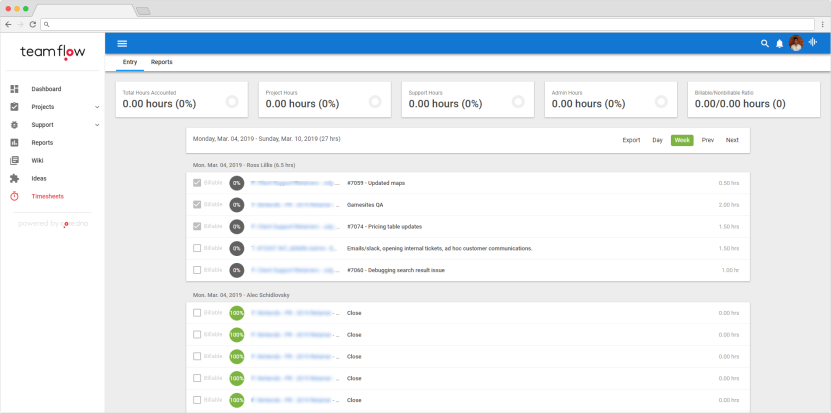 Generating and compiling invoices can take a huge chunk of your time, especially when you have multiple customers to bill.
Luckily there are project management solutions that come with time billing features which automate invoicing by populating pre-designed invoicing templates and sending them to the customer. It can save up to 10 hours a week of a project manager's time.
[Feature #5] Resource management
Besides managing your team's time effectively, your project management tool must also be able to schedule and allocate resources, which include materials and office space effectively.
11. Schedule project resources
The suitable project management software must include a feature for outlining how the resources should be allocated. This helps to prevent a possible scenario when a team member is over-assigned or you misallocated your resources.
Good resource management capabilities should notify you when your resources are overused so you can take the appropriate action.
[Feature #6] Document management
Documentation is a critical component of project management. Whether it's general project guidelines, company policies, shared resources, or brand messaging, it is important that every element throughout the entire project management cycle is documented and recorded.
12. All data is centralize
For sake of convenience, having all your project data which includes customer data, bills sent to clients, and previous and upcoming calendar events, in one place will make it easier and quicker for your team to access your data.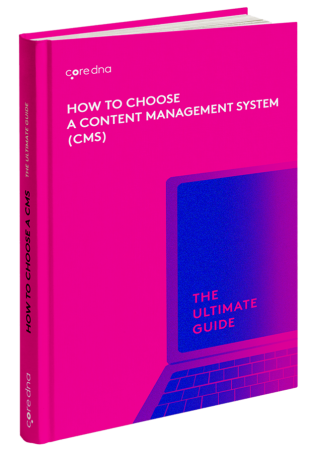 How to Choose a CMS: The Ultimate Guide
The definitive guide to choosing the right CMS for your business.
It must be SaaS
When selecting your project management solution, make sure it is a SaaS product.
Choosing a SaaS-based solution has many advantages over conventional on-premise solutions. For one, you don't buy the software, you only pay a monthly subscription for however long you're using it. Second, since you don't buy the software, all the tedious software housekeeping duties like maintenance, upgrades, and security, is taken care off by the software provider.
Also, since SaaS-based project management tools can be accessed via a web browser, this will bode well with teams that are scattered all over the world and work remotely.
No project management tool is perfect
While the above features should be seen as essential, we understand that no project management tool is perfect, and it may not have all of the above features that we have highlighted in this article.
Core Teams, developed by Core dna, was not designed to be a one-size-fits-all solution. But it was designed to work with the best. Core Teams is a highly integratable project management tool that features an intuitive and user-friendly dashboard for scheduling and planning tasks and collaborating. It can work alongside other project management platforms like Trello and Asana and can work with other tools like reporting and project budgeting.
For more information on Corea Teams and how it can streamline your project management cycle, get in contact with us today.
inline form