What is B2B eCommerce Personalization?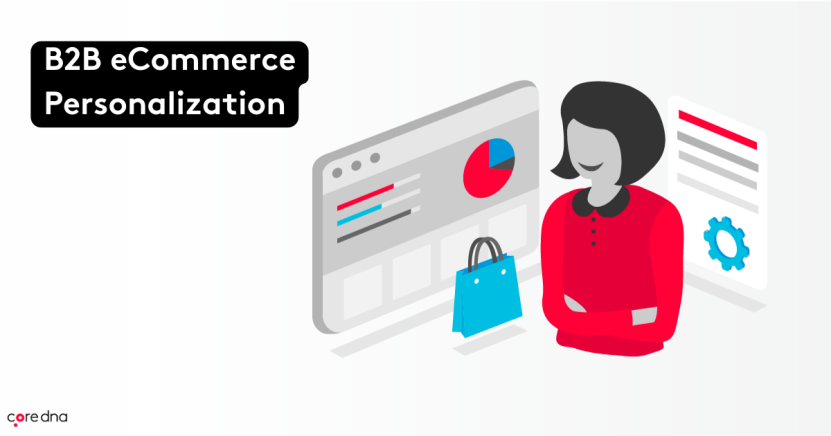 As companies learn that consumers have different preferences for products, shopping experiences, and brands, B2B and B2C eCommerce sites are increasingly tailoring their offerings to that consumer. A 'personal' shopping experience encompasses a wide range of features, from recommendations to inventory availability. A recent Salesforce survey indicated that 52% of customers would abandon brands that don't tailor messaging. According to the same poll, 65% of customers agree that customization impacts brand loyalty. As the B2B eCommerce landscape becomes increasingly competitive, B2B sellers are embracing personalization as a way to stand out from the crowd.
In this blog you'll learn:
1. What does B2B eCommerce Personalization Mean?
The definition of B2B eCommerce personalization is the process of tailoring the shopping experience for the customer. It is defined through the mechanisms we use to streamline the way in which our B2B customers engage without digital commerce. B2B companies can introduce many factors to personalize how a specific buyer interacts and purchases from an eCommerce site. These include the following examples:
Different buying options - B2B eCommerce businesses may have customers that purchase in varying quantities on a recurring basis. Providing various payment alternatives based on different business needs, such as paying one or more invoices or accepting partial payment, and offering payment plans helps personalize buying options.
Content to help the buying process - The content on your eCommerce website will assist the searcher through the buyer's journey. Each has diverse interests, absorbs information in unique ways, encounters unique problems, and works to attain unique objectives. This content can vary upon each customer.
Efficiencies for expert users - Expert users of your B2B eCommerce website may prioritize being able to purchase what they need quickly. They may not be interested in everything a catalog has to offer. To help with this, companies can provide quick ordering with SKUs or personalized catalogs.
Customer portal - B2B companies can use this portal for reporting, marketing, personalized catalogs, personalized products, and various payment options.
Personalized pricing - Like with every other business, pricing is essential to the buyer in B2B eCommerce. Prices may vary depending on the consumer, the bundle, or the total amount of products purchased.
Personalized discounts - Customers who have been loyal for a long time may get greater discounts. New clients might get standard pricing.
Prioritized shipping - The availability of a product's inventory or shipment time may differ amongst B2B purchasers based on several factors. B2B eCommerce businesses should customize product availability, shipping options, and estimates to reflect each customer.
Personalized Search - With personalized search and navigation, B2B buyers can quickly identify goods in their catalogs or easily explore other offerings relevant to them.
Purchase Incentives - B2B eCommerce businesses can provide purchase incentives based on purchase behavior, loyalty, volume purchasing, and repurchasing.
Internal workflow processes - An B2b eCommerce system must enable customer-specific administrative access that ensures all orders are accepted according to the underlying business regulations. For example, personalized approval implies that a purchasing manager may log in to a manufacturer or distributor portal and specify restrictions for each individual buyer in the organization.
2. How is the Industry Redefining Personalization in B2B eCommerce?
Personalization has been the bottom line for many businesses for their eCommerce sites: driving more qualified leads and more sales. That's why so many eCommerce sites are personalizing their content and products to better address the needs of their customers. However, for the B2B sector, personalization has been much more complicated. As a result, the industry is looking at how companies can personalize buyer behavior.
The aspects above are refined to simplify the purchasing process, making it easier for people to engage with the B2B eCommerce platform, easily navigating from inquiry through to purchase. Let's look at some other examples of how B2B companies are redefining and implementing personalization:
Analytics plays a significant role in measuring the performance and improvement of a platform. Understanding the data around UX improvements, design alterations, and information gaps helps the ongoing improvement process.
The Omni-channel experience removes any silos that may exist in an organization that inhibit the ability of a customer to engage across multiple channels of a B2B eCommerce platform.
Technology innovation of new-age platforms makes it easy to integrate into Corp systems and third-party platforms. The ability to aggregate product, customer metrics, and data provides visitors with the most accurate and up-to-date information about what is offered. Removing all the technical bottlenecks from B2B eCommerce companies enables them to scale quickly across geographies, languages, and cultures.
Reducing the speed-to-market and cycle times of development and technical launch makes it simple for companies to engage in B2B eCommerce without the heavy upfront investment and ongoing costs of people and technology.
Without ongoing innovation, companies cannot tap into a wide knowledge base of B2B eCommerce experience and benefit from a deep understanding of platforms to avoid any issues that come with a switch to B2B eCommerce.
3. How Can B2B Leverage the B2C Playbook?
Personalized experiences are what we demand as customers. Our favorite stores may do this via online advertisements and email marketing promos based on our prior purchases. B2B personalization is challenging to offer since buyer journeys vary across B2C and B2B. However, there are a few pages that B2B can take out of the B2C book when it comes to personalization.
First of all, B2C knows its funnel and how to move people closer to conversion. Whether B2B or B2C, a sales funnel is a consumer-focused model that graphically displays a customer's path from initial contact through purchase. B2B needs to also know its sales funnel and what it takes to move a consumer to conversion.
Secondly, B2C leverages multiple channels across multiple marketing disciplines (social, email, SEO, and so on) - B2B eCommerce companies need to do the same.
Finally, B2C has aggressive content creation campaigns. B2B is now implementing similar tactics and creating even better-gated content to acquire valuable email addresses and phone numbers. However, this can still be improved for B2B tactics.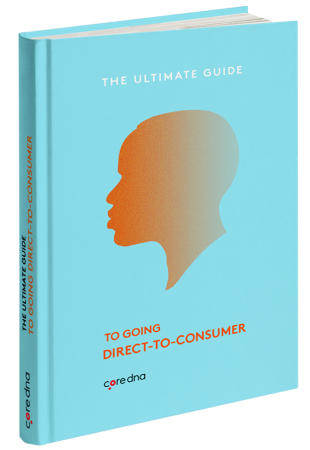 How to take your business direct to consumer in 2022: The ultimate guide
Strategies, insights, and tips on how to start and scale a direct-to-consumer business.


4. What Are Some Other Examples of Increasing Personalization for B2B eCommerce Websites?
Content and Messaging
B2B tailored content and messaging is one of the most effective marketing tools. The customization of content to meet the requirements and tastes of specific clients improves relationships, response rates, and generates more quality leads. In addition, gated content, or content that requires an email entry prior to viewing, provides an excellent opportunity for email collection, enabling businesses to increase their email marketing efforts.
Speaking of email, personalized email content for products, help content, discounts, and any other relevant information provides additional means for personalization and opportunities to spark a customer's interest and make a sale.
Chatbots are another excellent tool for providing a personalized experience. Chatbots can be used to provide help and support to customers. To provide a customized chatbot experience, first, you must understand your consumers' needs and anticipate their inquiries or concerns. Then, chatbot discussions that direct clients to the answers should be designed to personalize the engagement.
Related Products/Purchasing Customization
By presenting related products and suggestions based on product history or browser history, you can make it simple for consumers to continue browsing and increase conversions for your business. According to an Accenture survey, 75% of customers are more inclined to purchase from a company when they are recognized, remembered, or get relevant recommendations.
Recommendations can also be provided based on what other people buy, meaning that products can be marketed as "People who usually buy X also buy Y." This tactic may sound familiar if you are an Amazon shopper.
Another powerful recommendation tool for personalizing the purchasing process is the ability to repurchase a product easily. A simple "buy again" section can reduce the time it takes for a returning customer to find a product they recently purchased and liked. It could also serve as a reminder to repurchase a product when the customer is shopping for other products.
Pricing
With tailored pricing and customer discounting, you can examine clients in significant detail and learn about their requirements, revenue, desires, habits, and supporters. Then, using that knowledge, provide a price you believe will complete the business, which with benefit both you and the consumer
Whether volume-based, loyalty-based, item-based, or other, personalized discounts and custom promotions should be made available to all customers, regardless of how much they purchase. Small, medium, and large clients can all be persuaded to buy more if the discount appeals to them. It also creates a sense of loyalty and value for the business and customer alike.
You can also establish various rates for your products based on your clients' region, how long they've been buying from your B2B eCommerce business, etc. For example, you could set up a basic price list, a wholesaler price list, and a drop-shipping price list. This process involves establishing separate pricing lists and assigning a price list to each client whenever you create or change a customer profile.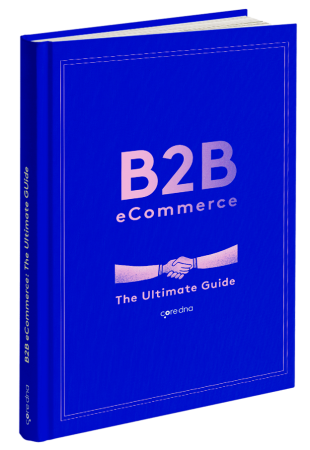 Download this B2B eCommerce guide
What is B2B eCommerce, common mistakes you're probably making, some myths you probably believe in, best practices you can steal, and more.
Product Catalog
A customized B2B eCommerce product catalog enables businesses to provide dynamic product suggestions that are tailored to each consumer. For example, a faceted search is a tool that includes supplementing classic search strategies with a faceted navigation system, enabling users to narrow search results to their relevant interests by applying numerous filters depending on the products' faceted classification.
As mentioned earlier, displaying related products in a catalog also provides personalization based on a customers browsing history, interests, past purchasers, or purchases of similar customers.
Giving customers a sticky shopping cart, or a shopping cart button that stays on the page as a user scrolls and visits different pages, allows customers to have easy access to their cart, current total, and more. They can easily see products that have already been placed in their cart and compare them to other products they may be interested in. This tool can also help reduce cart abandonment.
Finally, offering a recently viewed products list provides a personalized experience where customers can easily see their browsing history. This feature relates back to the earlier statistic provided by Accenture, which states that customers like to be remembered.
Inventory Management
Investing in several warehouses is beneficial in the long run by lowering transportation costs, increasing flexibility, and ensuring that local regions have the needed quantity of stock. However, when it comes to providing a personalized experience for customers, inventory management across multiple warehouses takes careful planning. Inventory tracking across many sites and supply chains may be difficult. Stock levels at multiple warehouses might quickly go short, causing issues across the supply chain.
While basic physical counts may suffice in a single warehouse, real-time inventory syncing and correlating data across many warehouses is required. Failure to do so increases stock-outs, mistakes, and inventory loss. This might result in higher expenses and dissatisfied consumers.
The final point of contact with converting a customer is the actual ordering process. You want this to go as smoothly as possible, and there are many opportunities for personalization. Optimized user experience ordering is a must-have to create an easy checkout process. As mentioned earlier, customers should have access to personalized options regarding payments and shipping.
The checkout process presents an opportunity for customers to agree to recurring purchasing, making it easier for them to continue receiving products from your B2B eCommerce company based on their own preferences. This is especially valuable for customers who require a specific volume of your products regularly.
4. Our Favorite Examples of B2B Personalization
Core dna's partnership with Randy's Worldwide is a great example of B2B personalization in their product catalog. It is so specific and personalized to their B2B clients due to the level of niche detail in their product catalog for their mechanical parts. E.g. Description of type, model, what said product is compatible with… As well as an overall huge inventory and its impressive inventory management.
Our second example is Jaggards, a gold company that Core dna manages for its personalized website. Gold is a good that has a forever-changing price, therefore the catalog needs to be heavily personalized to adjust to the correct price in real time, which with Core dna, has been made possible. Similarly to Randy's, the product catalog and management is admirably detailed, vast and specific as well, adding amazing value for B2B customers.
inline form