B2B eCommerce for Distributors: The Ultimate Guide
Distributors are familiar with B2B eCommerce. According to the 2019 B2B Distributor 300 study from Digital Commerce 360, almost two-thirds of all distributors have an online sales channel. However, adopting business-to-business eCommerce isn't always easy for distributors. Unlike B2C, the B2B purchasing process involves many individuals, from the C-suite to procurement and finance departments. Moreover, each order is valuable. So, customers carefully consider which product to purchase and the final source they are buying from.
In a hurry? Here is what this article delves into below:
Who are distributors?
Before we dive in, let's talk about what a distributor is. A manufacturer can sale products with direct sales to end-users or sell products through distributors. These are companies that buy non-competing items and sells them directly to consumers. They also contact potential customers for the manufacturer. Of course, if a producer wants to control their sales, they may choose to cut out the intermediary. However, this can be tough to manage with other day-to-day business needs.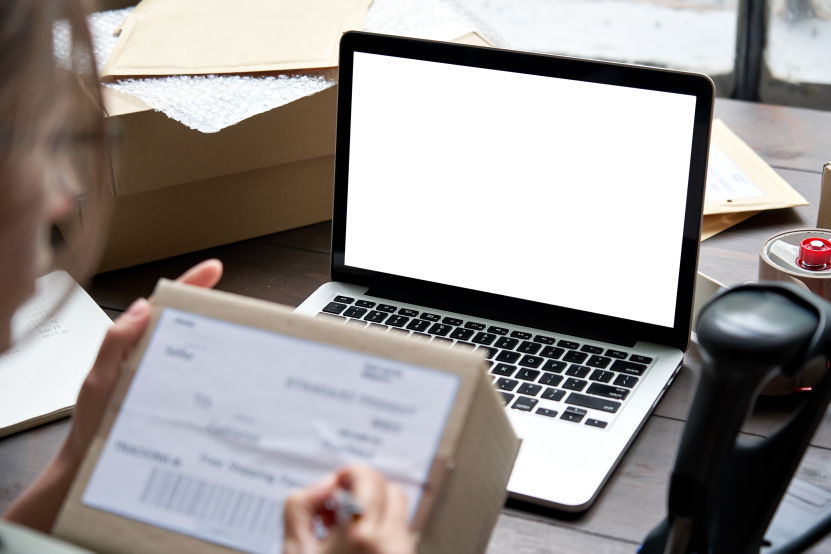 On the other hand, a distributor operates as a point of contact between a manufacturer and its customers, employing marketing and inventory management to sell products. These people seek out wholesalers or retailers and sell the manufacturer's goods to them. Knowing the producer's products and business plan, the distributor may be able to increase the producer's consumer base and reach regions and customers that they may not be able to reach on their own. In addition, local businesses have current clients, connections, and relationships and understand the local business culture and practices.
What is the Difference Between a Distributor and a Wholesaler?
The wholesale trade sector includes businesses that sell goods without transformation and provide services related to selling goods. To put it simply, the wholesaler buys large quantities of the goods to resell to retailers. Because they buy in volume, wholesalers may typically negotiate lower prices from distributors. Wholesalers frequently sell to stores rather than directly to customers. The retailer then makes money by selling the goods at retail. They usually purchase straight from the manufacturer, although they may also buy via a reseller. In either situation, the purchaser saves money by purchasing in bulk.
Wholesalers seldom manufacture products themselves, instead concentrating on distribution. The wholesaler may sell various goods to other firms, government organizations, or hospitals. Then they may employ the goods for their own purposes. But not all retailers buy from wholesalers. Wholesalers aren't involved if the retailer purchases straight from a distributor.
Why Should a Distributor Adopt B2B eCommerce?
Simplify information sharing.

Make it easy for your customers to find the things they want and to understand the product you're selling.

Better service customer base.

Provide ways for customers to self serve, engage with your staff, and learn about upcoming products and services.

Offer additional products and services.

Introduce complementary products and services to win a bigger shower of your customers' wallets.

Lower operating costs.

Enable your staff to service customers that may not make economic sense to service face to face by servicing them in a self serve mechanism. Remove the bottleneck of staff or non-efficient processes.

Improve staff productivity.

Utilize staff to grow sales rather than take orders or answer inquiries. Allow staff to focus on servicing high-value customers.

Personalized B2B experience.

Create specific experiences for each customer group that matches their needs and the way they wish to purchase from you.

Convenience.

Make it easy for people to purchase when they want and engage with your company.

Learning and feedback.

Use analytics and forms to capture feedback insights from buying behavior and product-related information that helps you improve your products and services.

Speed and scale.

Quickly open new markets using a digital-first approach and then follow up with a physical presence. Have the ability to scale into markets that may have different languages or cultures using B2B eCommerce. Introduce new products and services quickly and capture orders prior to the product arriving.

Increased margins.

Lower the service cost, allowing you to improve the margins for your products and services.

Improved brand awareness.

Raise your public profile through search engines and social media and make it easy for people to find the products and services they need.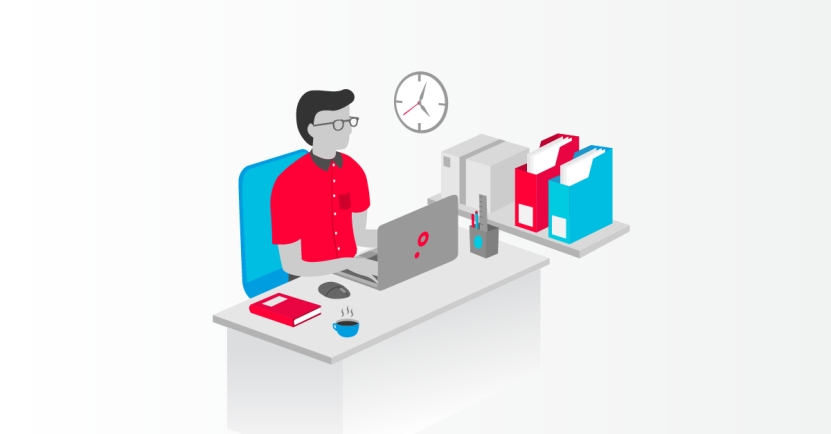 Benefits of Distributor B2B eCommerce
Your B2B digital presence will lead clients to the business' shopping catalog and help convert catalog viewers to purchasing customers.

Recognizing today's non-linear purchasing trends, it's critical to deliver an omnichannel experience for your B2B eCommerce clients. Usually, B2B buyers switch between devices and platforms to find the items they need. A B2B platform will make it easy to provide your customers with an app for your B2B eCommerce website.

Your business will move faster, have a more successful ROI, and experience more efficient company performance. The automation of an eCommerce platform will help you optimize and decrease costs. You can gain insight through a platform's analytical features to make decisions about your operations. Improved customer experience builds brand loyalty and long-term revenue as operations become more effective.

There's continuous room for business expansion. eCommerce helps distributors quickly access new markets, even on a global level. With the help of a B2B eCommerce platform, your organization can become globally relevant and accessible by providing product descriptions in many languages. They can also reach previously inaccessible markets, sometimes in rural regions, without high initial costs or risks.

The trend is for distributors also to be involved in eCommerce.
"During a March 2020 survey of B2B decision-makers worldwide, 11 percent of manufacturers and ten percent of distributors stated that they generated 81 to 100 percent of their revenues through B2B e-commerce." - Statistica
Challenges of Distributor B2B eCommerce
More and more B2B distributors are joining eCommerce, which means more competition.

Any organizational change, including moving to a eCommerce platform, will create challenges for which businesses need to plan. However, it's worth the effort.

Technology upgrades can be expensive and difficult to implement.

Researching and committing to one or many distribution channels can be challenging.

Managing the staff transition to eCommerce falls into the same category as organizational change. It's bound to create issues that managers must plan for. Management will need to prepare training and drive the mindset shift for staff.

Changing internal processes can take time and iteration to get it right.

Continuing face-to-face contact with customers despite the introduction of digital channels can be challenging since priorities may be split and transitions are taking place.

You will need to add value to the supply chain to maintain a competitive edge.

You will need to capture information from manufacturers to properly service customers.

There may be contractual challenges that may inhibit your ability to sell digitally.
"The American B2B eCommerce market is still the biggest in the world.'' - Statistica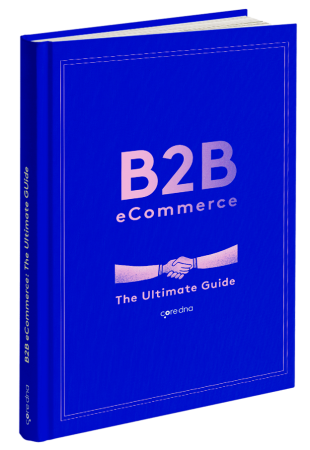 Download this B2B eCommerce guide
What is B2B eCommerce, common mistakes you're probably making, some myths you probably believe in, best practices you can steal, and more.
How to succeed as a B2B distributor with eCommerce
Are you ready to get started with B2B eCommerce? Here are a few tips to keep in mind:
Start with regular communications.

Bring the team along for the journey.

Accept that there will be problems along the way.

Engage with your customers from day one.

Don't let technology be a bottleneck.

Invest in the people to help your business succeed.

Be prepared to learn and iterate.

Invest in the channel as if it were a physical store.

Perform consistent, proactive optimization on your platform.

Maintain high-quality DXP/Customer experience.

Invest in solid automation and personalization.

Provide very accessible eCommerce on all digital platforms, ads, and other content.

Maintain an up-to-date website, catalog, and additional information.


Tips to Down Pat Your Strategy
Identify your requirements and determine your target demographic to plan accordingly and choose a platform.

Ask yourself: How much do you want to put in financially? What makes sense in terms of your business?

Perform data-driven research to make the best decision about your operations.

Know your customers: Who are they, where do they go, shop, look for, etc.

Have a contingency for what information and options you are not providing them as a B2B eCommerce distributor. E.g., certain payment options, reviews, better descriptions.

Take a phased approach rather than Big Bang to minimize challenges faced along the way.

Test assumptions with customers and stakeholders.
''To combat the mounting digital threat, incumbent B2B distributors require a proven, strategic approach to assessing the potential impact, threats, and opportunities of e-commerce in B2B distribution.'' - BCG
Perform a Similar Competitor Assessment
"Do what they do but better."
The best thing you can do to succeed in the B2B eCommerce world is to listen to what your customers want. A great way to do this is with a competitor analysis. You can learn a lot from your competitor's customer feedback. Then, you can reframe your business to fill the gaps that customers are looking for from your competitors.
"Digital distribution is gaining pace. B2B buyers expect to make around half of their purchases online, without the intervention of a sales rep." - Qymatix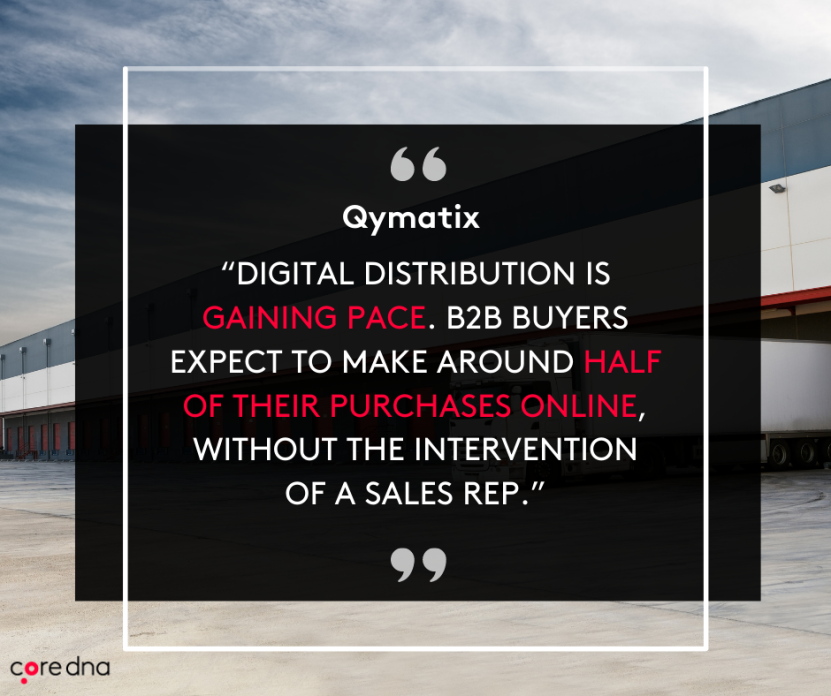 Examples of B2B eCommerce Wholesale Distributors
Example 1: Core dna
Here at Core dna, we provide an all-in-one solution platform with B2B eCommerce distributor experience.
Our platform has integrated eCommerce with content to improve search, product information, and SEO.

We offer a customer portal for transactions, reporting, simplified purchasing, personalized shipping, and personalized catalogs.

Our complex catalog can build relationships between products and product categories and create personalized catalogs.

We provide customer segmentation for pricing, discounting, shipping, loyalty, and checkout experiences.

Our platform offers advanced search, making it easy for novice or expert customers to find what they want quickly.
Example 2: Jaggards
Jaggards is a precious metal trading company that operates as a business-to-business wholesale distributor. They have recurring purchases from a validated client base who buy at high volume on their website. They face a few challenges that Core dna's B2B eCommerce platform helps with, such as:
Pricing fluctuations

Small margins

High-risk and fraud

Personalized buying behavior

Transaction reliability and platform reliability

Ability to scale and maintain high speed
Wrapping Up
Diverse distribution and wholesale channels are now possible thanks to the continuous rise of B2B eCommerce. Now, a B2B eCommerce solution is essential for long-term business success. Implementing B2B eCommerce into your business with a reliable platform can help you reach more customers, secure more sales, and enhance the business's overall performance.
inline form