NetSuite
NetSuite is the leading cloud computing business software, including accounting, ERP, CRM, inventory, and eCommerce.
With Core dna's integration with NetSuite, you can access real-time customer data and reporting to make quicker, more informed decisions and expedite the order-to-cash process. Some of the benefits of this integration include the ability to:
Get real-time insights into the entire order management process
Synchronise orders, products, and client information across different systems
Send order data across different supply chain stages
Receive stock alerts to help manage inventory levels
Overall, the integration of Core dna and NetSuite can help improve the efficiency and effectiveness of your business operations.
A DXP or Digital experience platform is a central technogical foundation to be built upon and to support the entire, continuous customer life cycle across all digital channels.
From one platform, one login, brands and business can manage content, assets, and interactions across multiple different channels.
It allows multichannel delivery via APIs of digital interactions across all touchpoints, including Iot, AR/VR, digital assistants and kiosks.
It helps efficiently and effectively create, store, publish and optimize content for any channel – whether it's a website,
mobile app, or social media page.
It's a platform where business and IT with various skills and responsibilities work together towards the common goal of customer experience improvement.
It helps tracks user behavior on your websites, monitor key performance indicators (KPIs) in real time.
It integrates with your tech stack for increased personalization and engagement with customers, and gather
customer insights from data analytics.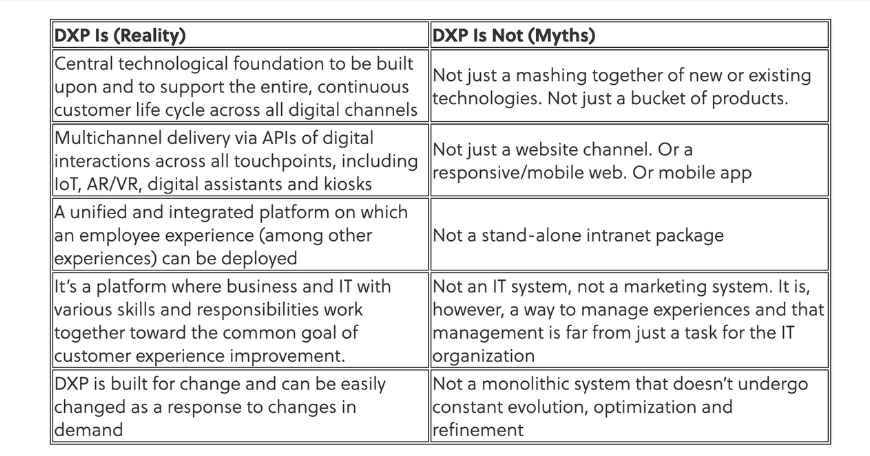 Gartner defines a digital experience platform (DXP) as, "an integrated set of technologies, based on a common platform, that provides a broad range of audiences with consistent, secure and personalized access to information and applications across many digital touchpoints. Organizations use DXPs to build, deploy and continually improve websites, portals, mobile and other digital experiences."
An enterprise DXP gives a brand the tools it needs to manage the presentation layer of their digital presence. All great DXPs combine integration and aggregation, content management, personalization, collaboration, workflow management, analytics, multichannel support as well as search and navigation.
Schedule a Free Demo Today!
Here's what you can expect:
Walkthrough: An introduction to the Core dna platform.
Access to a free trial: Free trial access to the platform to test all the features.
[Read more]
A decoupled platform — a term that best describes Core dna — is a headless platform, and then some.
With a decoupled platform, your content and other objects like products, orders, blogs are managed separately and can be front-end agnostic, just like a headless platform. Yet, it has front-end delivery tools in the box, like templates, an admin for your staff and other features that can make adopting the platform easier than if it were just a headless platform. These additional tools are designed for people who don't have technical expertise and can simplify your development process.
The difference is that the back-end and front-end are not "coupled" to each other through a database like with a traditional CMS. Instead, the front-end and back-end communicate to each other through calls to an API.
Learn more about headless content management.
[Read more]
Unlike a traditional CMS/eCommerce, which combines content management and front-end delivery, a headless platform has a flexible front-end system to determine how the content is created and presented to the end user. It's front-end agnostic, meaning that your content is created raw and can be published anywhere, through any framework, thanks to built-in APIs.
Coredna is not only a headless platform but also a hybrid headless Platform. We recognized that Marketers still need the flexibility of an easy to use administration, so we created a fully functioning DXP administration panel that allows the marketer to have a dashboard and the ability to manage multiple websites. With the Headless features of the Core dna DXP you can also create a customized publishing platform, this can be useful if you want to simplify administration functions or create a custom user experience.
Learn more about headless content management.
[Read more]